Beautiful looking curry that is all natural in color and so beneficial to your healthy body. One of the many delicious curries from coastal regions of India, Sol Kadhi, has it's unique identity.
Light pink in color, this liquid beauty makes your plate so picturesque. Cooling in nature, it's a perfect drink for summer!
I often serve it in shot glasses as an appetizer during the parties. It's 'love at first sight' for most of the guests. The velvet pink color is so pleasant and soothing.
Most folks love the look and are intrigued to taste it. It is such a soothing concoction that invariably everyone loves it. I would say, it is one of the most asked about recipes I have served.
Kokum or Garcinia Indica is very useful healthy fruit . Grown in coastal areas of India, it's highly regarded for the cooling effects on the body and detox and cleansing.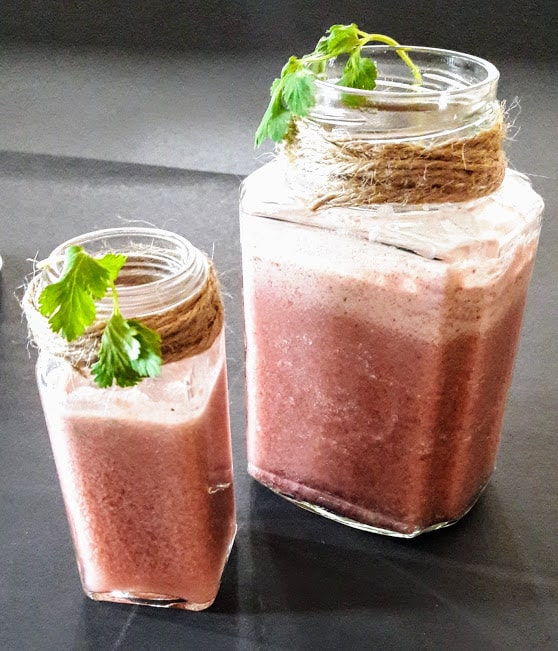 According to google, kokum or Garcinia Indica helps with its ability to speed wound healing, reduce allergic reactions, boost immunity. It can also prevent chronic disease, optimize digestion, protect the skin from extreme heat effects. Kokum believed to help relieve pain, and eliminate inflammation.
When you combine the healthy benefits of kokum with all the goodness of the coconut, you have a nutritional power drink that is so pretty !
Typically sol kadhi is served as an accompaniment to any spicy dish. There is no heat related cooking involved in making it.
Ingredients:
8-10 pieces of Kokum
1.5 cup grated Coconut, alternatively use 1 can of coconut milk
2 Garlic pods
4 Black peppercorns
Himalayan Pink Salt as per taste
1 Green chili (optional )
Cilantro leaves for garnishing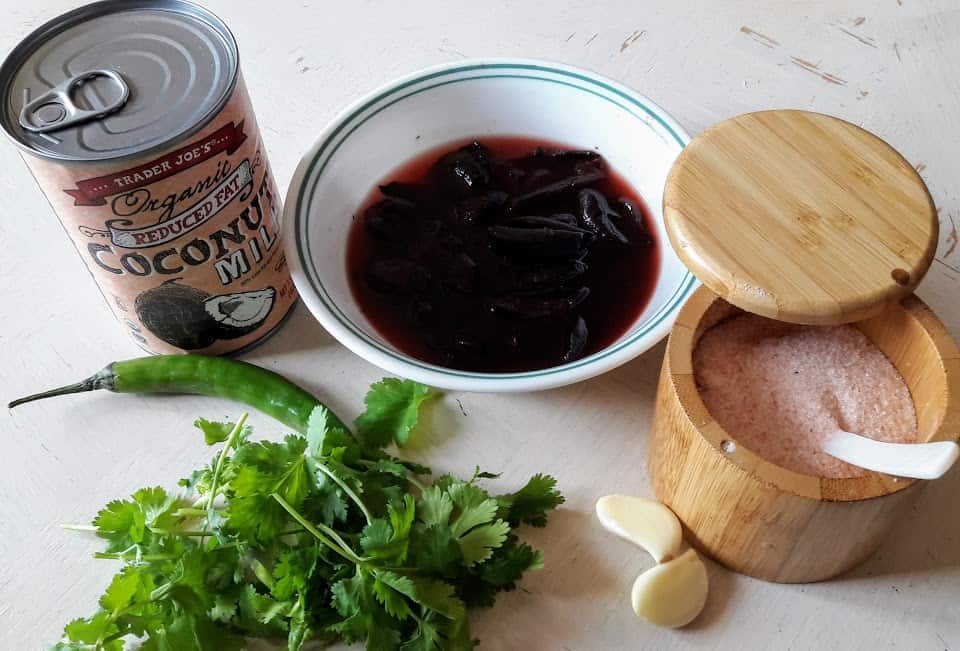 Method:
Take a cup of warm water and soak Kokum for about an hour.
In a mixer, grind the grated coconut, garlic, black peppercorns, and green chili along with the kokum and the water in which it is soaked to get a fine paste.
Squeeze and strain this paste through the sieve. Repeat this process, adding some more water, until you fully extract the juice from the coconut.
Alternatively, grind the soaked kokum, garlic , peppercorn and green chili and mix it well with coconut milk.
Add salt and stir well. Cover and chill for an hour before serving.
Mix well before serving and garnish with finely chopped cilantro leaves.
You can serve as an appetizer drink or in a main meal as a curry accompaniment.
Sol kadhi is always served chilled . Healthy, yummy and so good for you ! Enjoy!!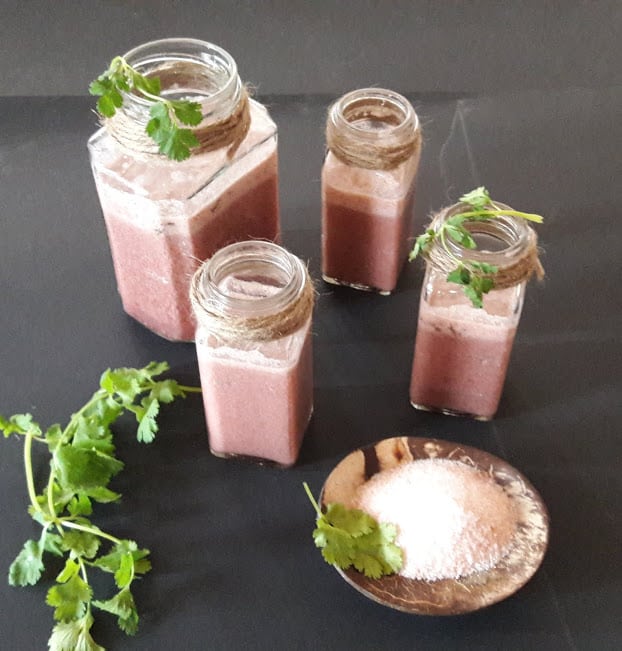 Note:
Kokum is commonly available in Indian grocery stores and online. It is however, very similar to "Plum " in appearance , color and texture. So if you absolutely can not find Kokum/amsul, give it a try with plum. It will be just as delectable and refreshing.
♥We would love to hear your feedback ! Let us know how you like this recipe by leaving a comment and rating it so other readers know it too. And while you're at it, take a picture and tag it #profusioncurry on Instagram! We love seeing what you come up with. Cheers, friends■