Creamy Roasted Red Pepper Pasta is a quick and flavorful pasta dish that combines the rich, smoky essence of roasted red peppers with velvety creamy sauce. This 30-minute cozy comforting bell pepper pasta recipe needs only 6-ingredients.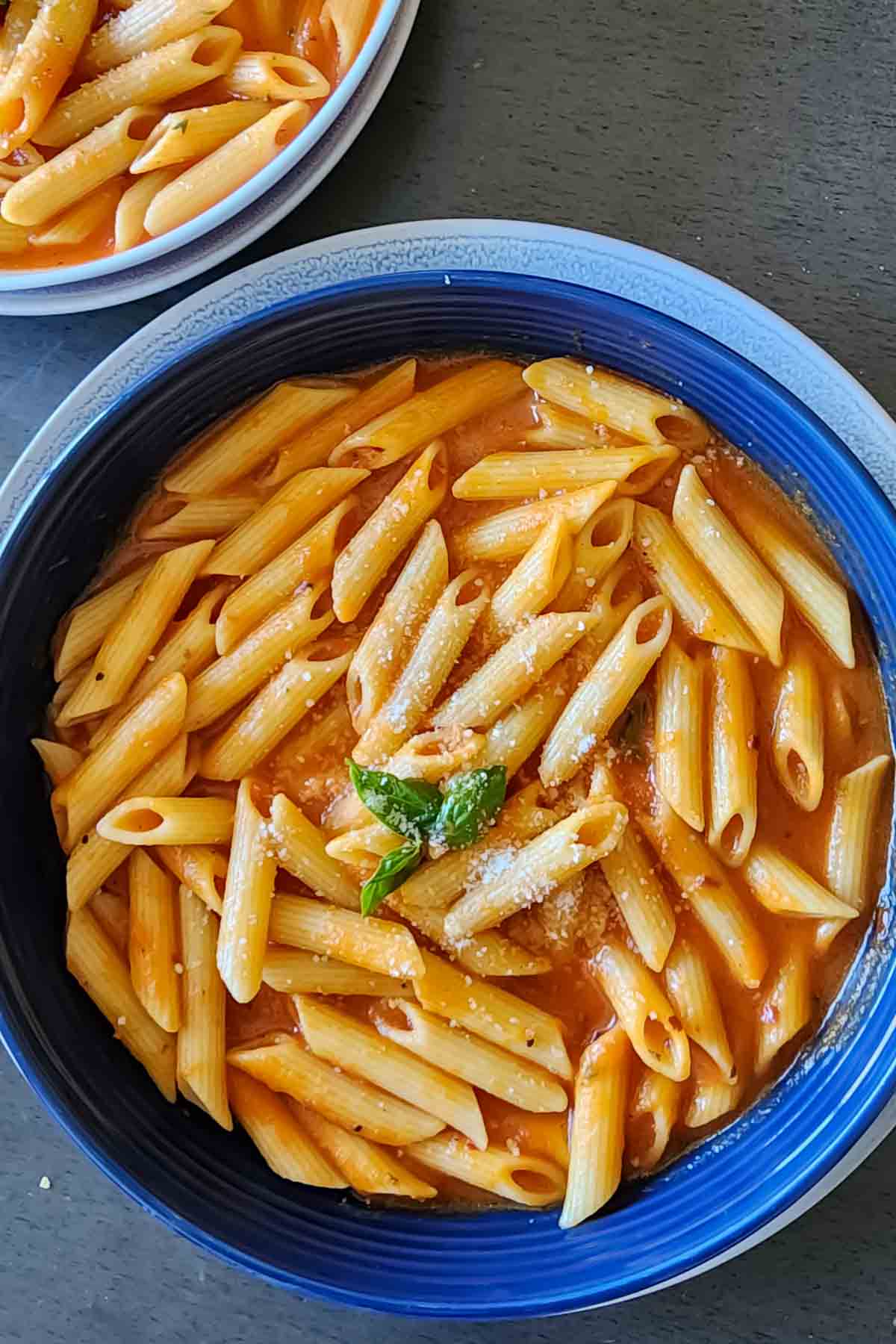 Let me guide you through the simple steps to whip up this capsicum pasta, while offering expert tips to ensure your pasta turns out perfectly every time.
Jump to:
Why you will love this recipe
Flavorful and Comforting: The combination of roasted red peppers, creamy sauce, and Parmesan cheese creates a rich and comforting flavor profile. It's a dish that feels like a warm hug on a plate.
Ease of Preparation: Despite its gourmet taste, this recipe is surprisingly easy to make. Roasting the red peppers might be the most time-consuming step, but it's well worth the effort.
Versatility: You can customize this dish to suit your dietary preferences. Whether you're a vegetarian, looking to incorporate more vegetables, or even if you're going for a vegan option, it's adaptable to various lifestyles.
Visual Appeal: The vibrant red color from the roasted peppers and the sprinkle of fresh basil make for a visually stunning dish. We eat with our eyes first, after all!
Simplicity with Sophistication: This recipe takes simple, everyday ingredients and elevates them into something truly special. It's a perfect example of how basic components can come together to create a gourmet experience.
Customizability: You can make small tweaks to the recipe to suit your own tastes. Whether it's adding a touch of spice or experimenting with different types of pasta, there's room for creativity.
Ultimately, this Roasted Pepper Pasta combines the best of both worlds. It is accessible and easy to make for busy weeknight dinners, but it's also sophisticated enough to serve on special occasions. It's no wonder this recipe has won the hearts of so many food lovers!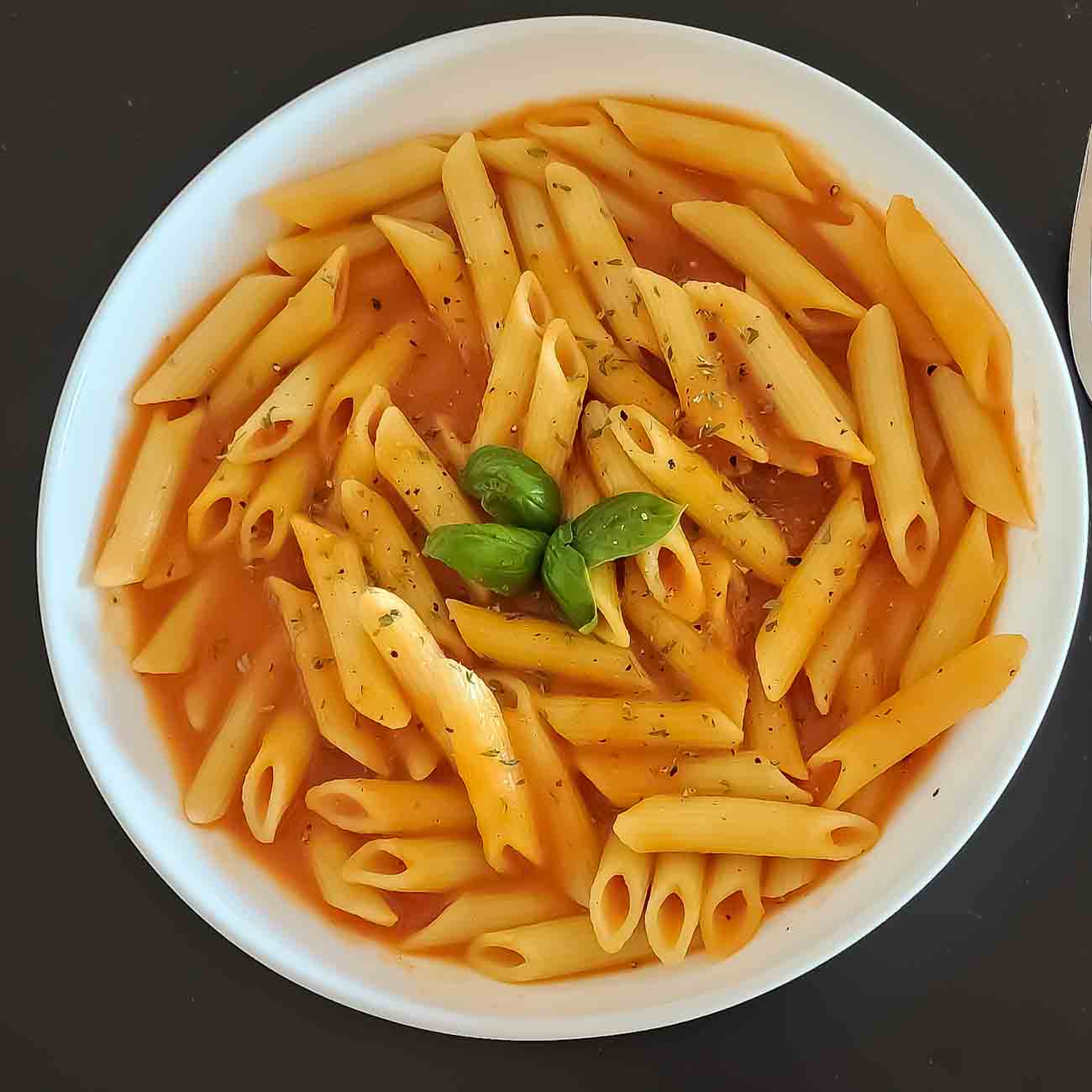 Ingredients
Exact measurements are listed in the recipe card below. Here's more details
Red Bell Peppers: These are the stars of the show. Roasting them brings out their sweet, smoky flavor.
Olive Oil: A little drizzle of this liquid gold adds richness and depth to the sauce. Choose best quality olive oil.
Onion & Garlic: Our trusty aromatic duo that brings that mouthwatering earthy aroma to the kitchen.
Cream Sauce: I prefer to use soaked and blended cashews to make the sauce creamy. That makes this recipe suitable for vegans as well. You can use heavy cream as a diary option.
Pasta: Take your pick. I used penne pasta which is often stocked up in my pantry but spaghetti or fettuccine or other shapes of pasta also work. Choose gluten free pasta to make this recipe as well.
Basil (Optional): For a fancy touch of freshness.
How to Make
Roast the Vegetables
Begin by roasting the red peppers, tomatoes, onion and garlic. You can follow the instructions provided in this recipe for detailed guidance. This step infuses the dish with a smoky, sweet flavor that elevates the overall taste.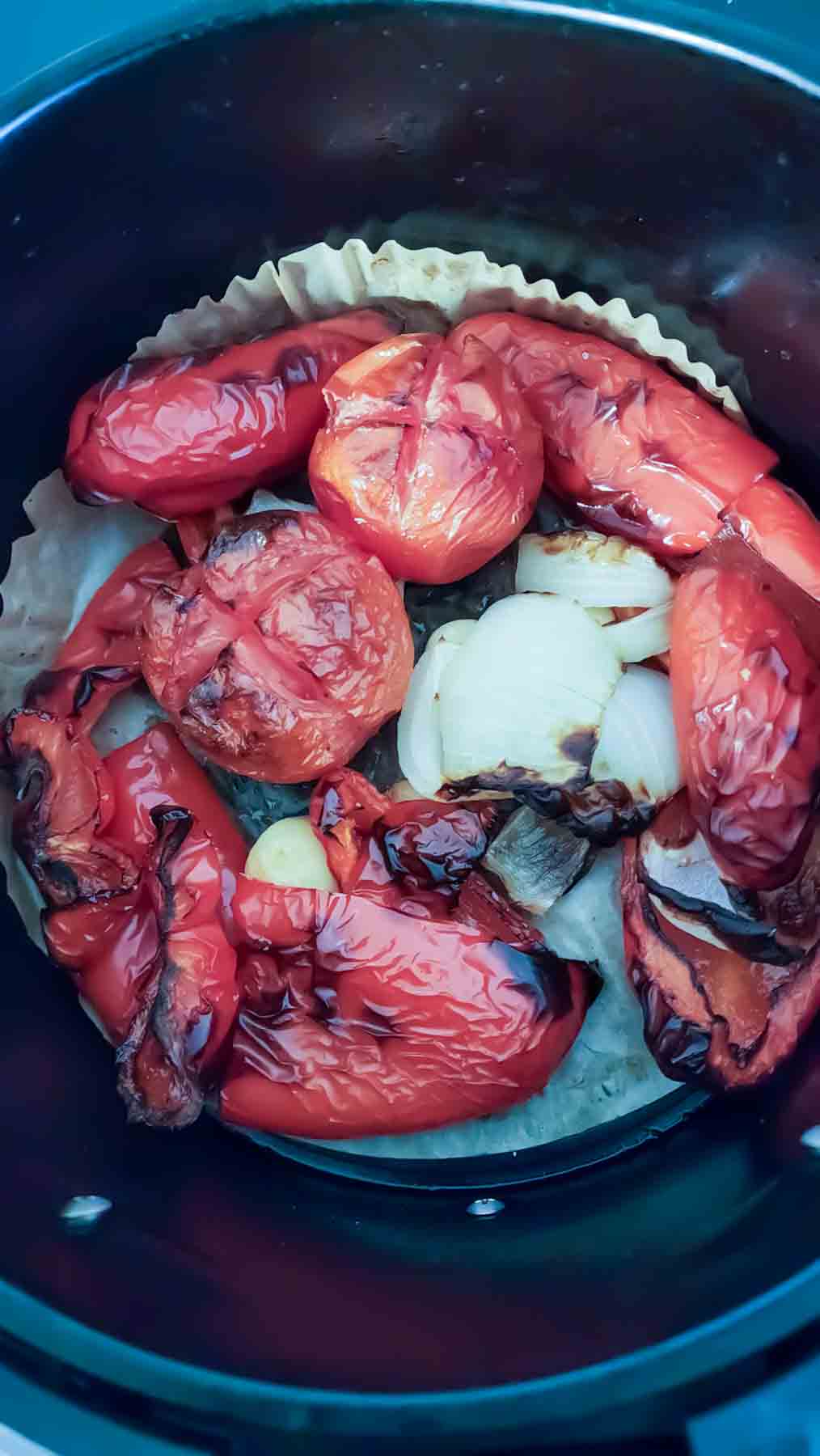 Blend the Roasted vegetables
Once the peppers are roasted and cooled, remove the skins, seeds, and stems. Then, blend them into a smooth, velvety puree. This will serve as the base of the creamy sauce.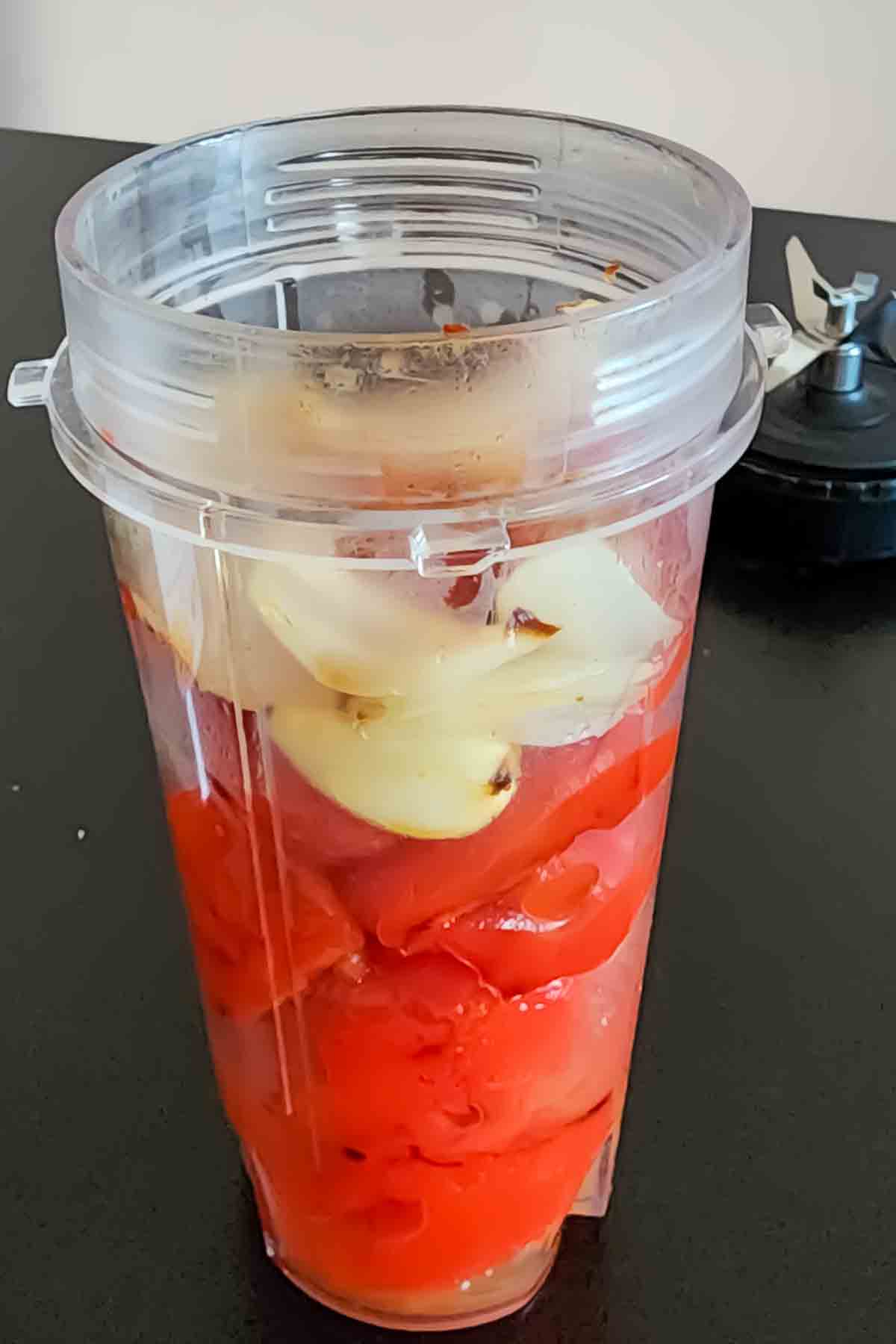 Season to Taste
Season the sauce with salt and pepper according to your preference. Taste as you go to achieve the perfect balance of flavors. Your Bell Pepper Pasta Sauce is ready .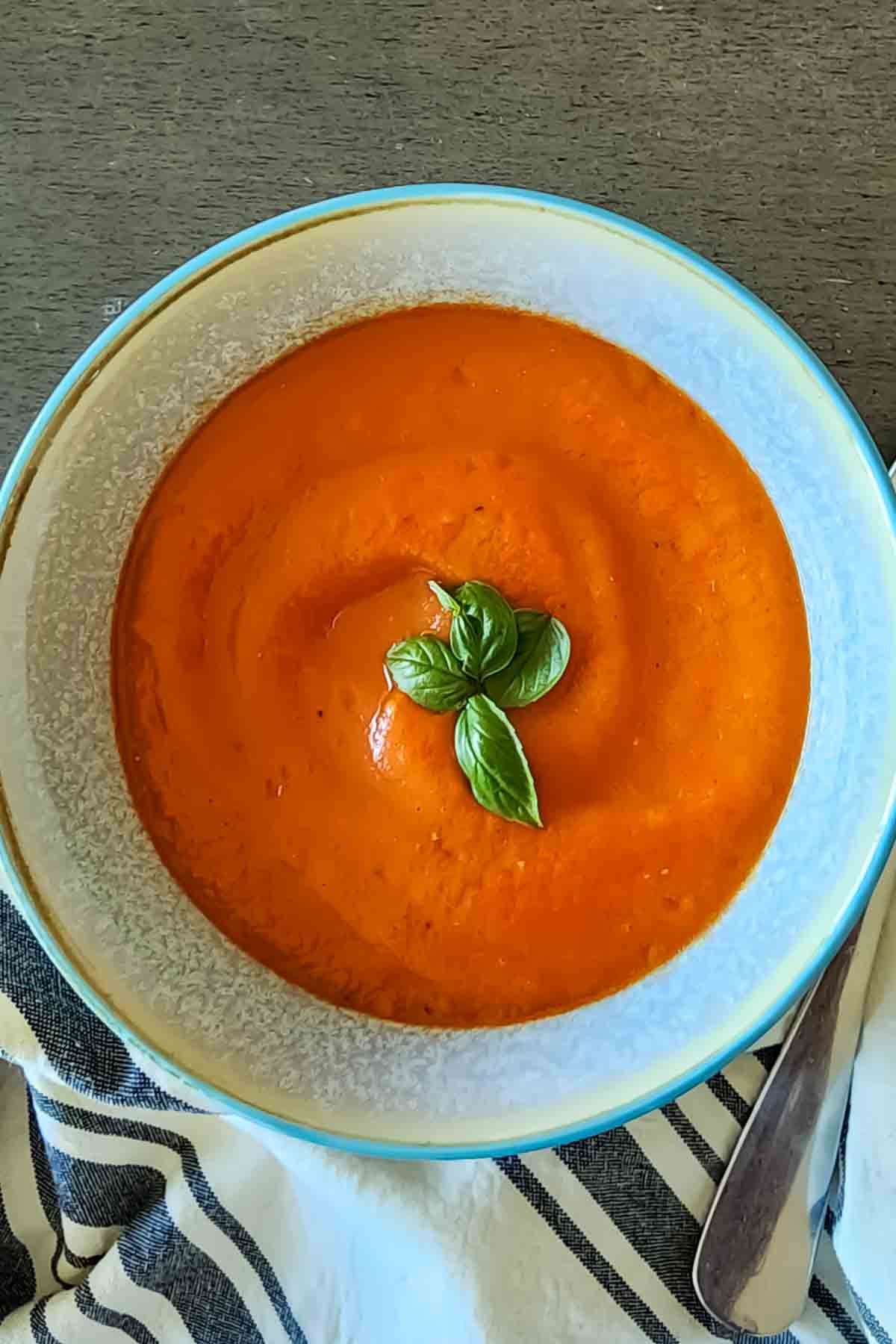 Cook the Pasta
While preparing the sauce, cook your pasta in a large pot of boiling salted water until it reaches your desired level of doneness. Drain it, reserving a small amount of the pasta water.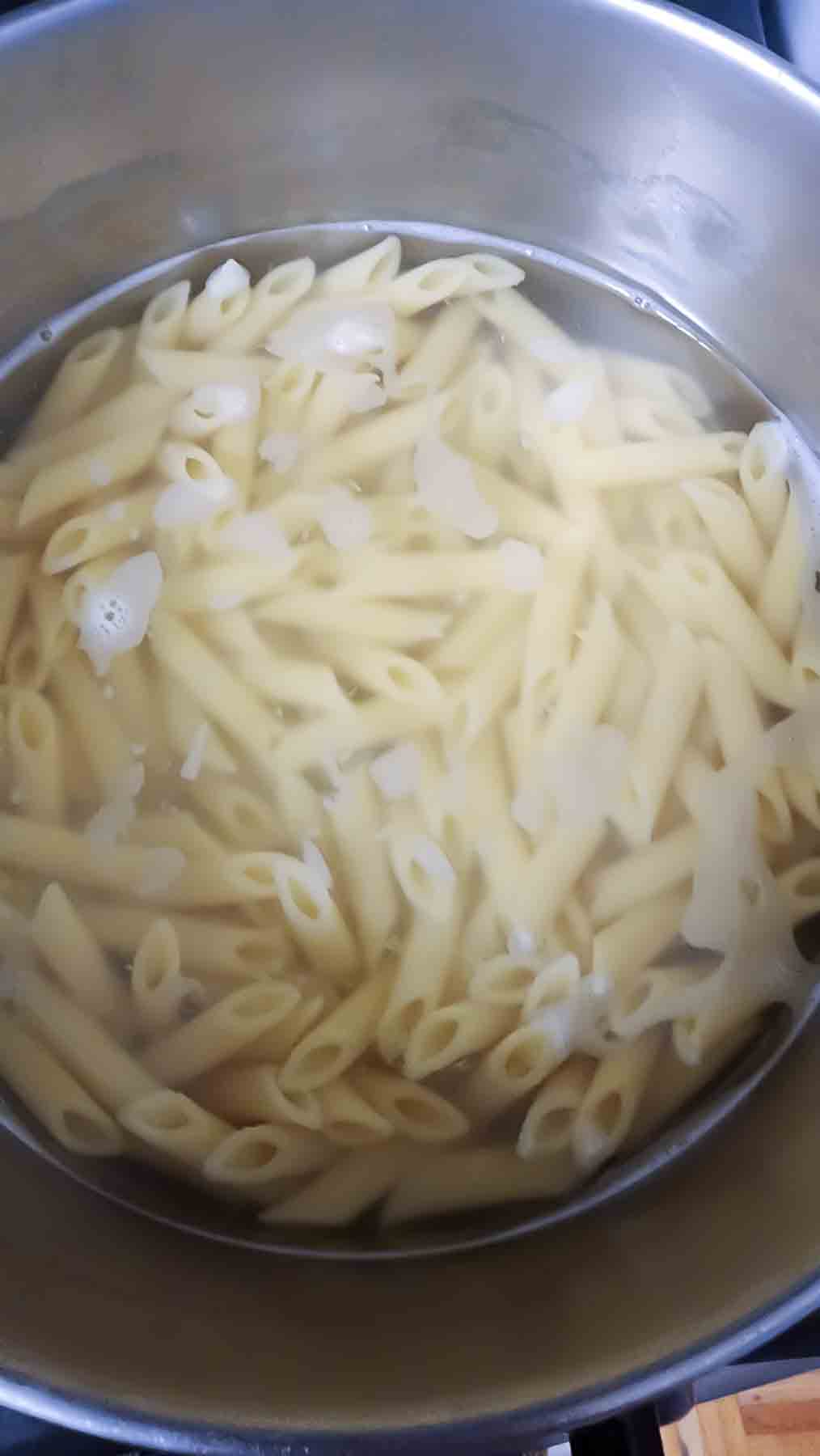 Combine Pasta and Sauce
Add the cooked pasta to the skillet or mixing bowl with the creamy red pepper sauce. Toss to coat the pasta evenly, ensuring every bite is infused with the delectable flavor.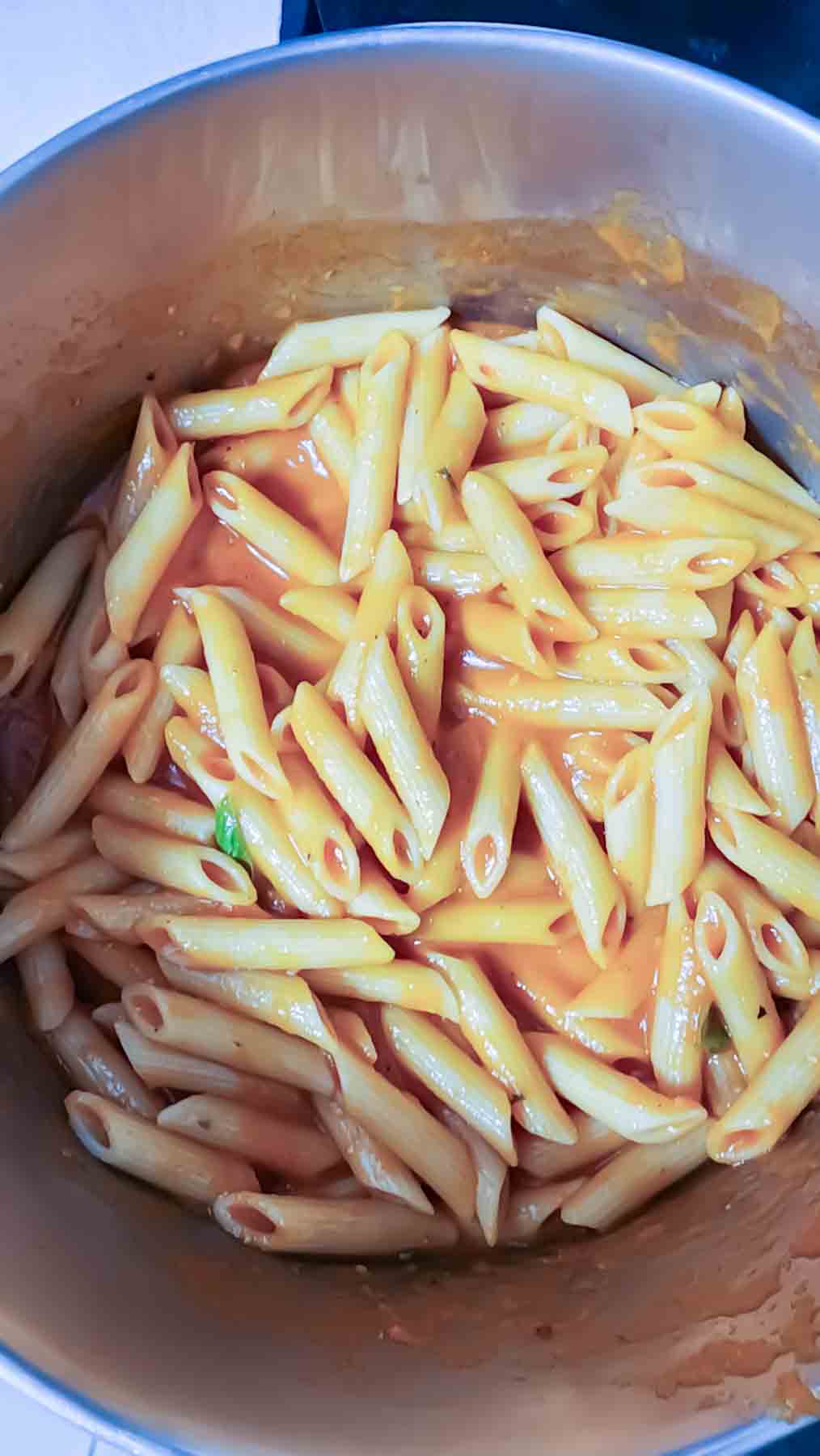 Serve and Garnish
Plate the Creamy Roasted Red Pepper Pasta and, if desired, garnish with sprinkle of grated Parmesan cheese, a drizzle of olive oil, and a handful of chopped herbs for a burst of flavor. Enjoy !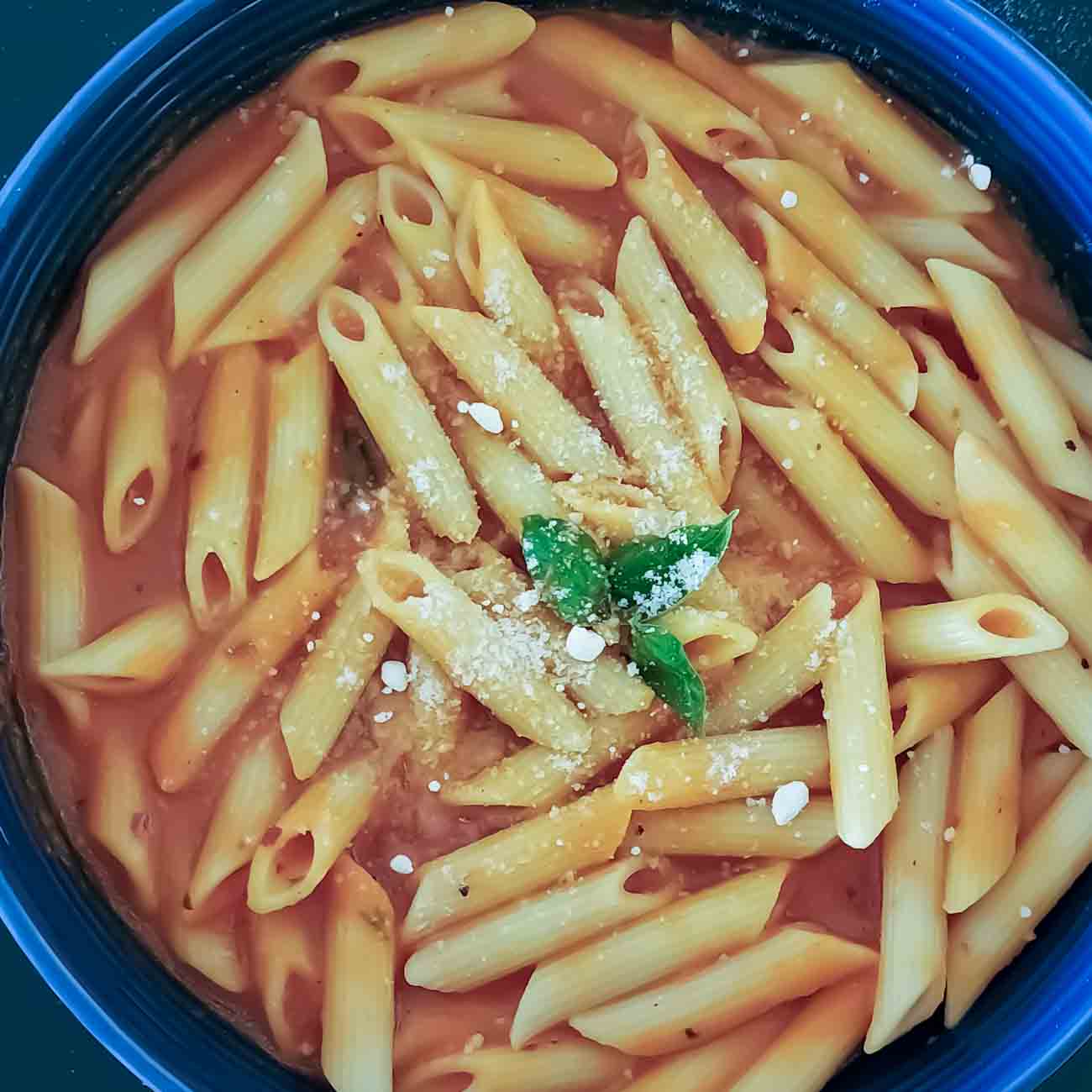 Serving Suggestions
Serve this delicious dinner with a House Salad and side of Air Fryer Garlic Bread for a restaurant style cozy comforting meal at home. My family also loves this delightful pasta along with Air Fryer Naan Pizza.
Variations
Here are several delightful variations you can explore to put your own spin on this Creamy Roasted Red Pepper Pasta. Here are a few ideas to get you started:
Grilled Vegetable Medley: Add extra depth and flavor by tossing in some grilled vegetables like zucchini, eggplant, or cherry tomatoes. They'll complement the smoky red pepper beautifully.
Protein Power: For a heartier dish, consider adding cooked protein. Grilled chicken, shrimp, or even smoked tofu can be fantastic additions. Just toss them in with the pasta and sauce.
Spicy Kick: If you're a fan of heat, add in some crushed red pepper flakes on the top. This will give the dish a spicy edge.
Add nuts: Sprinkle some toasted pine nuts or chopped walnuts on top for a delightful crunch. Not only do they add texture, but they also bring an earthy richness that complements the creamy sauce.
Fresh Greens: Stir in a handful of fresh spinach or arugula right before serving. The heat from the pasta and sauce will wilt the greens just enough to add a pop of color and nutrition.
Sun-Dried Tomato Twist: For an extra burst of flavor, toss in some chopped sun-dried tomatoes. They're sweet, tangy, and provide a nice contrast to the creamy sauce.
Mushroom Magic: Sautéed or air fryer mushrooms are a wonderful addition. They bring an earthy, umami flavor that pairs beautifully with the sweetness of the red peppers.
Expert Tips
Use salt and oil while boiling the pasta. Save 1 cup of pasta water before draining to thin out the sauce if needed.
You can use Chickpea Pasta for protein rich meal. You can also use this sauce over zucchini noodles for low carb dinner.
Choose whole wheat pasta for whole grain wholesome meal. You can also serve the sauce with Instant Pot Spaghetti Squash.
The sauce can be made in bulk and stored for later use. You can also freeze it.
To save time roasting the peppers, use jar of roasted red peppers. Make sure to drain the liquids before blending. You can make it a pantry meal if you choose this option.
Our Favorite Pasta Recipes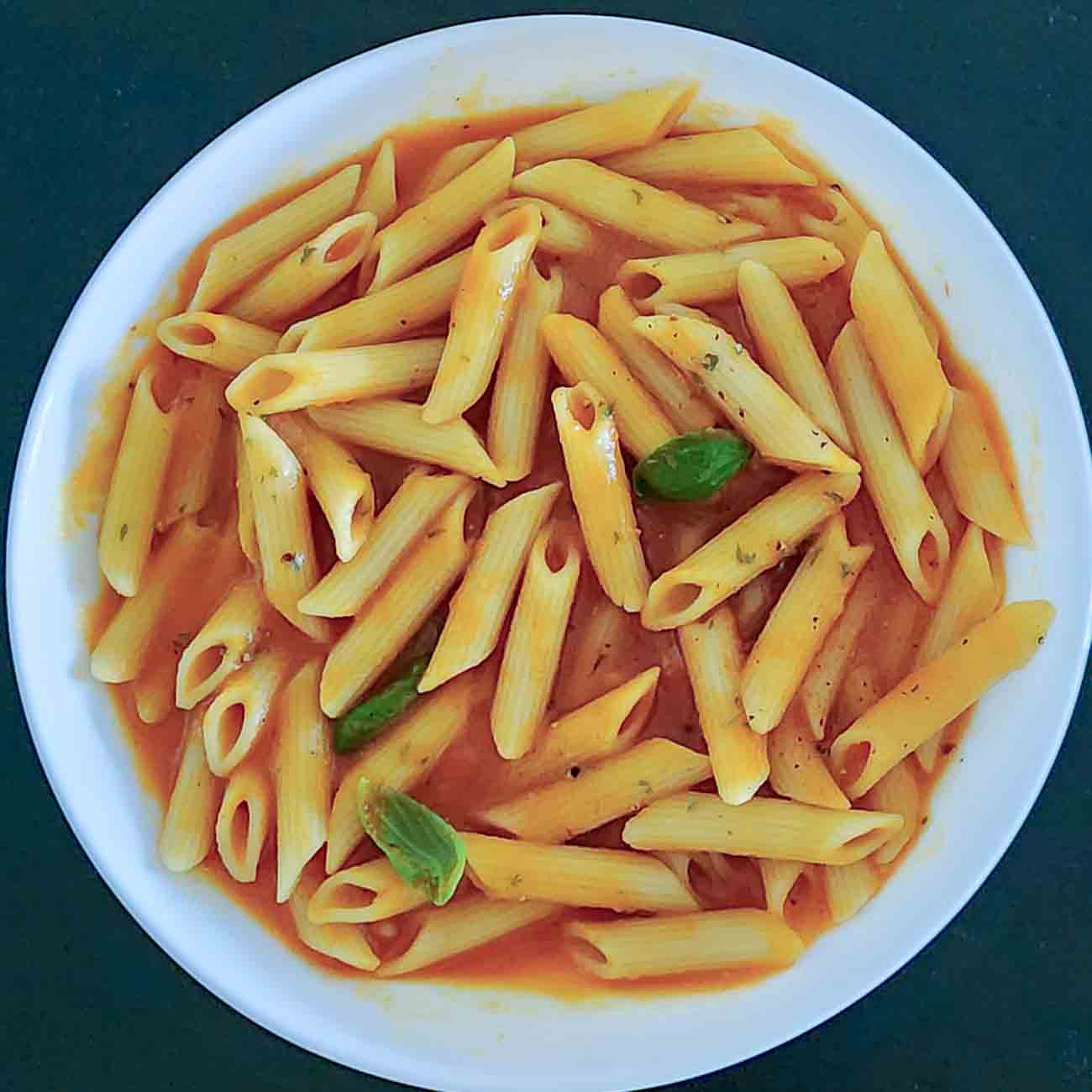 ❤ If you make this ProfusionCurry Recipe, do let us know how you like it by ⭐⭐⭐⭐⭐Star Rating and commenting below ! ❤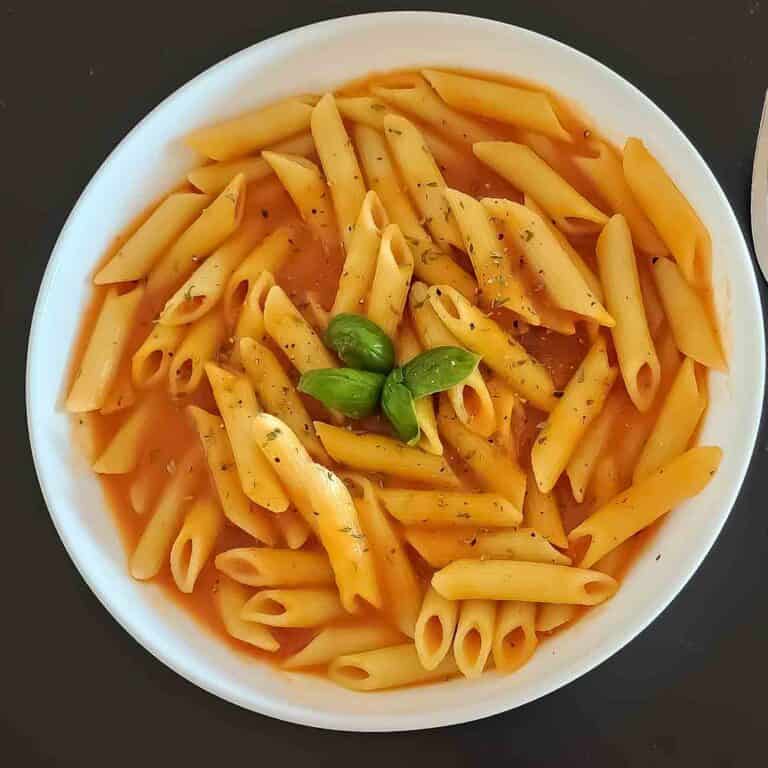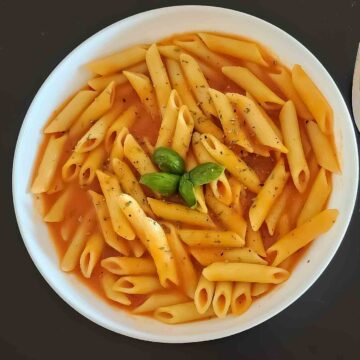 Roasted Red Pepper Pasta Recipe
Delight your taste buds with this Creamy Roasted Red Pepper Pasta recipe! Smoky roasted peppers blended into a luscious sauce, tossed with your favorite pasta.
Ingredients
2

sweet red bell peppers

seeded and cut in halves

1

Tablespoon

extra virgin olive oil

1

onion

roughly chopped

2

Red Tomatoes

2-4

cloves

garlic

¼

cup

soaked cashews

or heavy cream

Salt and pepper to taste

12

ounces

pasta of your choice
Optional garnishes
Fresh basil leaves for garnish

optional

½

cup

grated Parmesan cheese

Use plant based cheese for vegan
Instructions
Put the red peppers, onion, tomatoes and garlic in the air fryer basket or on a baking sheet with parchment paper. Drizzle with olive oil. Roast at 400 degree Fahrenheit until vegetables are charred 25 to 30 minutes.

Meanwhile, bring a large pot of water to a boil. Add salt and olive oil. Add pasta and cook the pasta until al dente according to package directions. Reserve 1 cup pasta water, drain and return the pasta to the pot, covered.

Transfer the roasted vegetables to a blender. Add soaked cashews. Blend until smooth and creamy.

Add the sauce on top of the cooked pasta and toss to combine. ( If you are using heavy cream instead of cashews, add it now) . Add some pasta water as needed for your desired consistency.

Garnish with fresh basil and grated parmesan cheese. Serve warm. Enjoy !
Notes
How to Cook Pasta In Instant Pot?
Combine pasta, olive oil, water, and salt in the insert of an Instant Pot. Close and lock the lid. Set the vent to "Sealing". Pressure cook on high for the time. ( Use lowest time on the suggested cooking time and divide it by 2) After it's done cooking, let the pressure release naturally for 5 minutes. After that, manually release any remaining pressure. Open the lid and give the pasta a good stir. It is ready to use.
Store any leftovers in an airtight container. They will last about 3-4 days in the fridge.
Use either soaked cashews or heavy cream ( plant based for vegans) .. Do not use both.
To save time, use store bought jar of roasted red peppers.
Nutrition
Serving:
1
cup
Calories:
321
kcal
Carbohydrates:
51
g
Protein:
12
g
Fat:
8
g
Cholesterol:
7
mg
Sodium:
154
mg
Potassium:
389
mg
Fiber:
4
g
Sugar:
5
g
Vitamin A:
1656
IU
Vitamin C:
58
mg
Calcium:
100
mg
Iron:
1
mg
♥ Follow us on Pinterest and like our Facebook page. We love creating delicious, family favorite recipes from around the world. Come Join Us ! ♥