Chili Garlic Chinese Noodles– Crunchy vegetables, soft pressed tofu, al Dante noodles and aromatic savory sauce !! Perfect Asian inspired weeknight meal under 20 minutes. Home made, budget friendly and super delicious recipe. InstantPot and Stove top directions are included.
The contrasting colors of peppers, snow peas and green onions create an appealing visuals to get your appetite going. Then there are varying textures. Thin spaghetti , tofu and lip smacking chili garlic sauce. All dusted with amazing Chinese five spice seasoning for an easy one pot meal with a lot of flare. Drool drool..
THE RECIPE CARD IS LOCATED TOWARDS THE END. Amazon affiliate link disclosure is below as well. Before scrolling to the recipe card, do check the HELPFUL RECIPE TIPS in the post.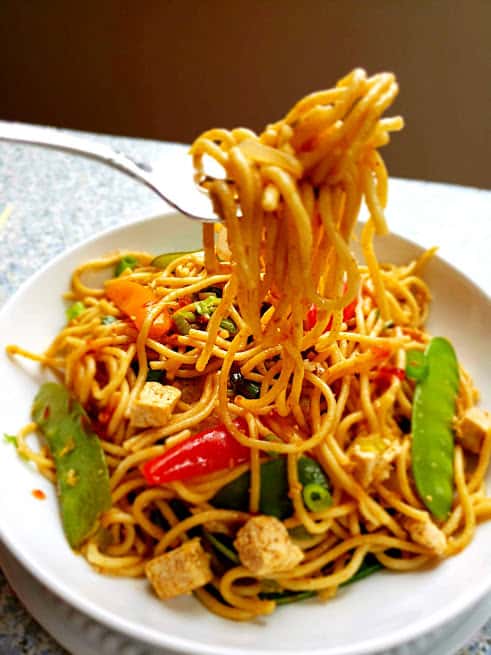 As always, this recipe was originated in my kitchen while experimenting with different spices and herbs. If you are regular readers of our blog, you know how much we love creating beautiful and flavorful meals.
So I was craving Chinese food and wasn't in a mood to order take out. I needed something different than typical chow-mein or lo-mein. Typically these are the times, when some of our best recipes have been created.
I want to eat Chinese/ Asian food guilt free. So I have re created array of Chinese inspired dishes at home. With the quality of ingredients I can trust and easily available. Do check out some of our amazing chinese food recipes here.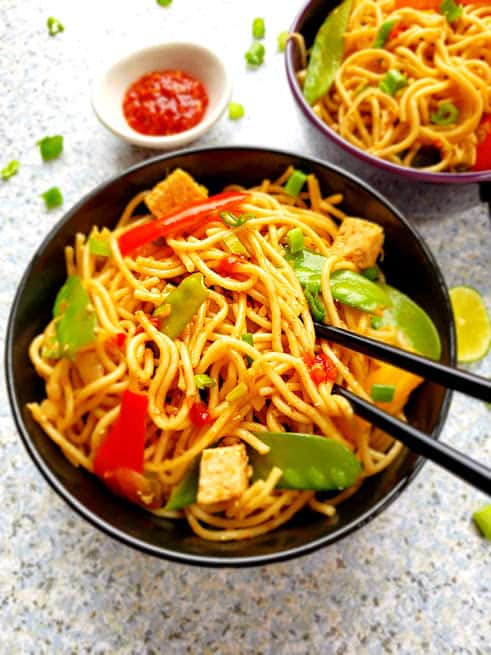 What is Chinese Five Spice?
I had read about Chinese five spice powder in a spice encyclopedia. Chinese Five Spice is based on the five elements – fire, water, wood, earth and metal. It helps ensure harmony in nature and symbolizes good health.
For thousands of years, herbs and spices have been used to restore balance in the body. According to traditional Chinese medicine, these five elements are the core of well functioning body. And using these herbs and spices can ensure the proper balance.
Intrigued enough, I brought the chinese five spice and it has become a favorite spice blend of our household. You can easily find it in grocery store spice isles. You can sprinkle it on any food that needs instant savory perk up. I am including a amazon link ( affiliate) if you want to order it online. Chinese 5 Spice Amazon Link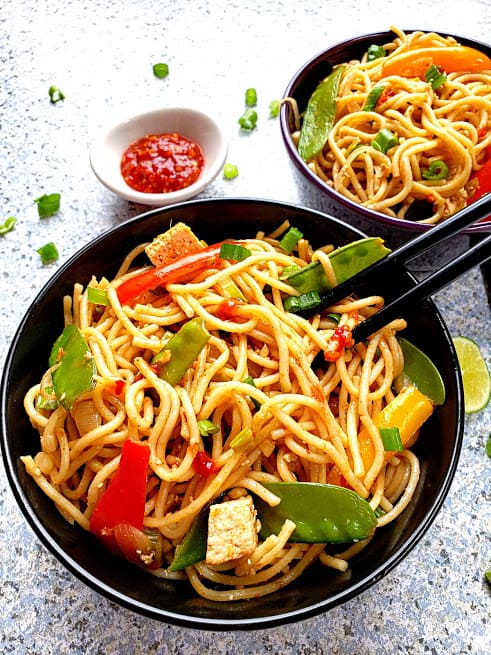 So going back to creating this scintillating scrumptious Chili Garlic Chinese Noodles. I wanted to pair up the amazingly flavorful spice blend with something savory- bold and spicy. So I decided to experiment it with chili garlic sauce. Sambal Oelek with chilies, garlic, ginger and vinegar seemed like a perfect match. And my sizzling sensational noodles were born !!
Plus, you don't need any kind of special noodles to make this recipe. I used standard spaghetti noodles. You can use linguine, fettuccine, or even angel hair. Ramen noodles work very well with this recipe. You can use rice noodles to make it Glutenfree.
Don't forget to follow us on Pinterest and like our FACEBOOK page. We love creating delicious, plant based recipes from around the world. DO JOIN US !!

Are these Chinese Garlic Noodles Spicy?
Yes, they can be. If you're adverse to spiciness then adjust the amount of chili garlic sauce. And if you want to make them for young children then, keep the sauce on the side so they can enjoy it along.
Chinese Five Spice – You can find this next to all the other spices at the grocery store. It's savory blend of cinnamon, cloves, fennel seed, peppercorns and star anise. One of the superbly aromatic spice mixtures, you will love using this spice blend to perk up any bland meal.
We absolutely LOVE these Spicy Asian Noodles. It's on repeat meal prep in our kitchen and just can't seem to get enough of this recipe. I love how quick and easy these noodles are to make. Great for a quick weeknight meal.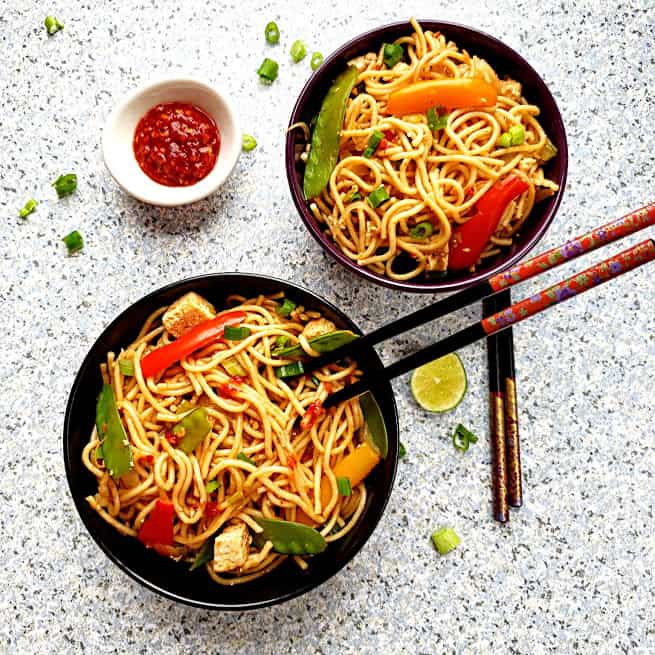 Leftovers taste amazing. Though I must admit – we hardly have any since we compete for eating till the very last slurpy delicious noodles. All . the. time !
These beautiful, colorful, fabulously-flavorful noodle were ready to go whenever you crave them. You summon them and 20 minutes later they are ready !!
Sweet, spicy and DELICIOUS!!! This Chili Garlic Noodles recipe is your instantaneous ticket to Asia without leaving your house and without using your frequent flier miles 🙂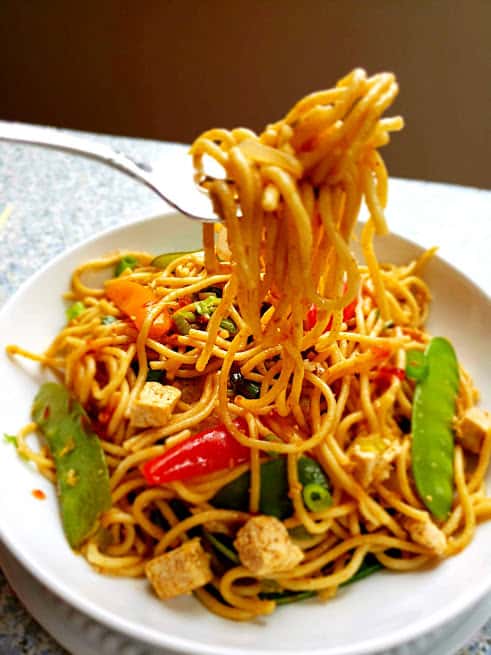 What are the ingredients of Chili Garlic Asian Noodles?
Noodles – I used regular spaghetti noodles. You can use any noodles you have readily available. Use rice noodles to make it gluten free.
Veggies – For the authentic asian flavors, I used multi color sweet peppers, green onions, and snow peas. Again no hard and fast rule. Use whatever veggies you have in refrigerator. Broccoli, cabbage, green beans, edmame all work very well.
Tofu – I used tofu to add plant protein and make it a complete meal. The meaty texture of tofu makes this recipe even more filling and hearty. If you are looking to make it soy free, skip tofu. For similar texture, you can substitute mushrooms instead.
Sauces and seasoning – This is the most integral part if these delicious noodles. I am using minced ginger and garlic as a base. We use Sambal Oelek chili garlic sauce to coat the noodles. Chinese five spice gives a nice rustic, earthy flavor. Sesame oil and liquid coconut amino round up the asian taste.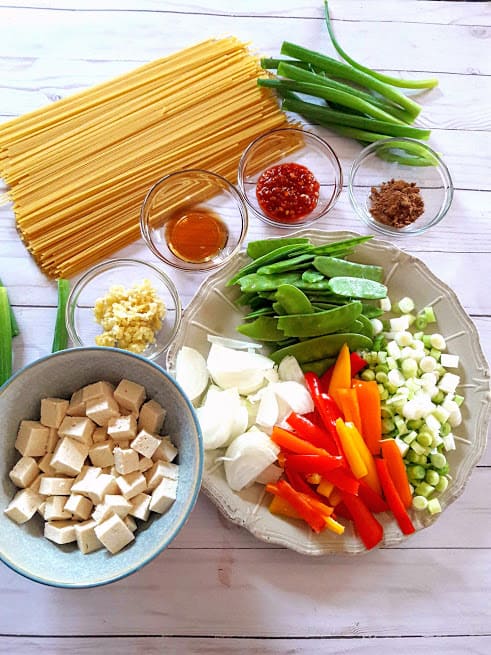 A special note about making these Chili Garlic Chinese Noodles in InstantPot .
I love cooking pasta or noodles in electric pressure cooker like InstantPot. It saves actively monitoring few steps while making pasta. You don't' need to wait and watch boiling water, and while the noodles are boiling. A true one pot meal, it's so much easier to make noodles in InstantPot or Electric Pressure cooker.
In InstantPot, when noodles are cooked, if you notice too much water, then drain excess water. If there is little water, noodles will soak it up.
Also, I prefer NOT to pressure cook the veggies with noodles since I like different textures instead of mushy gulpy veggies. However, if you want to make this recipe truly dump and go, you can ! Just dump all ingredients in the InstantPot and cook at once. However, just 5 extra minutes of sautéing the veggies separately makes a big difference between mushy gulp vs tender textured veggies and noodles. So choice is yours 🙂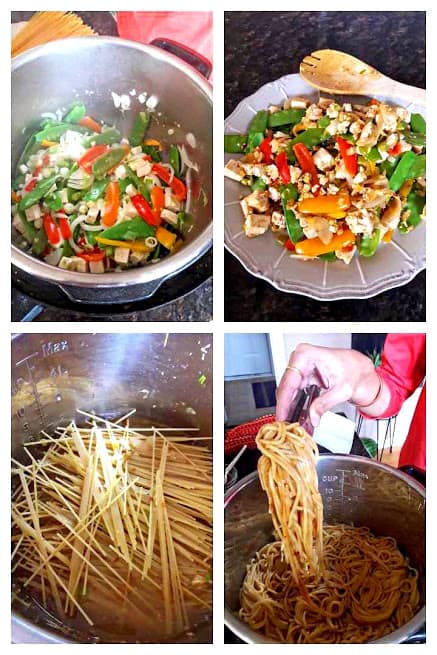 ★ If you make this Chili Garlic Chinese Noodles Recipe, do let us know how you like it by ★ star rating it and leaving a comment below.
We would love to hear your feedback!! Use the PIN button in the recipe card to pin this recipe.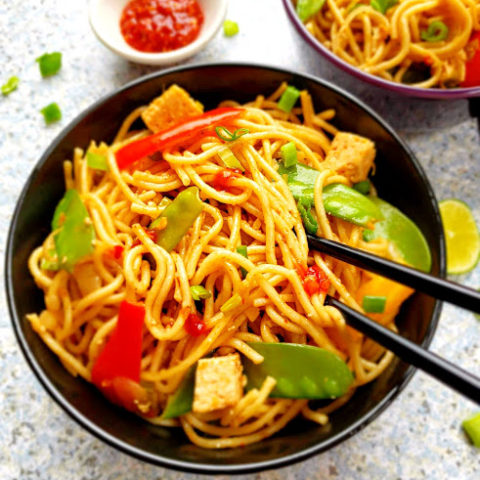 Chili Garlic Chinese Noodles
Delicious Chili Garlic Chinese noodles with colorful veggies and tofu are drenched in spicy sambal oelek sauce and Chinese 5 spice to create amazingly flavourful meal. These vegan noodles are perfect for Asian inspired weeknight dinner.
Ingredients
8 oz thin spaghetti noodles
1 cup red bell pepper -cut into stripes
1 cup green onions - cut into small pieces
1 cup snow peas - ends trimmed
1 cup pressed tofu- cut into bite size pieces
1 tablespoon ginger garlic paste
1 tablespoon sesame oil ( or any cooking oil)
2 teaspoons Chinese 5 spice
1 tablespoon Sambal Oelek or Chili garlic paste
2 tablespoon liquid coconut amino or low sodium soy sauce or tamari
Salt and pepper to taste
Lemon / lime wedges, cut green onion and sesame seeds for garnish
Instructions
Stove top directions :
Cook spaghetti according to package directions. Drain the excess water and keep it aside.
Heat a large skillet or wok over medium heat. Once it's hot, add oil. Add ginger garlic and let it sizzle. You should sense the aroma. Add the veggies and tofu, chili garlic sauce, chinese five spice, liquid coconut amino, salt and pepper. Saute on high heat for 3-5 minutes. Veggies should look tender but not mushy. ( high heat cooking will help them cook quickly so stir frequently).
Add the cooked noodles to the wok. Toss and mix so everything coats well together. Turn off the heat.
Taste and adjust the seasoning if required. Garnish with chopped green onions and squeezed lime juice. Serve warm. Enjoy.
InstantPot Directions:
Start InstantPot on saute mode. Once it warms up, add oil in main steel insert. Wait for few seconds so oil is warm. Add ginger, garlic and let it sizzle. You should sense the aroma. Add the veggies and tofu, 1/2 of chili garlic sauce, chinese five spice, 1 tbsp. liquid coconut amoni, salt and pepper. Saute on high for 3-5 minutes stirring frequently. Once veggies look cooked and tender, CANCEL saute function. Remove the mixture from InstantPot and set aside.
Break noodles in half and add them in main steel insert of instant pot. Add enough water to cover the noodles. Add 1 tablespoon oil, 1 teaspoon of Chinese 5 spice, 1 tbsp. of coconut amino and half a tablespoon chili garlic sauce. Close the lid and valve in SEALING position. Choose MANUAL or PRESSURE COOK mode on high for 4 minutes. InstantPot will do the cooking and will beep when it's done. Wait for 4 minutes on keep warm timer and then release the leftover pressure manually by moving the valve from SEALING to VENTING. Open the lid carefully.
Add the sauted veggies to the main insert. Using tongs, mix everything well. Taste and adjust the seasoning if required. Garnish with chopped green onions and squeezed lime juice. Serve warm. Enjoy !!
Recommended Products
As an Amazon Associate and member of other affiliate programs, I earn from qualifying purchases.
Nutrition Information:
Yield:

8
Serving Size:

1
Amount Per Serving:
Calories:

211
Total Fat:

11g
Saturated Fat:

2g
Trans Fat:

0g
Unsaturated Fat:

7g
Cholesterol:

13mg
Sodium:

383mg
Carbohydrates:

20g
Fiber:

3g
Sugar:

4g
Protein:

11g