Egg Roll in a Bowl is delightful recipe full of plant protein and flavors. These Keto Vegan Eggroll Bowls are brimming with wholesome ingredients minus the fried, greasy and empty calories. This 20 minutes recipe is also inexpensive and hearty filling.
What's so fabulous about this recipe? Everything !! And I mean it. These Instant Pot Eggroll Bowls are fancy enough to serve as a fusion appetizer bowl, enjoy as a snack or make a complete meal – lunch or dinner.
This eggroll in a bowl recipe is
keto,
low calorie,
Gluten free,
low carb
and vegan.
What is Egg Roll In A Bowl?
This enriching bowl recipe is a nutritional powerhouse. And guess what?? Unlike traditional Chinese eggrolls, these eggrolls are NOT deep fried. You will love that they are easier on waist line and enjoy them guilt-free!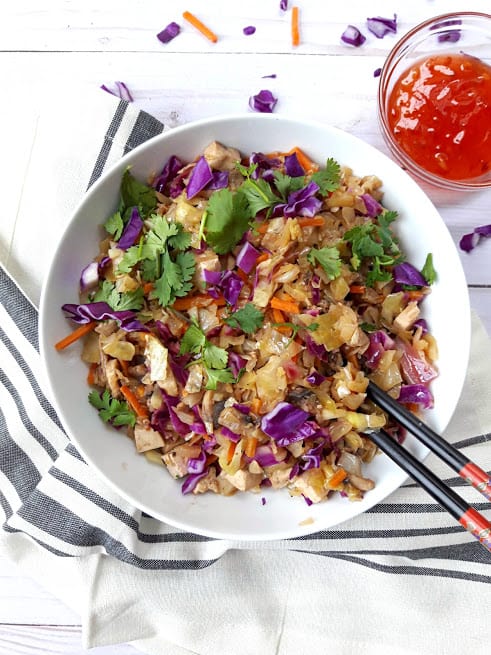 BETTER THAN TRADITIONAL FRIED EGGROLLS
Raise your hands if you often order Egg-rolls when you eat Chinese food. I am raising mine very high 🙂 One of the main attractions of eating Chinese food on lunch menu is the egg-rolls. I sneakily also like the "included with entrée part" :))
However, often these egg-rolls are pre made and deep fried. So I settle for eating only one. Then if I crave more , I have to remind myself that it's deep fried and then the whole guilt part kicks in. So I move on to next entrée.
But I LIKE egg rolls and I want to enjoy them without worrying about counting calories. This recipe provides a perfect solution to this dilemma.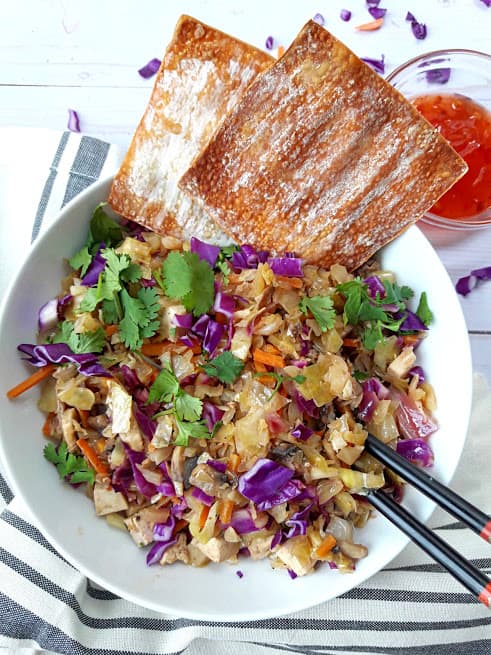 Better than Take Out
This wholesome recipe is packed with umami Asian flavors. It is one pot wonder meal too. One giant bowl of happiness minus the empty calories. This colorful healthy recipe is made with tofu, fresh vegetables, and a flavorful savory sauce. It makes a perfect quick and hearty weeknight dinner.
Simple ingredients, superb flavors , low carbs and easy preparation – this recipe of also mimics the traditional Crack Slaw Recipe. I have a feeling it's going to be one of your favorite recipe from our blog. It sure is in our home.
You can easily adapt this recipe to your preference. I am making it Glutenfree and vegan. Omnivores won't miss the meat since I am adding mushrooms and tofu for the meaty texture.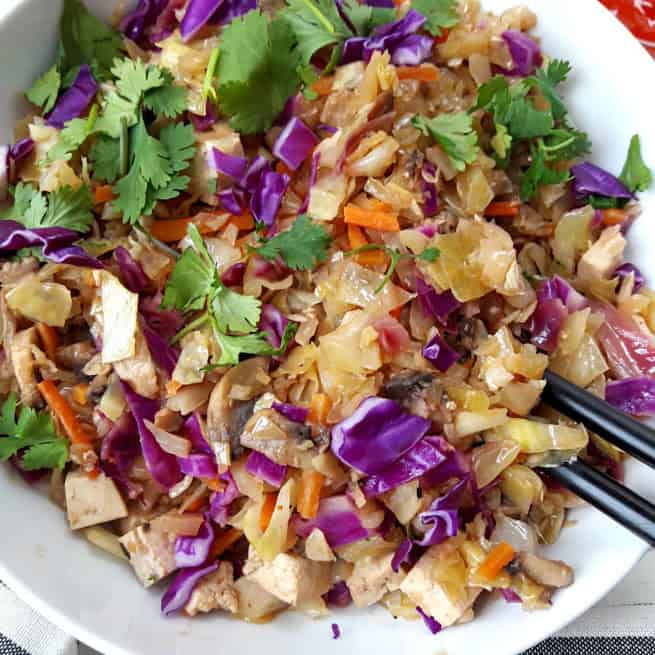 Nutritional Benefits of Egg Roll in a Bowl
This Egg Roll in a Bowl Recipe is rich with loads of healthy ingredients including:
Cabbage: cabbage is a cruciferous vegetable. The combination of red and green cabbage offers loads of health benefits including being rich in vitamins and folic acid and minerals such as iron, potassium, and selenium.
Carrots: good source of several vitamins and minerals, especially vitamin A (from beta-carotene), biotin, vitamin K , potassium and vitamin B6. All the goodness that helps improve vision and slow down aging.
Ginger and Garlic: It serves both as a medicine and seasoning. Loaded with potent antioxidant and hypoglycemic and anti inflammatory properties, these are wonderful natural healers.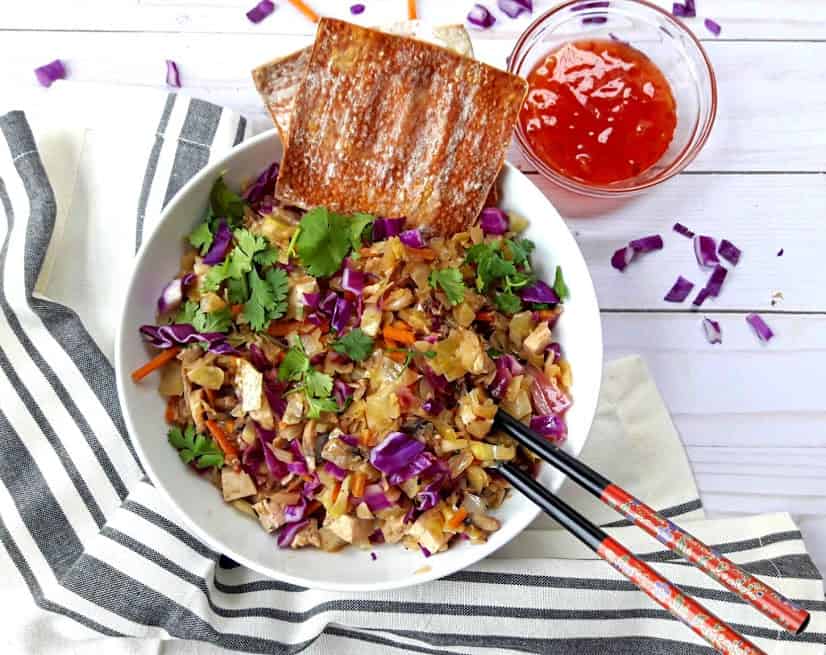 Instant Pot or Stovetop Cooking to make Vegetable Egg Roll Bowl
At PROFUSION CURRY kitchen, we sure do love our Instant Pot. I use a 6 Quart Instant Pot for all my Instant Pot Recipes. Pranjali uses Duo. Check out our fabulously growing collection of Instant Pot Recipes!
Another Budget Friendly Wholesome One Pot Meal for Busy Families, this Egg Roll Bowl is a perfect one pot meal. You make it in a wok on stove top or you can use electric pressure cooker like Instant Pot.
This Keto Crack Slaw is fast and the leftovers are delicious. The step by step directions are provided in the recipe card. The Pictorial instructions are below.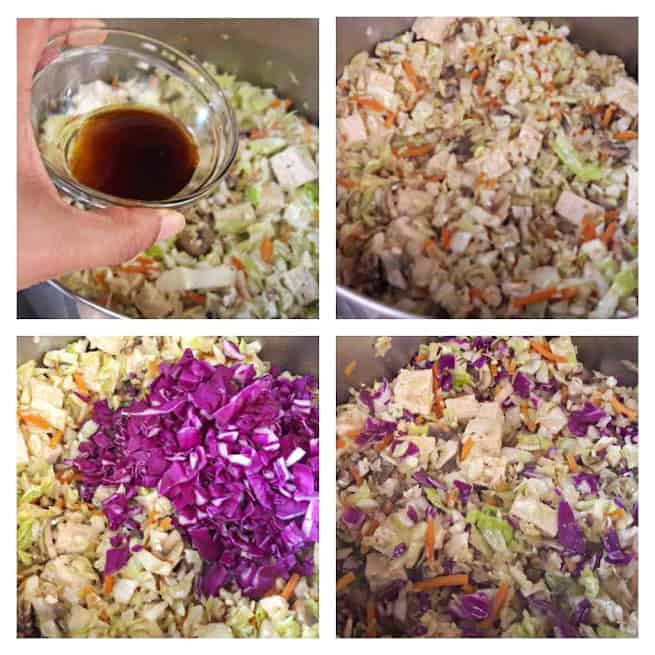 INGREDIENTS:
We start off with colorful mixture of cabbage ( green and purple) and carrots. We add mushrooms for the meaty texture and giant umami flavors. For the perfect plant protein, we also add pressed and cubed tofu in these bowls.
The sauce is flavor packed and tantalizing. It's bold but doesn't burn your tongue. You can feel several different flavor notes. There is tanginess of rice vinegar and liquid coconut amino. The ginger and garlic round up the bold and dashing flavor. The sesame seed oil gives a nice nutty flavor to this wonderful.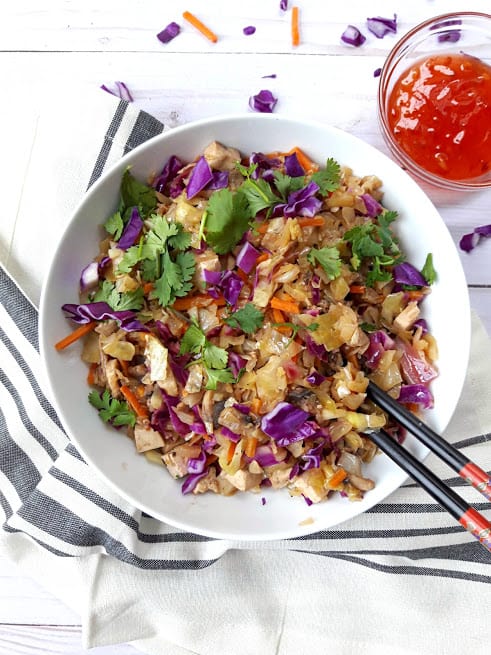 How long does this low carb egg roll in a bowl last for?
You can store this in the fridge for up to 4 days.
Can you freeze this Vegan egg roll bowls?
No. I don't recommend freezing it. Cabbage get very mushy and smells very unappetizing after you thaw it.
How Do you serve Vegan Keto egg roll bowl ?
Warm or cold both works. I prefer it warm. If you eat it as a salad, a room temperature serving works perfect.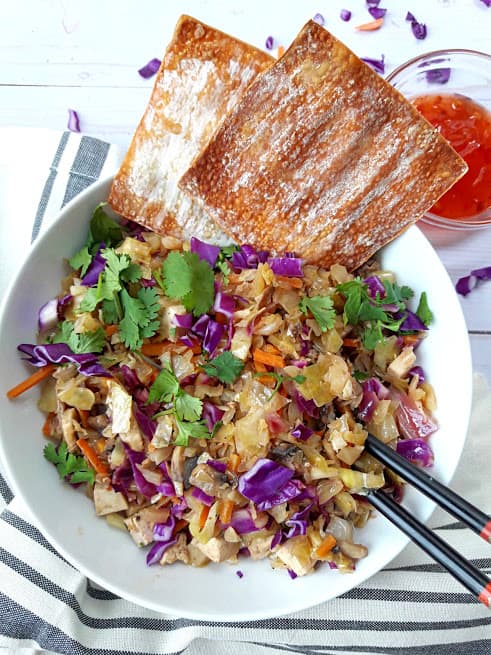 PRO TIPS:
Sesame Oil: I am using two types of sesame oils. Raw or clear sesame oil for sautéing and toasted sesame oil for drizzle at the end. Cooking with toasted sesame oil makes the oil bitter. It adds an amazing flavor if you drizzle it on top.
Cabbage reduces substantially in volume when it's cooked. So plan and cook accordingly. One medium head of cabbage yields about 5-6 cooked cups.
You can buy and use pre packed Cole slaw mix to save time on washing and cutting the cabbage and carrots. For a variation, broccoli slaw mix works well too.
If you want to make this recipe soy free – skip the tofu. Double the amount of mushrooms for the flavors and texture.
You can use tamari, soy sauce or liquid coconut amino depending on your taste and diet preferences. Choose organic version to avoid GMO exposure. I prefer low sodium too.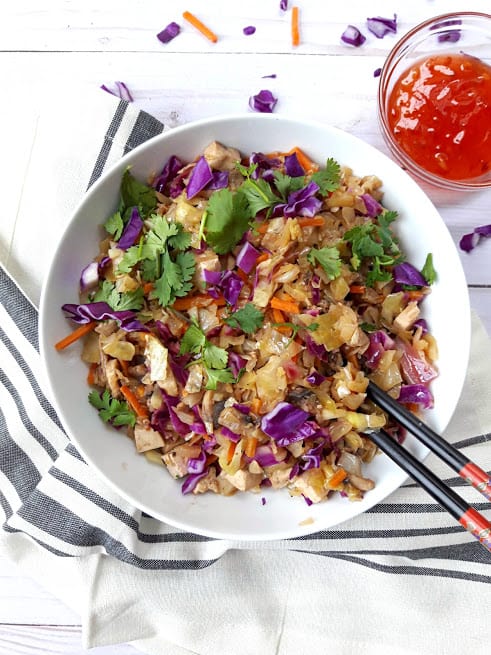 TRY OUR POPULAR CHINESE FOOD RECIPES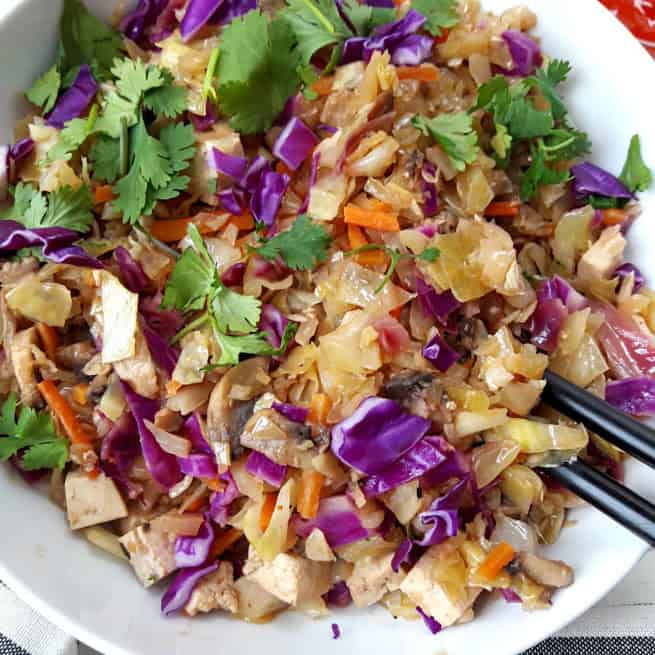 We would love to hear your feedback . If you make our recipes, take a picture and tag it #profusioncurry on Instagram! We love seeing what you come up with. Cheers, friends !!
Join us on Pinterest and FACEBOOK . You will love all our delicious, wholesome, plant based recipes from around the world.
★ If you make this VEGAN EGGROLL IN A BOWL do let us know how you like it by ★ star rating it and leaving a comment below.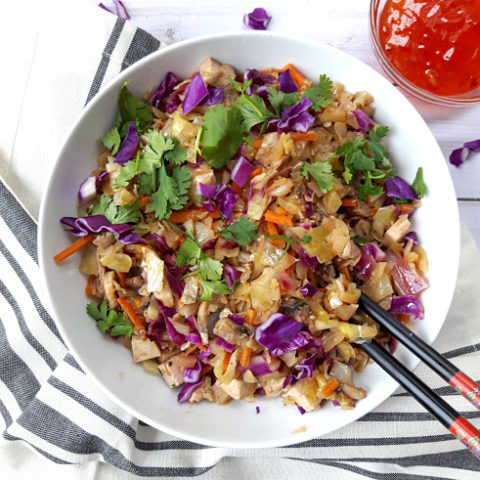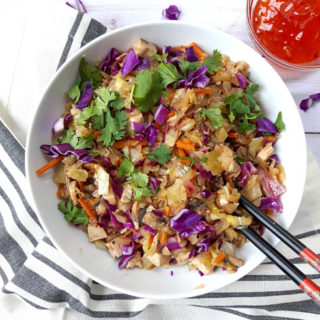 Egg Roll in a Bowl -Instant Pot Vegan Crack Slaw
Vegan Egg roll in a bowl or crack slaw, is a quick weeknight dinner recipe! It's ready in just 20 minutes and is packed with umami flavors. Glutenfree, Low carb, Keto Friendly and dairy free recipe.
Ingredients
1

tablespoon

sesame oìl

1

cup

organic tofu

pressed and cut into small pieces

1

8oz package mushrooms, sliced

1

medium green cabbage finely chopped

1

cup

match stick cut carrots

1

cup

purple cabbage finely chopped

** For Seasoning:

1

tbsp.

rice vinegar

⅓

cup

liquid coconut amino or tamari or low sodium soy sauce

1

tbs.

ground ginger or to taste

4

cloves

garlic minced

**For Garnish

1

bunch green onions

sliced

2

tbsp.

sesame seeds

1

tbsp.

toasted sesame oil

optional
Instructions
Instant Pot Instructions:
Place Instant Pot on sauté. Wait for few seconds. Then add oil, tofu and mushrooms. Add all the seasonings. Sauté for couple minutes till tofu browns a little and mushrooms start to release water.

Add all other veggies and mix well. Add ¼ cup water. Cancel Sauté. Place lid on and turn knob to sealing position.

Set Instant Pot on MANUAL high pressure for 0 minutes. If you have a newer model Instant Pot, you select the pressure cook button and use +/- buttons to choose 0 minutes.

When InstantPot beeps after cooking, do a quick release by turning the valve from sealing to venting. When all pressure is released, open carefully and give everything a quick stir.

Spoon into bowls. Garnish with chopped green onions, sesame seeds. Drizzle some toasted sesame oil on top. Devour with gusto !
To make Wonton Chips in Oven ( Optional)
In the meantime, Preheat oven to 400 degrees

Arrange wonton wrappers on a parchment paper lined baking tray. Brush the wonton wrappers with oil.

Bake in preheated oven for 4-5 minutes until they look crispy and brown. Keep an eye on them because they go from brown to burned very fast!

Let the chips cool down and enjoy with your egg roll bowls
Stove Top Instructions:
You could make this recipe in a wok or skillet on the stovetop. Heat oil on medium high heat. Brown the tofu and mushrooms. Add the seasonings, then rest of the veggies. Cover and let it cook for 5-10 minutes (based on desired tenderness). Spoon into bowls. Garnish with chopped green onions, sesame seeds. Drizzle some toasted sesame oil on top. Serve warm.
Nutrition
Serving:
1
cup
Calories:
197
kcal
Carbohydrates:
16
g
Protein:
9
g
Fat:
12
g
Saturated Fat:
2
g
Polyunsaturated Fat:
10
g
Sodium:
766
mg
Fiber:
4
g
Sugar:
8
g