For this Make Your Own Mexican Taco Bar, we prepared lot of fresh side dishes. Using all the fresh bounty from the fruit and veggie market, it creates a colorful fiesta. Have it for dinner or your next party. You will love how satisfying this whole meal is !
This is one of those dinners where you can get your kids involved in preparing the food. You can start off with simple tasks like peeling the garlic, onions ( sans tears) or corn cobs. Both my boys take keen interest in cooking and learning the process. With our globe trotting schedule, it has never been a issue with kids since they love trying new things very willingly. Start them young as they will be much more savvy and refined young adults with all that exposure.
So for this beautiful dinner, together we whipped out lots of dishes. The idea was to create Chipotle style burrito bowl but much more healthy and without worrying about cleanliness issues.
We love Spanish / Mexican theme dinners so much in my family. This is often a repeat on my meal planning schedule. You can mix and match few key ingredients and have an entire weeks worth of dinners done.
For these dishes, I used InstantPot quiet extensively. I made rice and boiled corn in InstantPot. Sautéed fajita veggies were done on Lodge Cast Iron Skillet.
With little preparation, you can enjoy this beautiful dinner at ease. I often plan this for casual dinner parties. We get so many complements on our Taco Bar and everyone enjoys this yummy meal. I love that it all comes together perfectly.
I always loved the idea that you can put your favorite fillings into your tacos and make them into whatever you like! So let's make this beautiful delicious fiesta!!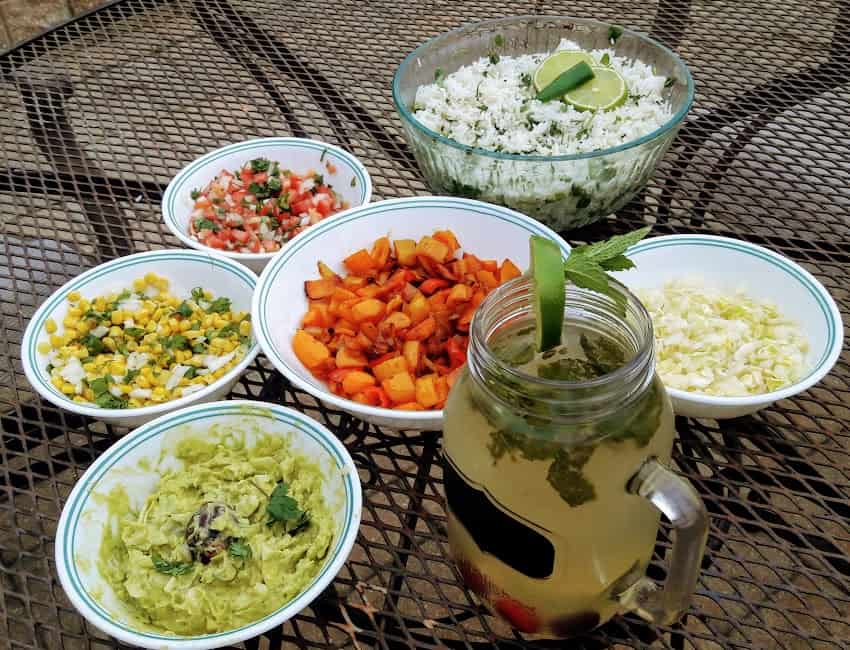 Pictured in the Taco Bar menu are following items :

▪Cilantro Lime Rice
▪Tomato Onion Salsa
▪Mexican Style Street Corn
▪Holy Guacamole ( life is good with generous guac)
▪Fajita Veggies
▪Mint Lemonade
▪Hard Shell Tacos and Corn Tortillas ( store brought)
▪ Cojita cheese or Mexican tex mex cheese blend ( skip if you like this vegan)Checkout the recipes below. You can mix and match to create different varieties too. This is my version of vegan. vegetarian and gluten free Taco Bar. Best part is that you can always customize it for your likings.
CILANTRO LIME RICE in the InstantPot
1 Cup of Basmati Rice
1.5 Cups Water
I use the "RICE" setting on the IP which is 10 minutes and then let sit for an additional 10 minutes and then release the pressure. You're done! Fluffy rice every time.
Once the rice finished cooking, I added 1/4 cup chopped cilantro, 1/4 cup lime juice, Salt and pepper. Mixed well with fork. Super duper yummy and tangy !!
Mexican Style Street Corn Salad:
2 tablespoons butter
3 cups corn (about 4 ears), cut from the cob
1 jalapeno, seeded and finely diced
2 tablespoons mayonnaise
1 handful cilantro, chopped
1 tablespoon lime juice
salt and pepper to taste
Steam the corn in InstantPot for 4- 5 manual. Release the pressure after 10 minutes. Remove the carnals from the cob and set aside.
Place butter, mayonnaise, jalapeno , cilantro, and lime juice into a large bowl. Mix using a fork to combine. Add the corn; fold in to combine.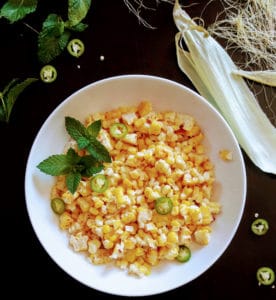 Easy Guacamole:
2 ripe avocados, seeded and peeled
1 tablespoon lemon juice
1 tablespoon cilantro chopped
1 clove garlic minced
1 small onion chopped finely
1 jalapeño chopped finely
salt to taste
There're lots of different ways you can make guacamole but I really wanted to share with you a super simple easy guacamole recipe. If you are looking for something fancier, you can add your choicest herbs or seasoning. You should leave the pit of the avocado in the guacamole to prevent it from browning.
Scoop out the green flesh of ripe avocado. Sprinkle chopped cilantro, pink salt and lemon juice over it. Mash everything up gently using the fork. I like to add 1 minced garlic clove and couple of finely chopped pieces of jalapeno peppers for extra kick.
For Colorful Fajita Veggies :
Chop onions, tomatoes, and bell pepper finely. Heat a teaspoon of oil in a pan. Add chopped onions, sweet bell pepper, sweet corn, and tomatoes. Sauté on high heat for a while and add a teaspoon of oregano, coriander-cumin powder, red chili flakes and salt to taste. Alternatively, you can use Taco Seasoning blend. If you like it tangy, squeeze in half of lemon juice. Your colorful fajita veggies are ready. Serve warm.
Tomato- Onion Salsa
Mix together 1 finely chopped onion, 2 chopped Tomatoes and handful of cilantro roughly chopped. Toss in salt and pepper, 1 de-seeded and finely chopped Jalapeno pepper ( optional). Your refreshing salsa is ready !
Hope you enjoy recreating this DIY Taco Bar with kid favorites and adult-friendly fixings. You can warm both soft tortillas (wrapped in foil) and hard shells in a 350° F oven for 4 to 5 minutes. Then stuff them with these fresh and colorful fillings. Cheers and Have fun !!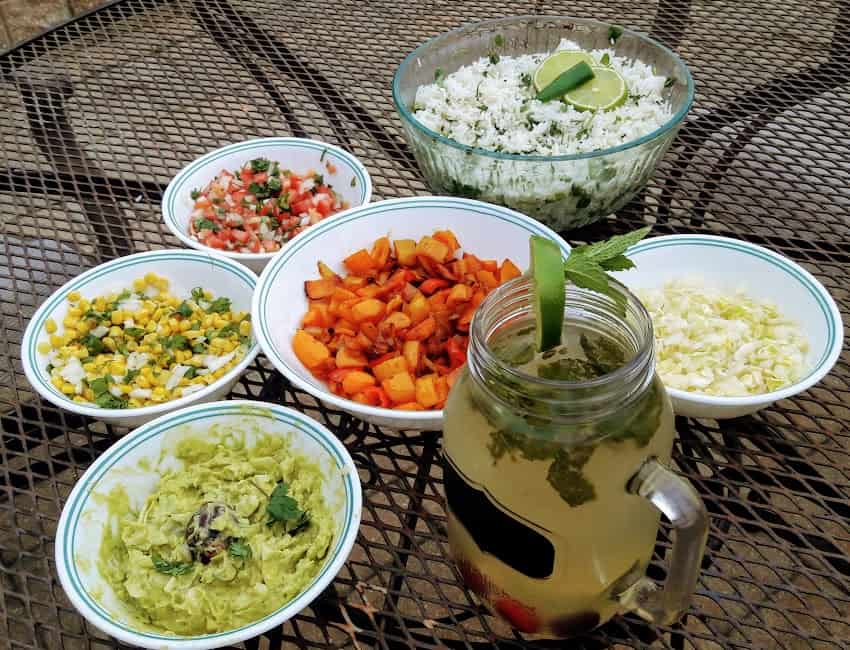 ♥
We would love to hear your feedback . Do let us know how you like this post by leaving a comment and rating it so other readers know it too. And while you're at it, take a picture and tag it
#profusioncurry
on Instagram! We love seeing what you come up with. Cheers, friends !!