For this Make Your Own Mexican Taco Bar, we made multiple easy dishes. Using all the fresh bounty from the fruit and veggie market, it creates a colorful fiesta. Make it for dinner or your next party. You will love how popular and satisfying this whole meal is !
This quick and easy taco bar is one of those dinners where you can get your kids involved in preparing the food. You can also use multiple store brought items to make it semi-homemade treat. This menu idea is perfect for vegetarians, vegan and people with gluten free diet preferences.
This super delicious set up is also perfect for celebrations , gatherings and parties. After all, we are talking TACOS ! Every one likes the colorful delicious meal. Added bonus, you can customize your plate to your liking !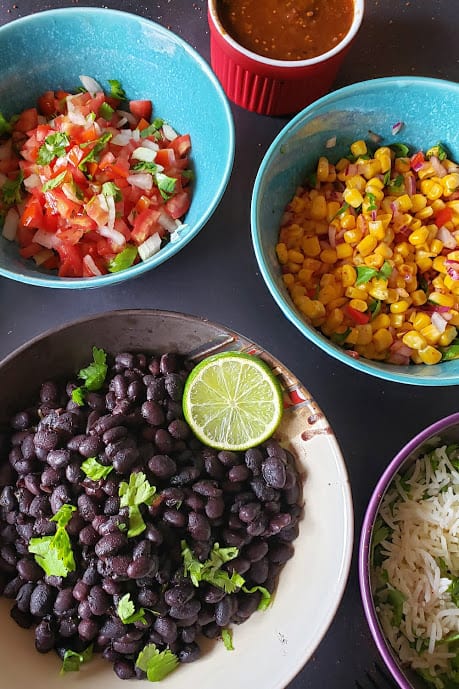 KID FRIENDLY PARTY MENU
Both my kids take keen interest in cooking and learning the process. With our globe trotting schedule, it has never been a issue with kids since they love trying new things very willingly. Start them young as they will be much more savvy and refined young adults with all that exposure.
So for this beautiful dinner, we whipped out lots of dishes together. The idea was to create Chipotle style burrito bowl but much more healthy and without worrying about cleanliness issues.
We love Globally Inspired Dinners so much in my family. This taco bar is often a repeat on my meal planning schedule. You can mix and match few key ingredients and have an entire weeks worth of dinners done.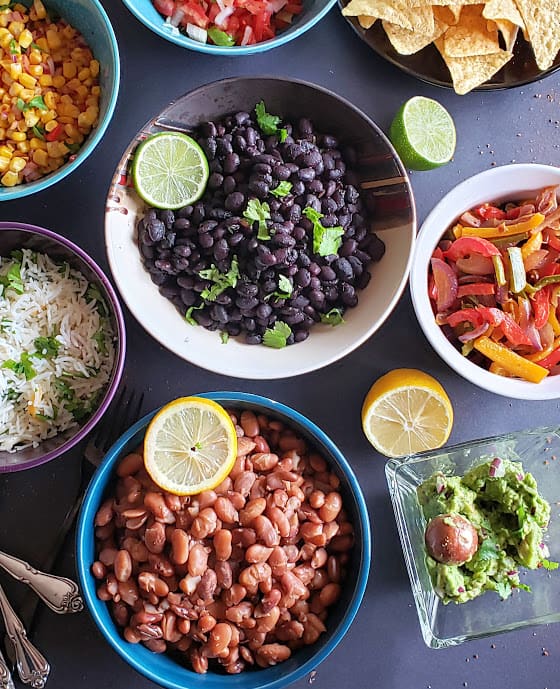 EASY MEAL PRPE
For creating these dishes, I used my electric pressure cooker Instant Pot extensively. I made rice and boiled corn in Instant Pot. I also make a big batch of Pinto and Black Beans in Instant Pot. These beans can be prepared days ahead of time.
The salsa and veggies should be made fresh. I like to make Sautéed Fajita Veggies in Lodge Cast Iron Skillet.
I often make this taco bar when kids have playdate or we have guests. I get so many complements and everyone enjoys this yummy meal. I love that it all comes together perfectly.
I always loved the idea that you can put your favorite fillings into your tacos and make them into whatever you like! So let's make this beautiful delicious fiesta!!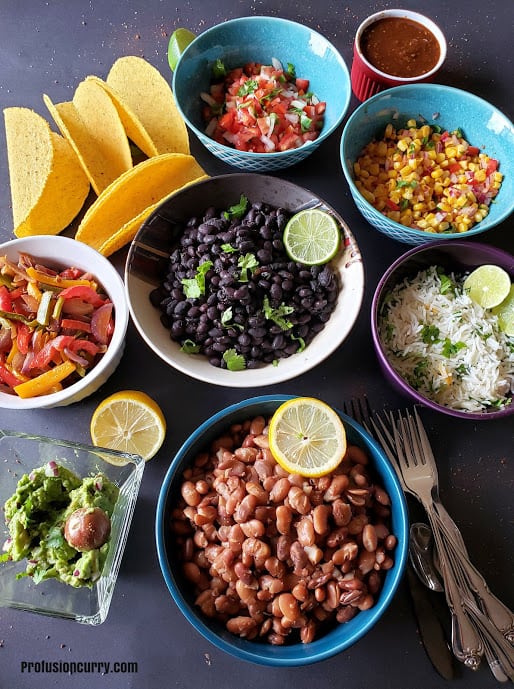 VEGAN TACO FILLING IDEAS
Seasoned Charro Beans or

Refried Pinto Beans

Tomato Onion Salsa
Guacamole
Fajita Veggies
Hard Shell Tacos and Corn Tortillas ( store brought)
Cojita cheese or Mexican Tex Mex cheese blend ( plant based )
All the highlighted texts are our recipes. Do check them out. You can mix and match to create different varieties too. This is my version of vegan, vegetarian and gluten free Taco Bar. Best part is that you can always customize it for your likings.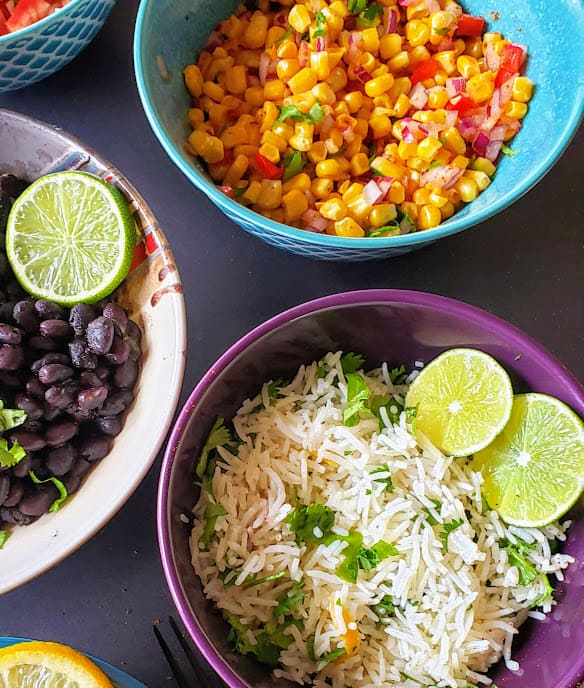 HOW TO MAKE EASY GUCAMOLE :
2 ripe avocados, seeded and peeled
1 tablespoon lemon juice
1 tablespoon cilantro chopped
1 clove garlic minced
1 small onion chopped finely
1 jalapeño chopped finely
salt to taste
There're lots of different ways you can make guacamole but I really wanted to share with you a super simple easy guacamole recipe. If you are looking for something fancier, you can add your choicest herbs or seasoning. You should leave the pit of the avocado in the guacamole to prevent it from browning.
Scoop out the green flesh of ripe avocado. Sprinkle chopped cilantro, pink salt and lemon juice over it. Mash everything up gently using the fork. I like to add 1 minced garlic clove and couple of finely chopped pieces of jalapeno peppers for extra kick.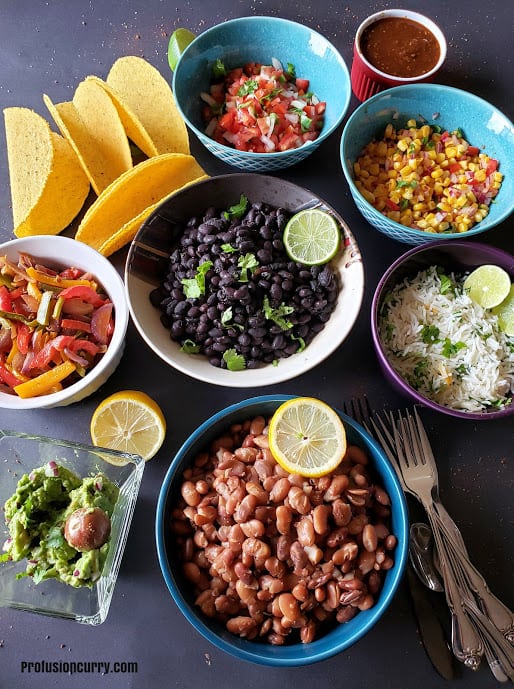 HOW TO MAKE COLORFUL FAJITA VEGGIES:
Chop onions, tomatoes, and bell pepper finely. Heat a teaspoon of oil in a pan. Add chopped onions, sweet bell pepper, sweet corn, and tomatoes. Sauté on high heat for a while and add a teaspoon of oregano, coriander-cumin powder, red chili flakes and salt to taste. Alternatively, you can use Taco Seasoning blend. If you like it tangy, squeeze in half of lemon juice. Your colorful fajita veggies are ready. Serve warm.
HOW TO MAKE EASY SALSA:
Mix together 1 finely chopped onion, 2 chopped Tomatoes and handful of cilantro roughly chopped. Toss in salt and pepper, 1 de-seeded and finely chopped Jalapeno pepper ( optional). Your refreshing salsa is ready !
Hope you enjoy recreating this DIY Taco Bar with kid favorites and adult-friendly fixings. You can warm both soft tortillas (wrapped in foil) and hard shells in a 350° F oven for 4 to 5 minutes. Then stuff them with these fresh and colorful fillings.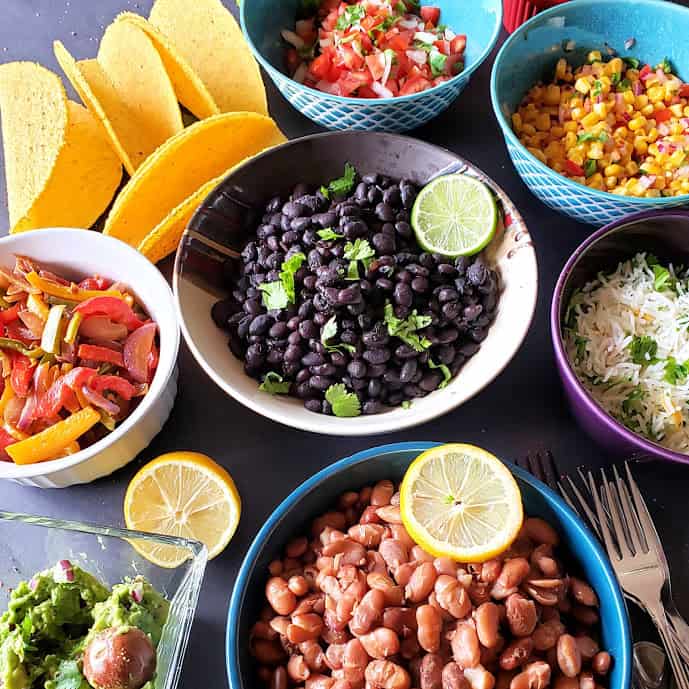 We love to pair Red Wine Sangria and Paloma Fizz Cocktail with this taco dinner. For kids and non alcoholic beverages, try Saffron Lemonade , Sunrise Peach Drink or Mango Mocktail. Cheers and Have fun !!
Create a festive party mood to go along. Use colorful serving dishes, set the drink table and play some groovy upbeat music. You can set up some fresh flowers and colorful decorations to go along too!
Taco Parties are fun all year around . Besides Cinco De Mayo Celebrations, here are some of my favorite occasions to arrange Homemade Taco Bar.
Taco Tuesday Dinners
Graduation Parties
Tailgating
Game day
Movie nights
Birthday Parties
Casual Dinner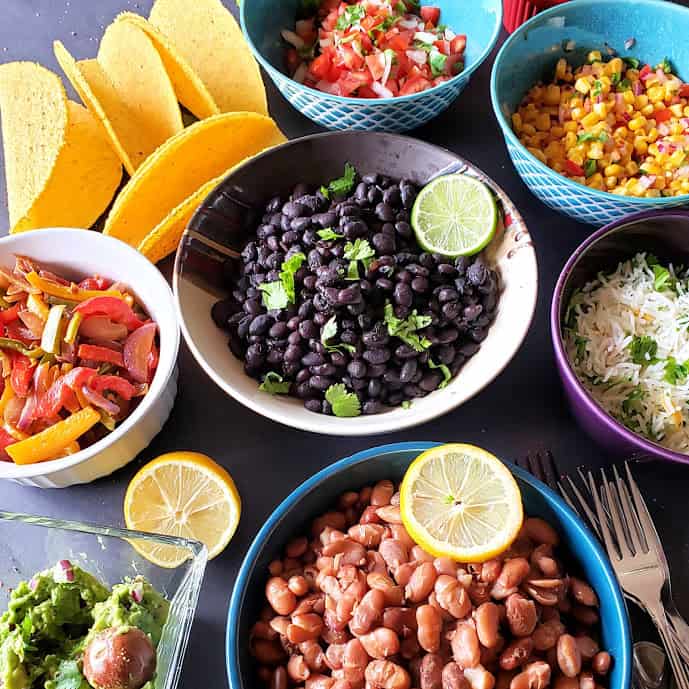 We would love to hear your feedback . Do let us know how you like this post by leaving a comment and rating it so other readers know it too. And while you're at it, take a picture and tag it #profusioncurry on Instagram! We love seeing what you come up with. Cheers, friends !!