Super Delicious Nachos are easy and quick to make and taste amazingly scrumptious. A perfect semi-home made appetizer / snack, these nachos will make a wow statement for your next game-day fiesta.
You will love the convenience of making them. This is your Go-to party recipe to make for a crowd or for the just two.
THE RECIPE CARD IS LOCATED RIGHT AT THE END. BUT BEFORE YOU SCROLL ,CHECK THE DETAIL NOTES ABOUT THIS RECIPE.
THIS IS A SEMI-HOMEMADE RECIPE AND I HAVE FEW SUGGESTIONS TO MAKE IT DROOLWROTHY WITH YOUR EVERYDAY INGREDIENTS. ( Amazon affiliate link disclosure is below as well)
We are a sports loving family. Kids and hubby enjoy practically every sport that is played. Football, baseball, basketball, tennis- you name it, we are game ! And we love to host friends often. Fun, food and frolic in a true sense 🙂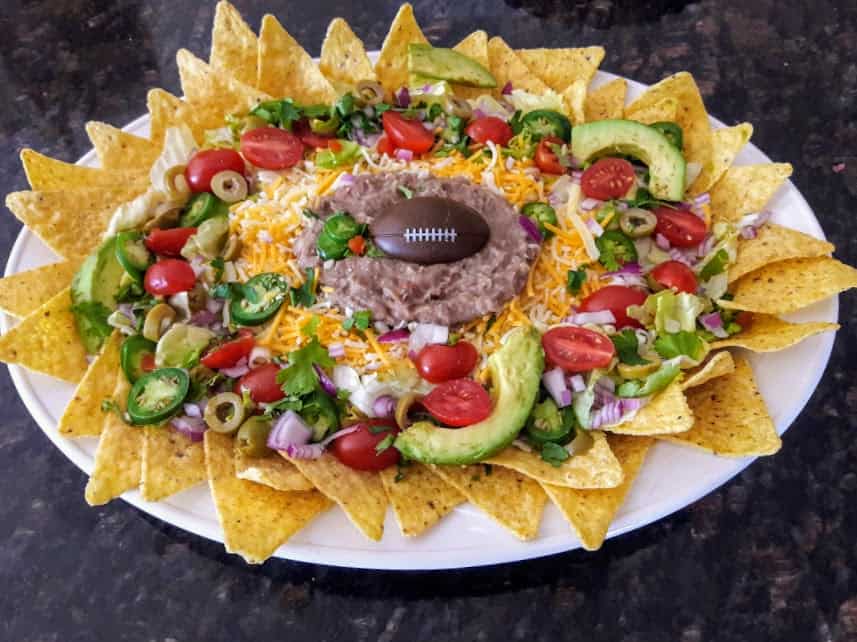 For such high spirited get-togethers, I often make these Super Delicious Nachos. We often have most of the basic ingredients ready at home. These nachos come together in matter of minutes and they taste ABSOLUTELY delicious. They are refreshingly fresh, crunchy, flavorful and addictive. You won't be able to stop at just one batch.
If you are looking to spice things up around your dinner time , don't forget to follow us on Pinterest and like our FACEBOOK page. We love creating delicious, plant based recipes from around the world. We will love you to be part of our group enjoying and recreating these delicious recipes !!
These Super Delicious Nachos make routine appearance even on several other occasions like Cinco-de Mayo, summer BBQ parties and even book clubs. They are non pretentious and delicious appetizer/snack.
Interestingly, these Nachos are quiet light on calories, are meatless and loaded with fresh veggies. But the flavor combinations and textures are soo amazing that you won't miss things that are common in loaded nachos. If you use dairy free cheese, they can be vegan too.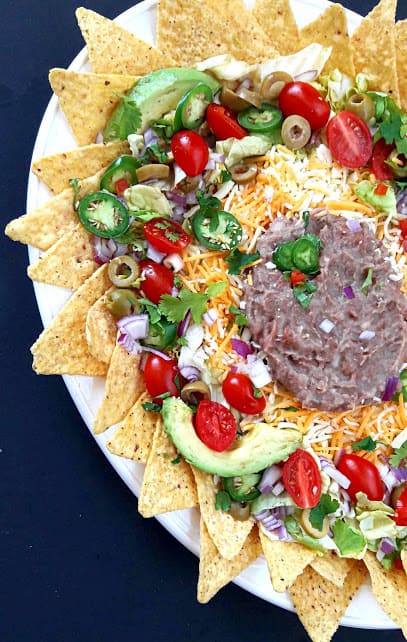 How to Make Nachos?
Make sure you bring out the BIG platter to build these nachos and keep extra servings of the beans and the cheese and the toppings. They are so tempting and addictive , you won't be able stop at one platter serving.
We start building the Nacho platter with crispy crunchy tortilla chips. Try to use the freshest batch possible. Grab a big bag of it on your next grocery trip. You will need it.
Then we layer amazingly delicious Refried bean dip. This is the true game changer guys. This dip makes these nachos ultra flavorful and hearty.
Check out my all time favorite recipe to make (non) refried pinto beans at home. These beans are very easy to make especially in InstantPot. I often make a big batch of these beans and store it for multiple uses. * see the note below.
Now the layer of cheese. I prefer to use Mexican blend of Monetary Jack Cheese and Colby Jack Cheese. Freshly grated cheese is always better but I am all for quick convenience too . So don't fret if you want to use pre-shredded.
You arrange these first three layers on the platter. Then you simply microwave the platter for 2-3 minutes. The cheese melts and creates yummy goodness on those chips. You then pile on rest of the layers and Dig in those loaded yummy nachos! BEST THING EVER !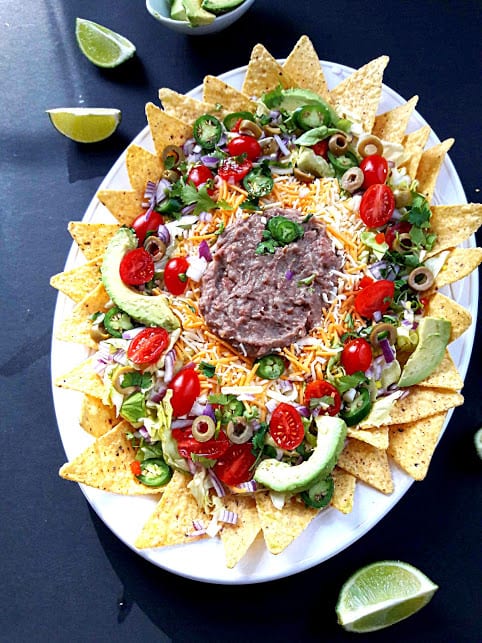 Then we add layer of fresh mixed veggies called Pico de Gallo. Pico de Gallo typically includes diced onions and tomatoes, jalapeño peppers, cilantro and lime juice and seasoned with salt and pepper. It's a layer of refreshing taste, bit of crunch and all plant bases goodness. Very easy and quick to make.
Guacamole is next layer on these loaded nachos. However, avocado browns super fast and the appearance of browned avocado is not so pleasing. So I keep it on the side. You can just scoop it out with every loaded chip.
Cut the avocado in half, scoop out the flesh from outer layer. Mix in chopped cilantro, lime juice , one clove of minced garlic and small de-seeded jalapeno pepper. Gently mash everything well with fork and voila!! Your awesome guac is ready.
You top these unbelievably tasty nachos with chopped butter lettuce, olives, jalapeño peppers and cilantro. A generous squeeze of lime juice can be drizzled on the top !! There you have it folks. The BEST, the Super Delicious Nachos are ready to rock and roll the show.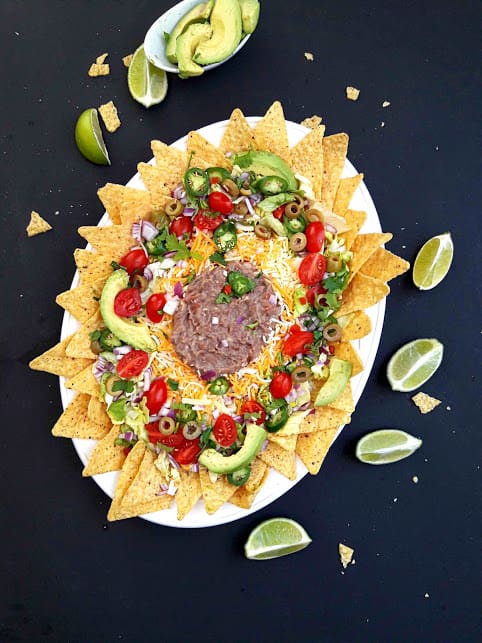 Pro Tips
To make it truly semi- homemade , you can always buy refried beans in the can. Just follow the directions on the can to re-heat before using them.
Many places, to save time, people use salsa to flavor the nachos. In my opinion, salsa makes nachos soggy, which isn't nice. I prefer to use Pico de Galo .
You add it on after you have microwaved the bean and cheese and chips. So it stays fresh and adds a good texture.
To kick these nachos to another notch, we love to keep Mango Habanero Sauce on the side. Just a couple drops and it adds a bold , spicy flavors. Totally optional.
The typical recipes involve baking the chips with cheese. In this recipe, we use microwave instead. The goal is to melt the cheese just enough so it flows well together.
It also warms up the chips just enough so they taste fresh and crispy. And it' super duper quick. No waiting for oven to heat and no burnt nachos- guaranteed.
You want to coat each tortilla chip with some if not all the toppings. So make sure to arrange the chips in single layer.
There you have it folks. Ultimate game-day nachos. Grab a drink, gather around the table and dig in ( no cutlery necessary)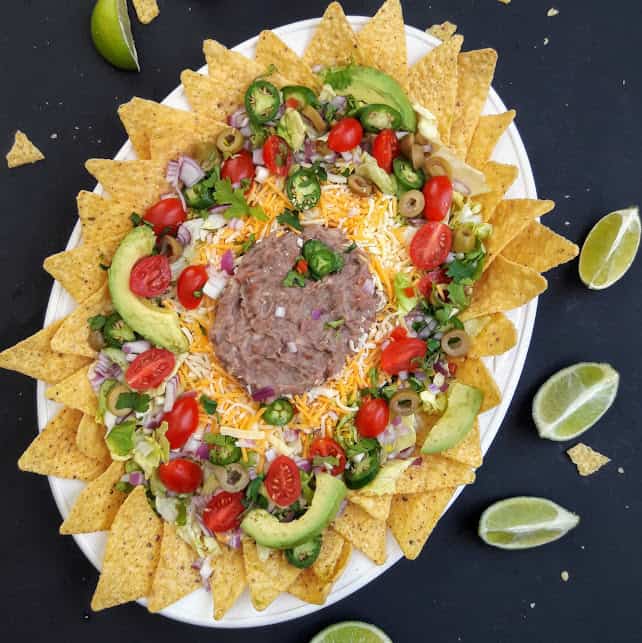 ♥We would love to hear your feedback . Do let us know how you like this post by leaving a comment and rating it so other readers know it too. And while you're at it, take a picture and tag it #profusioncurry on Instagram! We love seeing what you come up with. Cheers, friends!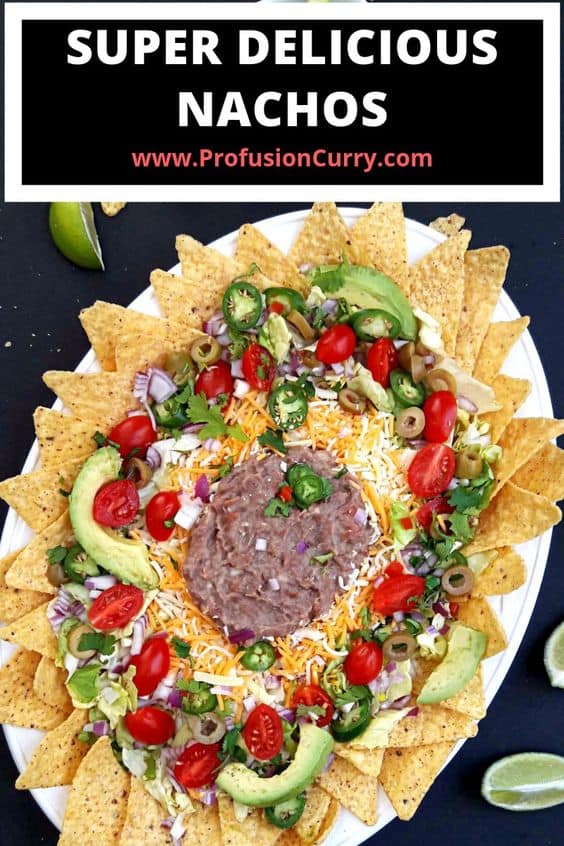 Hope you like making these Super Delicious Nachos !! Are you looking for some ultimate Game Day Hosting Ideas? Our blog features several delicious and healthy, easy to prepare appetizers and main course recipes.
We like to spice things up at dinner table by bringing in different cuisines and flavors from around the world. Be sure to check these amazing variety of recipes. We are sure you will have a rocking , healthy Game day hosting using these recipes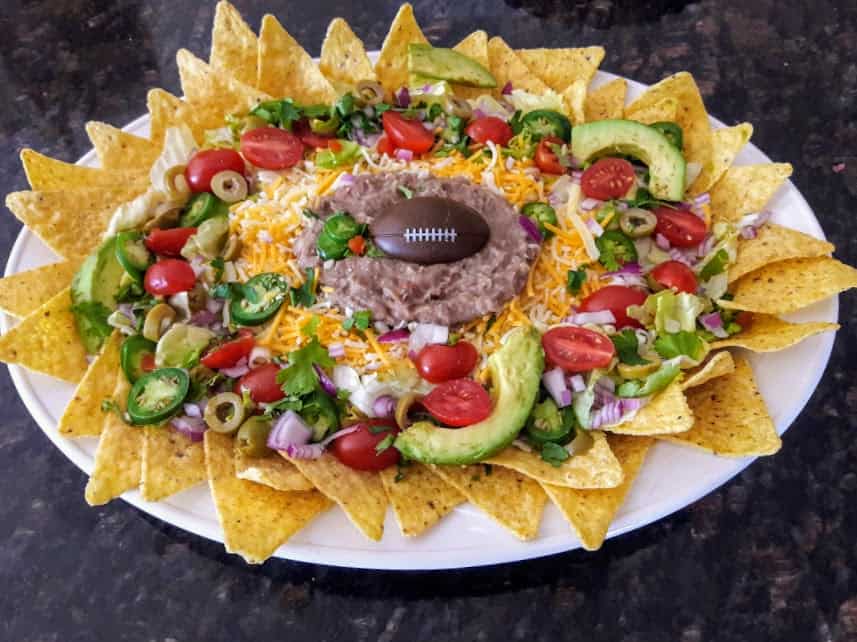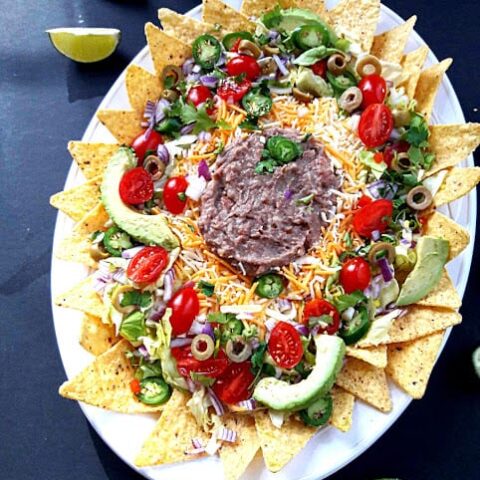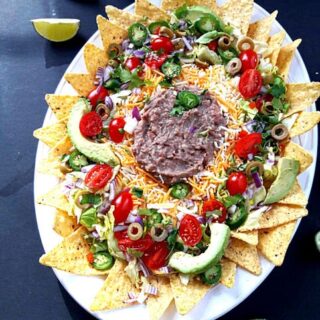 Super Delicious Nachos
Super Delicious Nachos are easy and quick to make and taste beyond scrumptious. A perfect semi-home made appetizer / snack, these nachos will make a wow statement for your next game-day fiesta.
Ingredients
1

Bag of Tortilla Chips

1

unit Refried Beans

1

Unit Guacamole

1

cup

grated Mexican cheese blend - Monetary jack

Asadero, Cheddar, preferred

1

unit Pico-de Galo

1

Unit Chopped butter lettuce olives

jalapeño peppers and cilantro for garnish
Instructions
You start off by laying the nacho chips on the microwaveable platter. Arrange them in single layer

Generously spread Refried beans over the nacho chips. Make sure most of the chips are coated with beans.

Generously sprinkle the layer of the cheese over the beans. Again make sure cheese covers most of the chips.

Microwave the platter for 2-3 minutes. Ensure that cheese is melted and bit runny. add more minutes is necessary.

Spread the Pico de Galo mixture evenly over the melted cheese. Add on other toppings to your likings.

Serve warm- immediately along with the side of Guacamole and spicy habanero sauce ( optional)
Nutrition
Serving:
1
serving
Calories:
228
kcal
Carbohydrates:
24
g
Protein:
8
g
Fat:
12
g
Saturated Fat:
4
g
Polyunsaturated Fat:
7
g
Cholesterol:
17
mg
Sodium:
317
mg
Fiber:
3
g
Sugar:
1
g
*SOME OF THE LINKS IN THIS POST ARE AFFILIATE LINKS AND WE WILL RECEIVE A COMMISSION IF YOU MAKE A PURCHASE AFTER CLICKING ON OUR LINK. THANK YOU FOR SUPPORTING OUR WORK HERE AT PROFUSIONCURRY!