Peanut butter is such a delicious food and adding it to bread only makes it better. But if you really want to make your peanut butter sandwich fun, you are probably thinking of things you could add to it to do so. Fruit is a great addition to any peanut butter sandwich, and it will definitely make it taste delicious no matter what you add.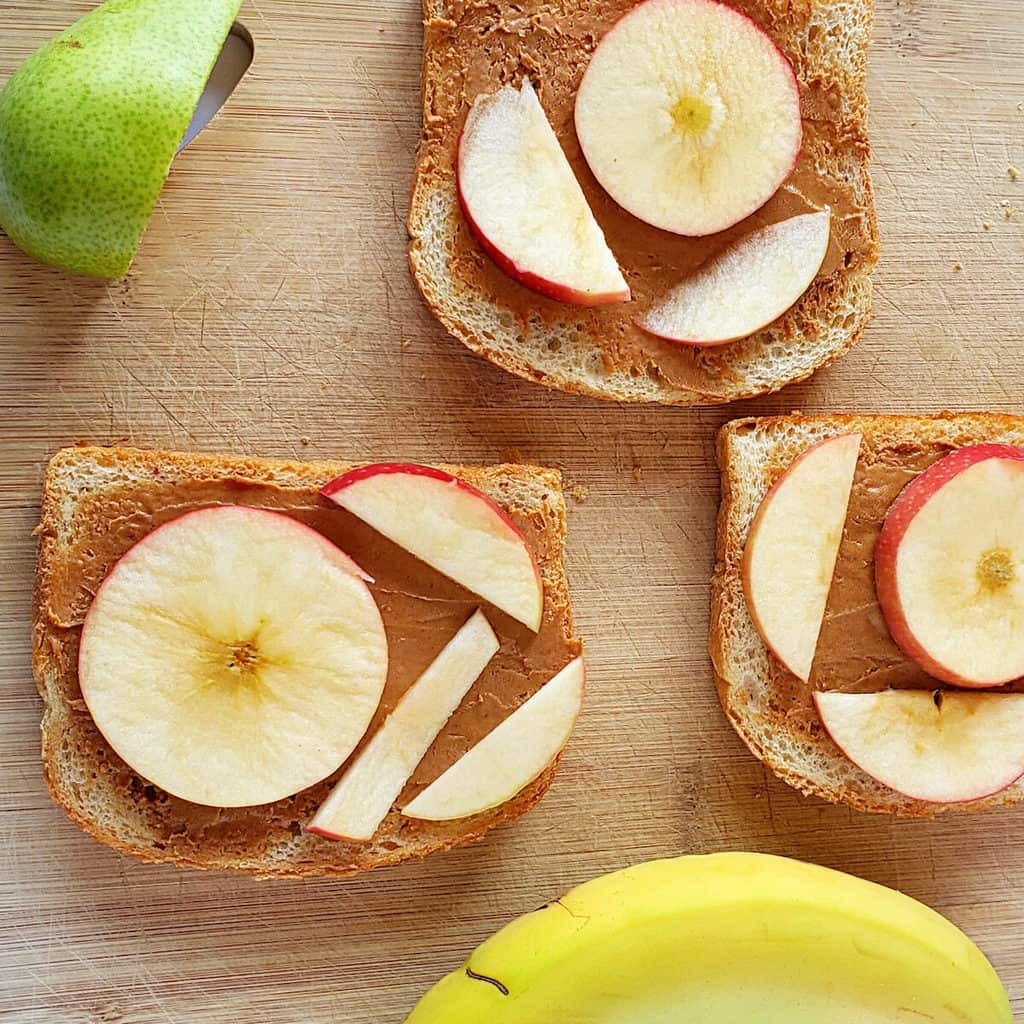 So, what fruits can you put on a peanut butter sandwich? There are no rules when it comes to peanut butter sandwiches. Really, you can put whatever your heart desires and it will probably turn out good. Still, there are some good fruits we can recommend: strawberries, blueberries, bananas and peaches are just some additions that are bound to taste great.
Let's learn more about the different fruit ideas as well as how to prepare these fruits in different ways to mix up your peanut butter sandwich even more.
Air Fryer Banana Peanut Butter Sandwich is our popular recipe for easy school lunches. We get a lot of questions about what else can we put on peanut butter sandwich besides bananas. So we decided to answer them in details here.
Jump to:
What are the Best Fruits to Add to a Peanut Butter Sandwich?
Almost any fruit would make for a delicious addition to your peanut butter sandwich, but it's understandable if you want some guidance. Here are some fruits that are exceptionally tasty with peanut butter and bread: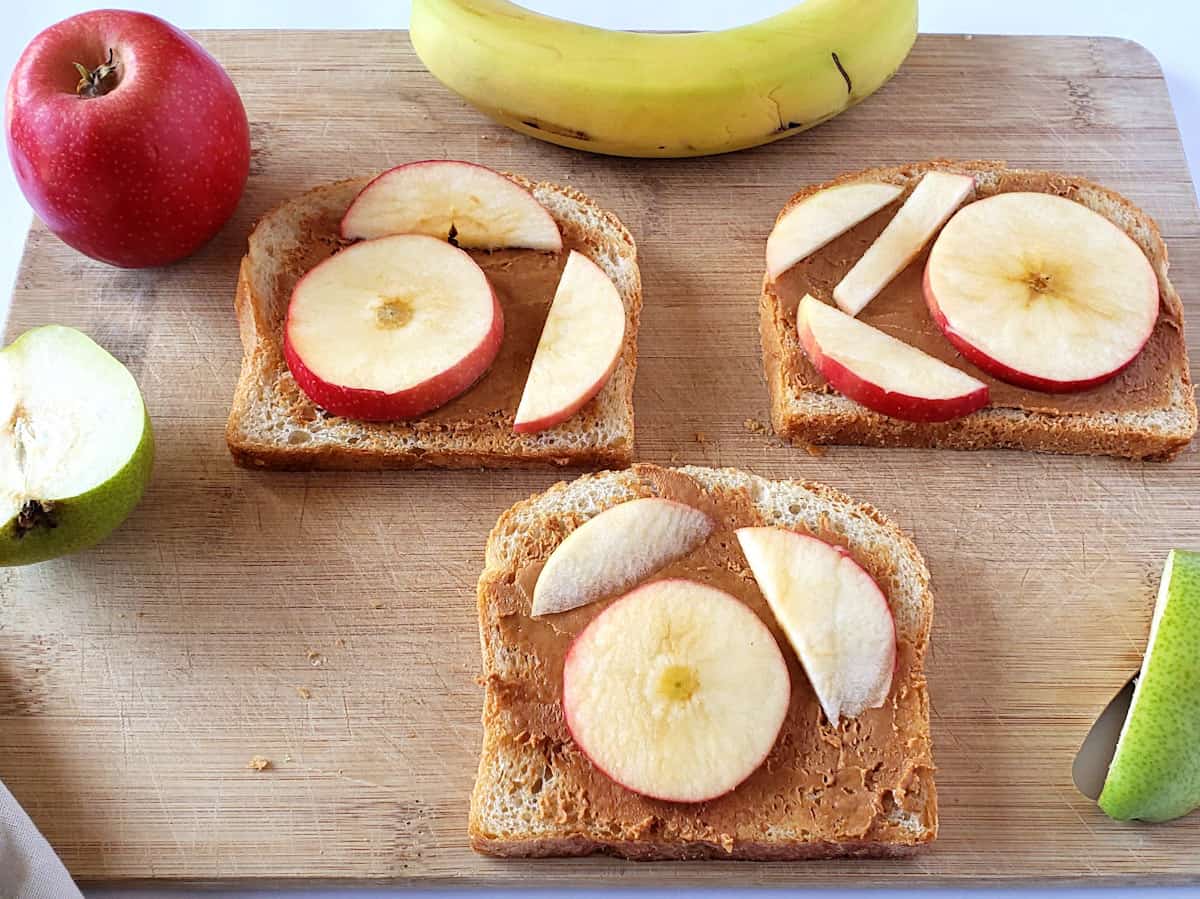 Strawberries : Strawberries are delicious with peanut butter. Think of strawberry jam: you wouldn't think twice about putting that on a peanut butter sandwich. Fresh strawberries are a twist to the common peanut butter and jelly. Just slice them up and add them on!
Apples : Apples can either be sweet or tart depending on the kind that you use. From granny smith to pink lady, you could add any type of apple and it would end up tasting good. Plus, apples will add a new texture and bring a crunch to your sandwich, which is always exciting.
Pears : Pears are juicy and earthy fruit that pairs well with peanut butter. Sweet ripe pears add a great depth of texture to the sandwich.
Blueberries : Blueberries can add a sweet and tart flavor to your sandwich. They are a perfect addition that is bound to end up tasting good.
Avocados: Okay, you are probably skeptical of this one, but avocado with peanut butter is surprisingly good. With its mild flavor, avocado isn't too strong on your sandwich and it adds a nice creamy consistency. You could make this into a savory recipe by adding some other ingredients or drizzle some honey over the top for something sweeter.
Bananas: Who could go wrong with a classic? Peanut butter and bananas are the perfect combination and taste delicious! Some people also like to add honey to this sandwich to bring in yet another flavor and some more sweetness.
Pineapples: If you are someone who enjoys pineapple on pizza, you may also enjoy this combination. Since peanut butter isn't necessarily sweet, adding pineapple can give it a nice, tangy sweetness. Though even if you use sweet peanut butter, this is still a great combo.
Don't Be Afraid to Mix and Match!
It's good to remember that you can always mix different fruits if you can't decide on just one. I don't know about you, but a strawberry banana sandwich sounds pretty good to me. Mixing fruits can be a fun way to customize your sandwich even more and find flavor combinations that you really enjoy.
How Should You Prepare Fruit Before Putting It on a Peanut Butter Sandwich?
Preparing fruit for a peanut butter sandwich can be as easy as washing it, slicing it up and putting it straight on the bread. If you are looking for something a little more advanced, you could heat up your fruit before you put it on the sandwich, or even make it into a jelly.
Heating up fruit can make for a more juicy and flavorful sandwich. You can do this on the stovetop, or if you really want to put in the effort, you could put your fruit on the grill. Grilling the fruit can add a nice smokiness to your sandwich as well, which really brings out the flavors.
If you are looking for a more homemade twist on the classic peanut butter and jelly, you can make your own jelly however you like it! It's actually a pretty simple process. Just mix together your fruit, sugar, and lemon juice (which helps with the consistency and adds a nice taste), and heat the mixture on the stovetop (stirring frequently) until it thickens.
If you want to go for a more chunky fruit sauce, you can just heat up your chopped fruit (with or without extra sugar) until it's warm and juicy. Then you can pour it over your sandwich as is for a nice, warm fruit sauce. This method is best if you grill your sandwich after assembling it to create the perfect, comforting snack.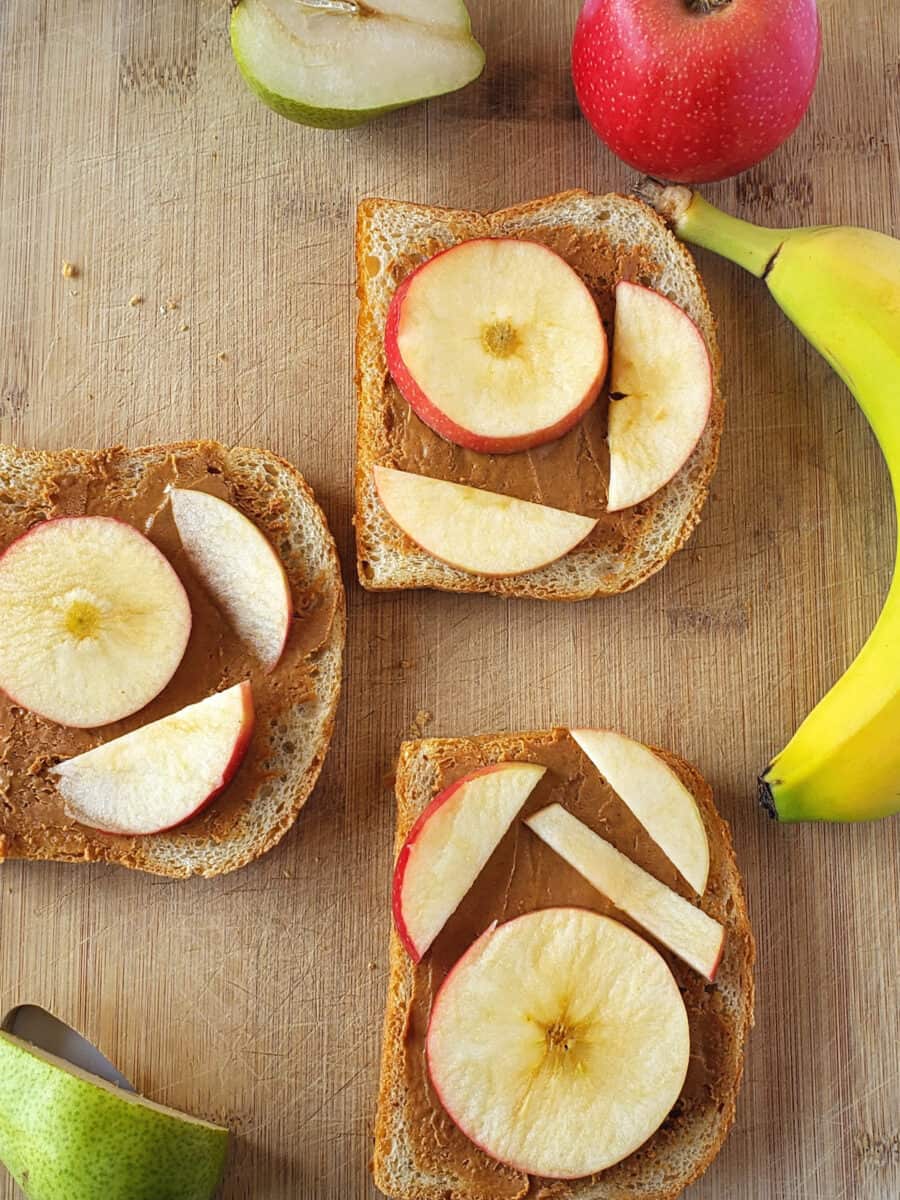 What Other Things Can You Add to a Peanut Butter and Fruit Sandwich?
If you are looking for ways to improve your sandwich even more after adding the fruit, there are luckily tons of options for you. Adding fresh herbs such as basil or mint, putting on some cheese, or sprinkling on nuts or sweeteners are great ways to make a peanut butter and fruit sandwich stand out even more.
One of the best cheeses you can add to your peanut butter sandwich is a sharp or mild cheddar. Pairing this with fruit as well is so delicious, and definitely worth your time.
If you want to add nuts, there are tons of options. Sliced almonds, pecans, or chopped hazelnuts are some of the best go-tos. For all you avid peanut butter lovers, you can also add peanuts to your sandwich. This will really enhance the peanut flavor and bring it all together. In general, nuts are a great addition because they add a crunch to your sandwich.
Final Thoughts
When you have a peanut butter sandwich, the sky's the limit on what you can add. From strawberries to avocados to cheese, there are tons of combinations that you can have. If something sounds good to you, then try it out! It's hard to be disappointed when peanut butter and bread are in the mix.
Follow us on Pinterest and Facebook. We love creating delicious and easy family friendly recipes from around the world. Do Join Us !