Veggie lovers rejoice with this easy to make Asian inspired noodles dish. Baby bok choy, broccoli, red pepper and carrots all round out this easy stir fry dish. Beautiful , colorful veggies and gluten free noodles make it happy and healthy meal. Add a few extra ingredients and your homemade Chinese delight is ready to devour. As always, I prefer to make easy , nutritional meals that can be done with one pot. This delectable dish qualifies with all the good check marks.
It is gluten free
It is vegan
It is colorful and very appealing
It is super tasty and adaptable to your likings
It is easy yet nourishing
Can be served hot or cold making it a great choice for kids lunch option, picnics and potlucks. It takes less than 20 minutes to get this dish ready, so it makes for a quick, nourishing meal. This vegetable stir fry recipe is SO easy, I can't emphasize it enough. And the beauty of it is that you can literally use any vegetables you want. I often make this when I have hodgepodge of veggies lying around. Sometimes I add baby corn, other times a few sugar snaps but it's really all about what I have in hand. I always have noodles in the pantry for quick, throw-together meals and this Brown Rice Vermicelli is now right up there.You don't need takeout with this easy stir fry recipe. You can change up ingredients to make it suit your taste. I used low sodium dark soy along with a little sesame oil and rice vinegar to create the yummy sauce. Minced garlic, ginger and chili, resulted in so much depth of flavors and the kids going "oh yum!" after every bite. Bit of tangy and bit of spicy!! This dish also makes for pretty delectable leftovers and healthy lunch for kids and us adults alike.
LIGHTLY STIR-FRIED NOODLES WITH PRETTY MUCH ANY/ALL OF THE VEGETABLES IN YOUR FRIDGE, SO COLORFUL AND HEALTHY AND DONE IN LESS THAN 20 MINUTES? IS HERE TO DELIVER ON ALL OF THAT.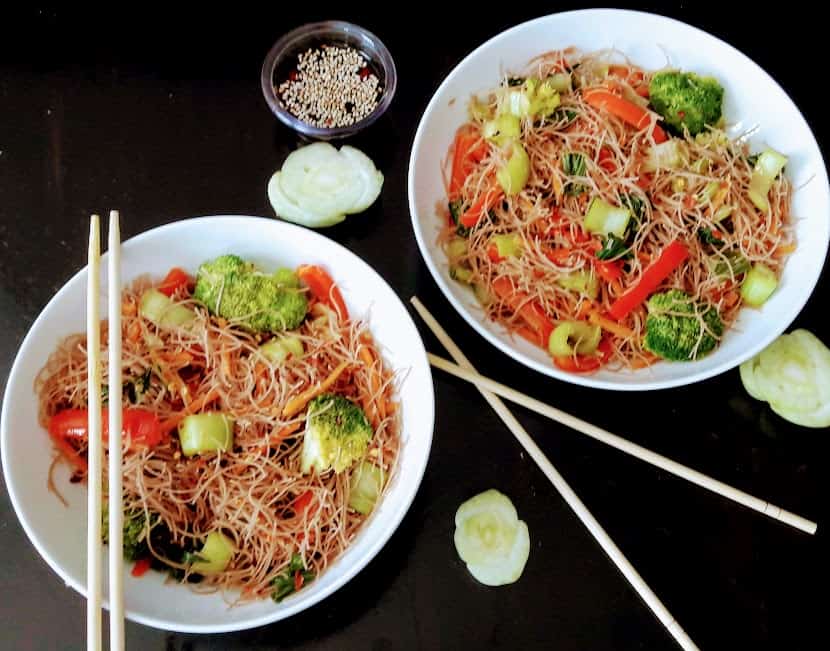 Ingredients:
200 gm Brown Rice Vermicelli noodles . Soaked in water and drained.
4 garlic cloves finely chopped
2 teaspoons minced ginger
1 cup carrots thinly sliced
1 red pepper de-seeded and thinly sliced
2 cups brocolli halved lengthwise
1 cup baby bok choy cut into bite size pieces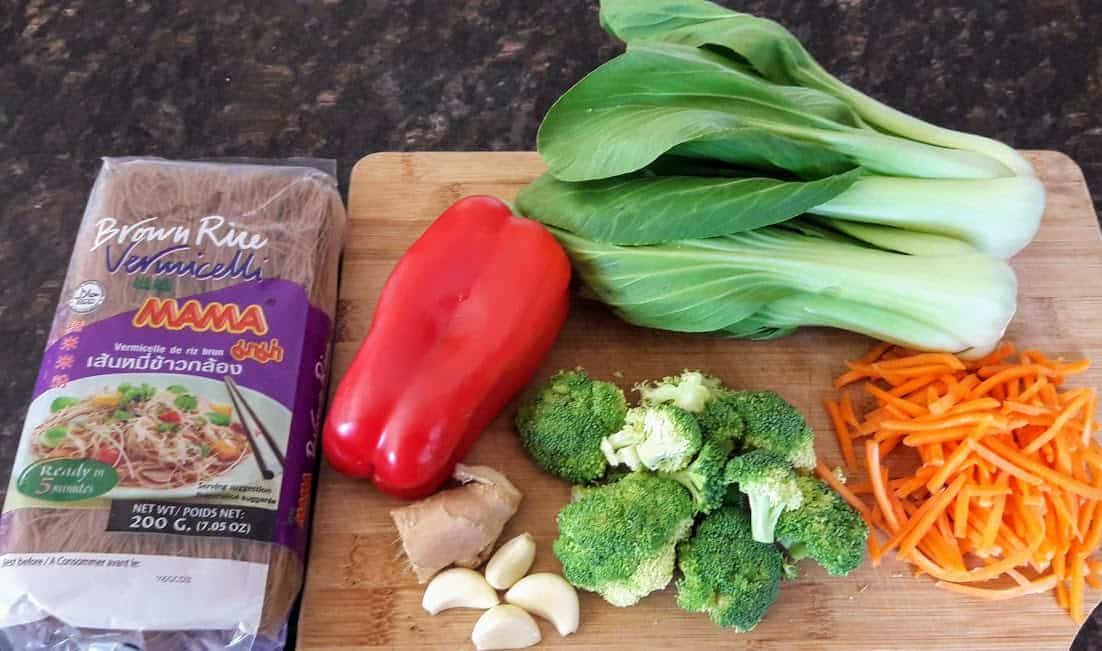 For Seasoning :
2-3 tablespoons soy sauce
1 tablespoons sesame oil
1 teaspoon rice vinegar
Juice of 1/2 lemon
Salt to taste
Fresh chopped chilies or chili flakes and toasted sesame seeds for garnish (optional)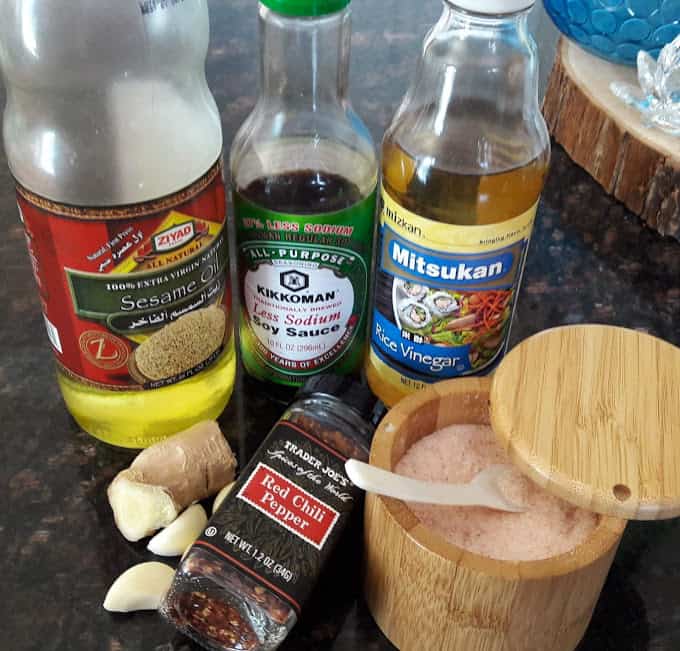 Instructions
Prepare vermicelli noodles per package directions. All it is to soak the noodles in water for 5 mins and drain the water.
In the meantime, in a hot wok, add a splash of sesame oil. Once heated add garlic, ginger and stir for few seconds. Once you sense the aroma, add baby bok choy, carrots and peppers and stir fry for 5 minutes.
Add the broccoli and fry for another 5 minutes until the all vegetables are cooked but still firm.
Add the soy sauce, rice vinegar, chili flakes and salt. Add the prepared vermicelli noodles. Toss well to combine. Season with lemon juice and more soy if necessary and serve.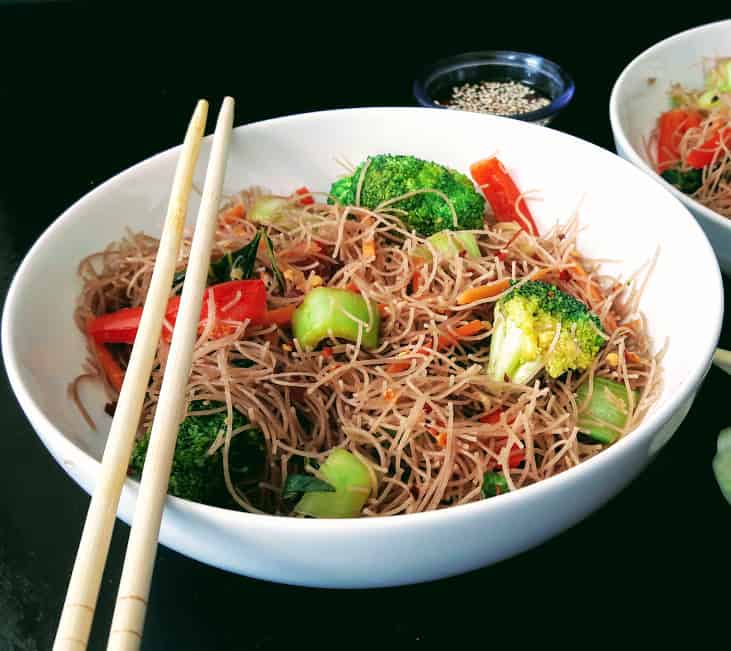 We recommend organic ingredients when feasible.
■Let us know how you like this receipe by leaving a comment and rating it so other readers know it too. And while you're at it, take a picture and tag it #profusioncurry on Instagram! We love seeing what you come up with. Cheers, friends■