This delectable chutney / spread has a lovely sweet and nutty flavor, the color is vibrant color and silky texture. This colorful dip is packed with antioxidants, omega-3 fats and phytochemicals. The sweet smoky roasted red bell peppers, just enough spicy heat and earthy creaminess of walnuts make it a beautiful and unusual creation worthy of centerpiece dip of carpaccio or charcuterie board.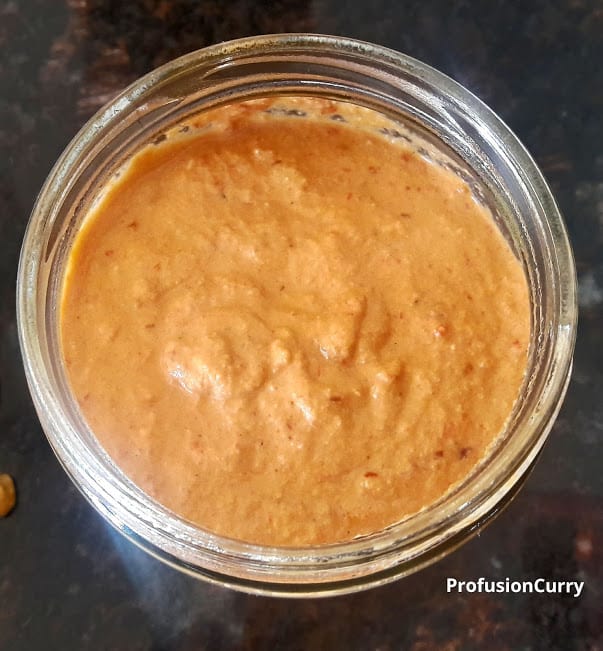 Ingredients :
2-3 medium bell peppers red, roughly chopped
1 medium red onion roughly chopped
1 teaspoon olive oil
3/4 cup walnuts shelled
3 cloves garlic
1 tsp cumin seeds
2 to 3 tablespoon lemon juice
4-5 whole red chilies or alternatively 2 teaspoons red pepper flakes (adjust per spicy taste)
1/2 teaspoon salt
Directions:
In a heavy bottom sauce pan, ( I prefer my Lodge Cast Iron Pan) heat olive oil on medium heat. Add cumin seeds, onion and garlic cloves. Sauté well. Add chopped red pepper. Continue to sauté well. After about 5 minutes, the vegetables will start to look tender and start releasing moisture. Add whole red chilies and walnut. Keep stirring for few minutes.

Add lemon juice and let the mixture cool completely .

Run the cooled mixture through blender. From the top spout of the blender, add little olive oil while the blade is still running to get a creamy smooth texture.

Store in refrigerator. It is a lovely creamy spread with rustic earthly feel to it. You can use it as a topping / condiment to practically any dish!
••And if you liked this post, do share it with your friends