Vegetable Coconut Curry is a modified version of thai coconut curry that is incredibly delicious and so easy to make. Bite size colorful vegetable pieces, simmered in a coconut milk sauce and flavorful herbs. Thai cooking in under 30 minutes and all in one pot! You will enjoy this Whole Foods Plant Based and Vegan curry.
My love for Thai food knows no bounds. It has many similarities to Indian curries but undoubtedly has its own identity. Almost 20 years ago, we discovered a neighborhood joint that whips out incredibly tasty thai food and its our go to place for many times a month ever since. Thai food really isn't very complicated. I especially love to make all coconut curries. With a few ingredients you can have quality Thai restaurant meals right in your home. You control the ingredients, know exactly what is in it and can customize it your own liking !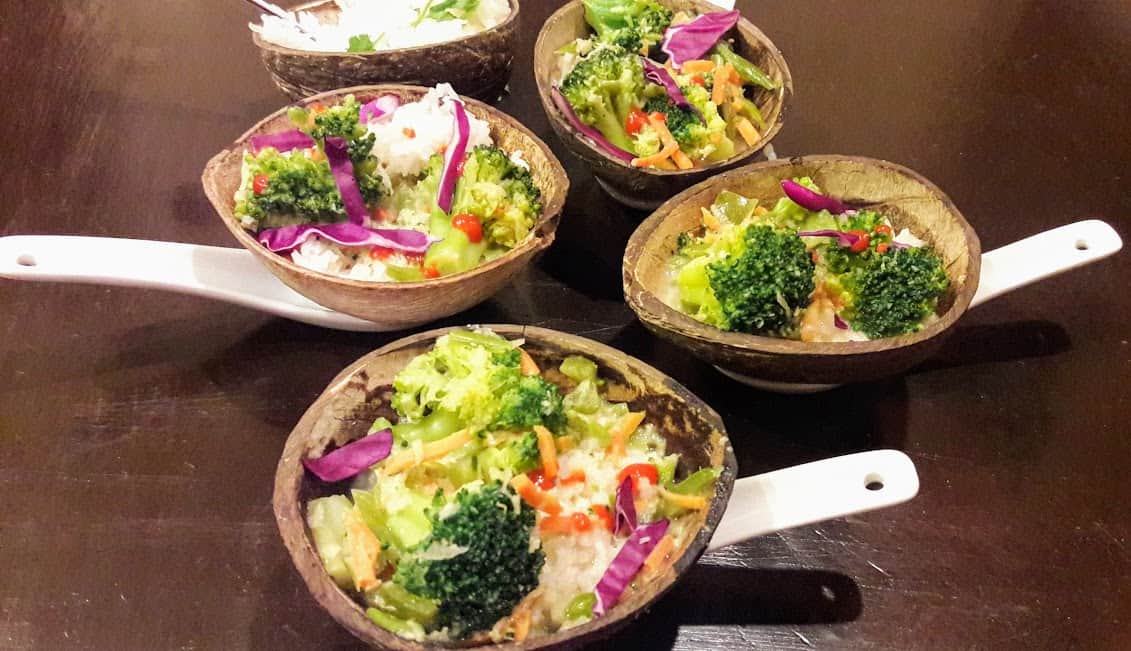 There are a few ingredients you'll need to ensure you get the most flavor out of this curry; coconut milk and lemon grass. Kaffir lime leaves are star ingredients in any Thai cuisine but it's a bit acquired taste. They are also not easy to find in regular grocery stores. I often use the grated rind of 1 lime instead. I think the flavors come very close and limes are available in any grocery store. Easy does it ! Grated lime rind, gives this curry a unique robust aroma which makes it more refreshing too.
You will only need about 30 minutes to make and you will be so happy you made this. The flavors are complex, robust with nice heat element to it.
Ingredients:
1 tbsp olive or sesame oil
2 cloves garlic minced
1 inch fresh ginger root , peeled and finely grated
1 tsp each chili lime seasoning and 21 seasoning salute
1 can of coconut milk
3 cups of chopped vegetables of your choice. (Broccoli, carrots, mushrooms, asparagus, green beans, spinach, cauliflower, snow peas work well )
2 tsp raw or coconut sugar
1 lime rind grated
2 stalks lemongrass minced
2 cups of vegetable broth or water
salt and pepper to taste
fresh cilantro chopped for garnish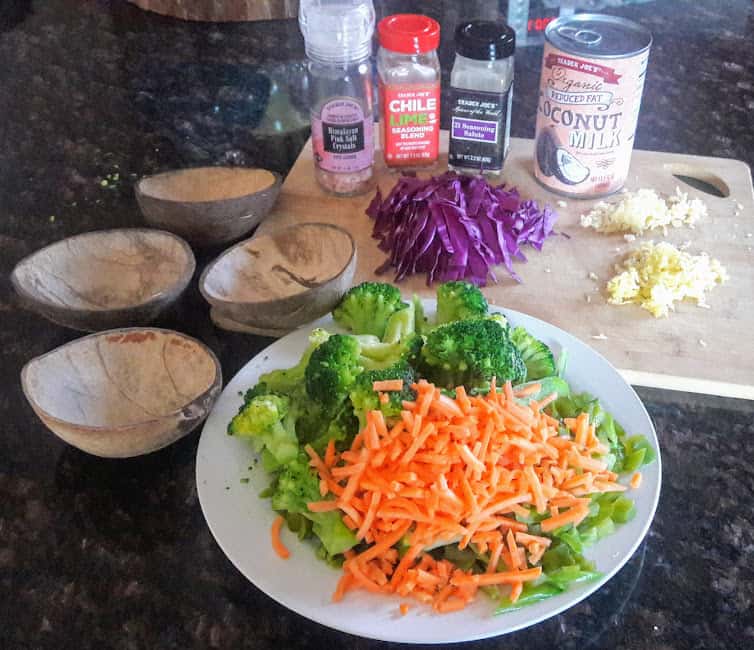 Directions:
Heat the olive oil in a large wok or skillet until hot.
Add the garlic and ginger and stir-fry for about 30 seconds over medium heat, until it gets aromatic.
Add the chopped vegetables pieces to the pot and cook for about 4 to 5 minutes until they are tender.
Stir in the coconut milk, seasoning, vegetable broth or water, lime rind , sugar and lemon grass. Mix well. Bring to a boil, then turn the heat down and simmer for another 10 minutes.
Remove the lemon grass from the pot. Remove from heat and garnish with fresh chopped cilantro. Serve warm immediately over cooked rice.
A few drops of Sriracha Hot Sauce add extra spice kick to this vegetable coconut curry. My choice 🙂 .. If you are looking for more spicy, go for it !

*I often pack this vegetable coconut curry in school lunches in warm thermos. Comforting and refreshing, it's great lunch option especially for kids who have limited school menu choices. Especially in winter months, my kids often tell me to make it extra and I know they are very excited to take it along with them to school next day .
♥ We would love to hear your feedback . Do let us know how you like this post by leaving a comment and rating it so other readers know it too. And while you're at it, take a picture and tag it #profusioncurry on Instagram! We love seeing what you come up with. Cheers, friends !!
Would you like to save this recipe for future use? Pin it here. Check out our Pinterest Board for more delectable recipes.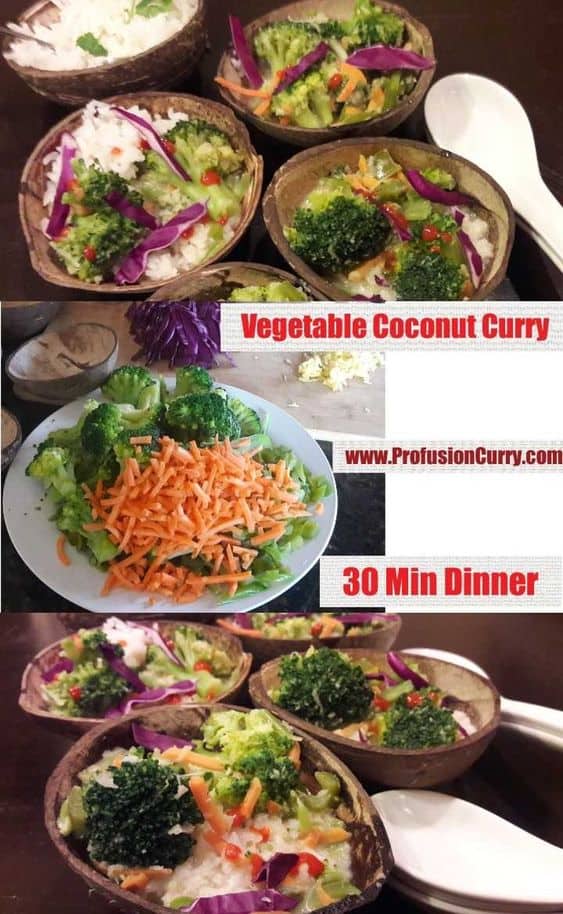 I fall in the category who believes that one can never have enough vegetable curry recipes in their collection. Curries are the easiest to make. They are so versatile to adjust to ingredients in hand. They pair up superbly with variety of options like rice, bread, quinoa or salad. Check out some of favorite curry collection like
or
Black Eyed Peas and Coconut Curry
We are sure you will love these vegan, easy to prepare yet delicious weeknight dishes. Cheers !!