Masale bhat has been a traditional staple in Maharashtrian festival menu. Peshwai pangat adorns the round dome of yellow spicy rice decked with dollop of home made ghee, cilantro and grated coconut. Typically served as second round in traditional style multi course menu, this rice dish combines a good mix of vegetables, spices, nuts and lentils. This very traditional delicacy serves as a must have menu item on a Maharashtrian thali !! Masale Bhat, Jilebi and Mattha (spiced buttermilk) counts as a delectable treasure trio for all the foodies for sure !!
On its own, it serves as a one pot complete meal ideal for lunch box since it has filling carbs, protein in the form of lentils and nuts and one full vegetable serving.
● The original recipe below is made on stove top. Now with Instant Pot, it is even more easier to make Masale Bhat in IP. Use Saute mode to saute the vegetables and lentils. After that use rice mode and make rice with vegetables in one pot cooking !
Ingredients:
2 cups Basamati or any long grain Rice
2 cups chopped vegetables ( typically used vegetables include Tindora, small cubed eggplant, small cubed carrots, peas , small potatoes)
1/2 cup cashews
1/2 cup chana daal ( Bengal gram pulse) : soak in warm water for 1/2 hour before using
juice of a half lemon
For tempering :
2 tbsp Ghee or oil
1/2 tsp Turmeric
1/2 mustard seeds
1 tsp sesame seeds
pinch of asafetida
Curry leaves-1 spring
2 tsp Maharashtrian Goda masala ( alternatively use coarsly ground powder of cumin, coriander, cinnamon, cloves and bay leaf)
1 tsp red chili powder
Salt per taste
Juice of 1 lemon
Grated coconut, chopped cilantro and lemon wedges to garnish.
Instructions: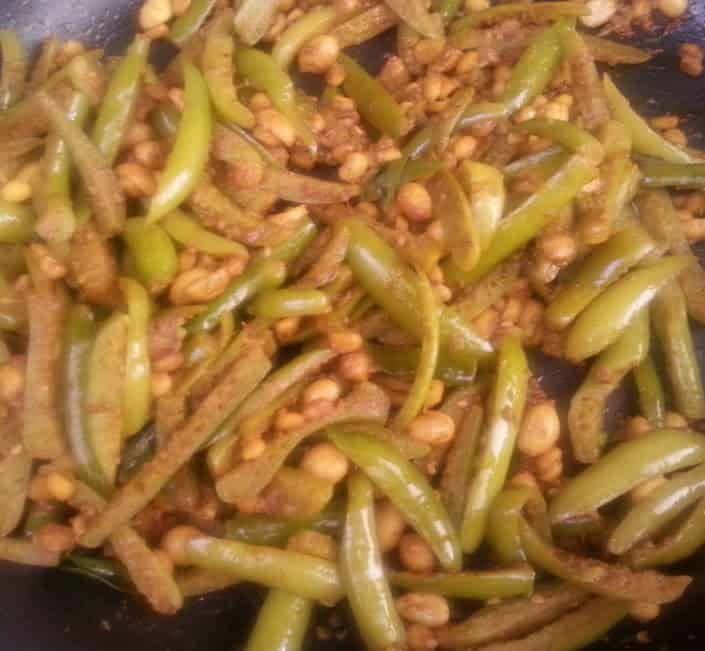 Rinse and soak the rice in water

Heat oil in pan. Add the mustard seeds and wait till they pop. Add curry leaves and asafetida.

Add the all the chopped / cubed veggies – carrots, tindora, eggplant and peas. Drain the soaked Channa Daal well and add it to the veggie mixture. Saute further for 3 to 4 minutes stirring often till everything cooks and get tender.

Add the red chili powder, goda masala, sesame seeds, turmeric and cashews to the sauted veggies. Stir well and sauté for a minute. Season with salt.

Separately cook the soaked rice per required water. Add salt, pinch of turmeric and spoonful of lemon juice to the water before cooking rice. The cooked rice should be " Al dente"- tender but firm and not mushy.

Combine the cooked rice while its hot and sauté vegi masala mixture. Add lemon juice . Stir well so rice is well coated. Close the lid so steam stays in the pot and spice mix marinates further.

To serve, add teaspoon of ghee on the top. Garnish with grated coconut and chopped cilantro and lemon wedges ! Serve hot !!