Quick and easy to make wholesome dish !! Amboli is traditional thick, soft, fluffy pancake made of rice and lentils soaked and ground into a fermented batter.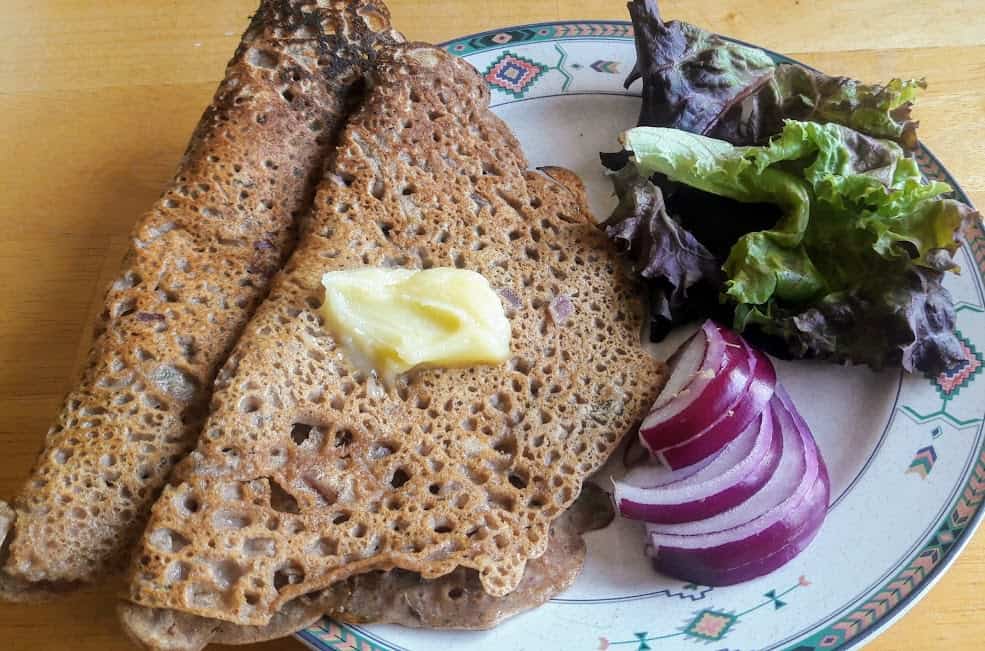 I use equal parts of nachani (ragi), brown rice, besan (Chickpeas) and sorghum (Jawar) flours. That makes it gluten Free, multigrain and increases the fiber and overall health quotient. Mix it with finely chopped onion, garlic, ginger and green chilies and cilantro.. Add cumin seeds, salt and a dash of chili flakes.. Spread the batter on preheated cast iron pan seasoned with little oil.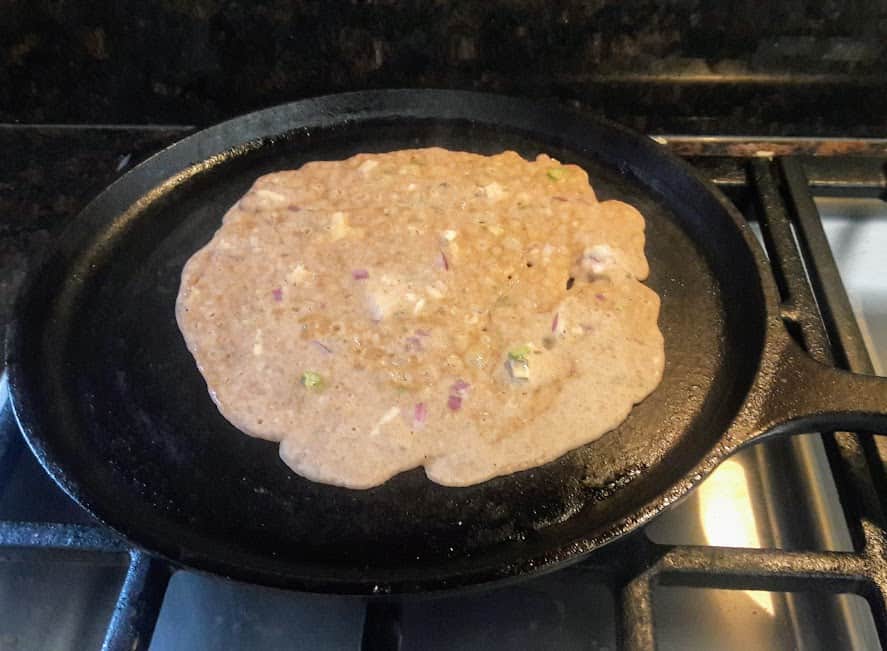 I simply love my lodge cast iron pans .. they are truly versatile non stick cooking tool once you get hang of preheating it.
Don't forget to serve these crispy munchies with dollop of ghee.. it sure adds distinctive taste !! .
Ingredients: For Gluten Free Flour Mix
1/2 cup Ragi flour
1/2 cup rice flour
1/2 cup sorghum ( jawar) flour
1/4 cup chickpeas flour ( Besan)
Flavors :
1 tsp cumin seeds
1 tsp ajwain seeds
1 tsp sesame seeds
1 small onion finely chopped
1 tsp ginger garlic paste
2 tablespoon cilantro finely chopped
Directions:
Combine all the flours and mix well. You can save and use this dry mixture for variety of purposes to replace traditional wheat flour. It works as a best gluten free alternative with more fiber, iron and calcium per servings than just wheat or rice alone.

Add all the ingredients in flavors. Mix well. Add 1.5 cup of water and make it smooth batter. You may need additional water. The batter consistency should be runny but not watery. It should easily spread on the pan.

Coat the pan ( I prefer Lodge Cast Iron pan) with 1 tsp oil. When hot, pour a ladle full of batter on the pan.
Spread it evenly in a circular motion like a dosa. Cook for about two minutes on one side. When it starts to turn golden brown at the bottom, gently flip and cook on other side uncovered for two more minutes.

Remove from heat and serve hot with chutney and dollop of ghee on top !