This layered casserole is filled with corn tortillas, spinach, corn, enchilada sauce and Monterey jack cheese. Baked to perfection, it creates yummy goodness of melted cheese and robust flavors. It is super easy to put together. This hearty and healthy Mexican cuisine inspired dish is one of our family favorite. Delicious, fast yet simple ; I assure you, it's simply da best !!
This dish is easy to make with all store brought ingredients. So if you want to make it delectable semi-homemade dinner, this is it. You can even use frozen spinach and corn and avoid hassle of washing, drying ,cleaning and trimming the vegetables. We all need these simple yet healthy meals every now and then. Don't we?
However, in order to avoid all unnecessary fillers in store brought enchilada sauce, I prefer to make my own. You can simply skip this step and use a jar or can of enchilada sauce to make it easy. However, a quick 5 min preparation and you have home made sauce. So worth a try. My 5 ingredients enchilada sauce includes 1 can of fire roasted tomatoes ( I like Muir Glen Organic) , smoked cayenne pepper, cumin coriander powder, 21 seasoning salute and Himalayan pink salt. Blend it all together and you have awesome enchilada sauce. Ingredients that you can trust and feel good about eating. You can adjust the spice level depending upon your tolerance.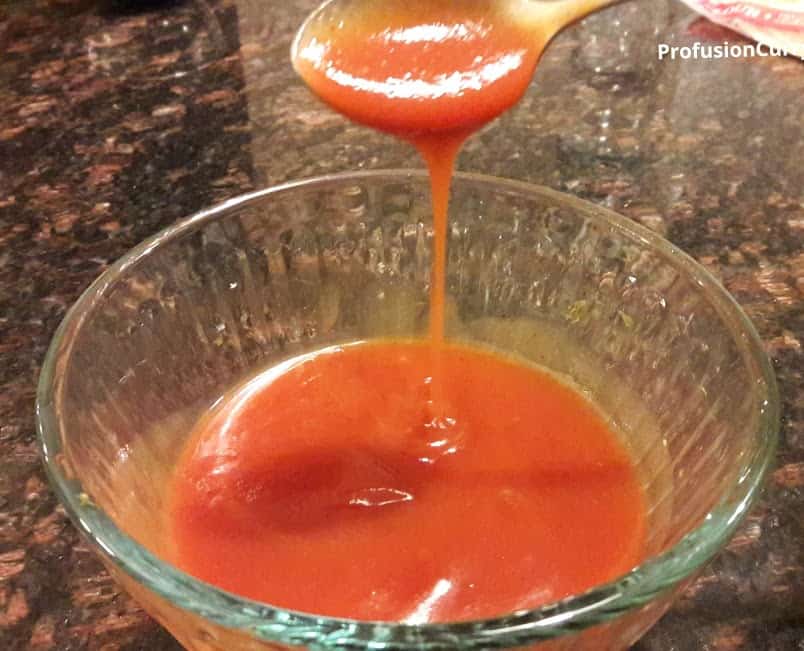 Once you have all the ingredients, it's very easy to put this casserole together. If you are looking to involve your kids in kitchen, it's a perfect dish to make together. Kids will love dipping ,layering and topping up the casserole !
Ingredients:
2 cups of chopped spinach
1 cup corn ( fresh, frozen-defrosted or canned )
2 cups enchilada sauce ( see recipe above) or 1 can store brought
2 cups shredded cheese. Preferably Monterey Jack or Mexican blend cheese
12 corn tortillas. Corn tortillas make it gluten free meal.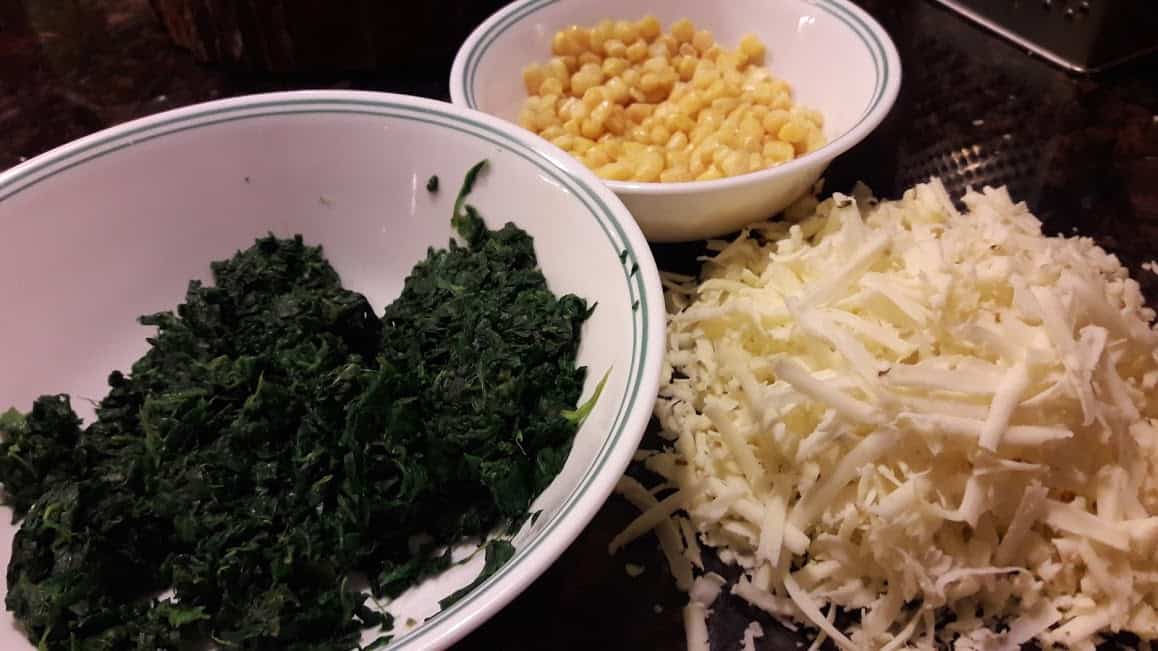 Directions:
Preheat oven to 325°F.
Pour some enchilada sauce on a oven safe casserole dish. Dip a tortilla in the sauce so it coats the sauce both sides. Spread about spoonful each of spinach , corn and cheese on it. This is the base. Add more layers of tortillas similarly. Every layer after base, add spoonful of enchilada sauce too.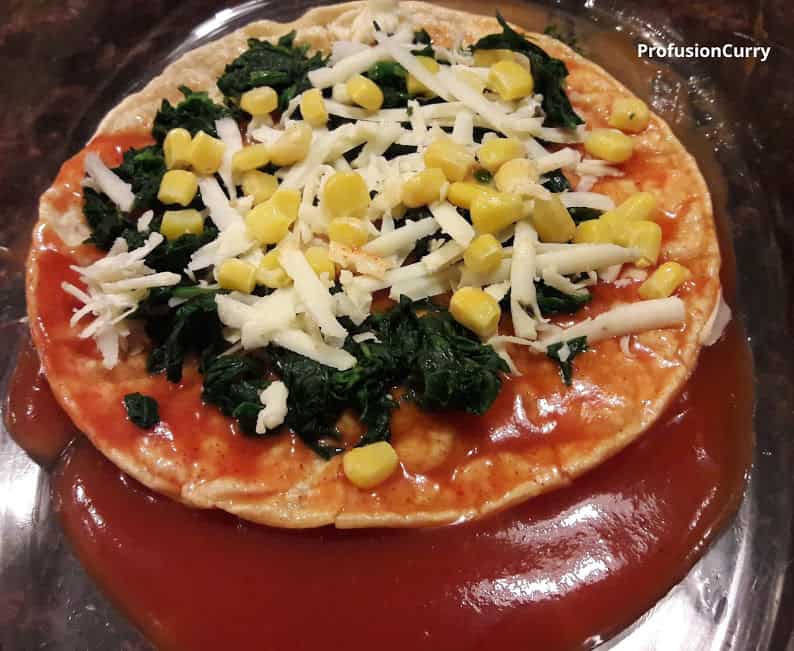 Once all the tortillas are layered, top it off with leftover ingredients. Place the dish in the middle rack of the oven. Bake for 15-20 mins until cheese looks bubbly on the top. Take the dish out of oven and let it rest for 5 mins before cutting. Serve warm.
Make it a Mexican fiesta by adding salsa, pico de galle, guacamole, sliced avocado, field greens, queso dip on the side if you choose. Casserole itself is very filling and nutritional dense meal. Saluda a la Buena Vida !! Cheers to happy life!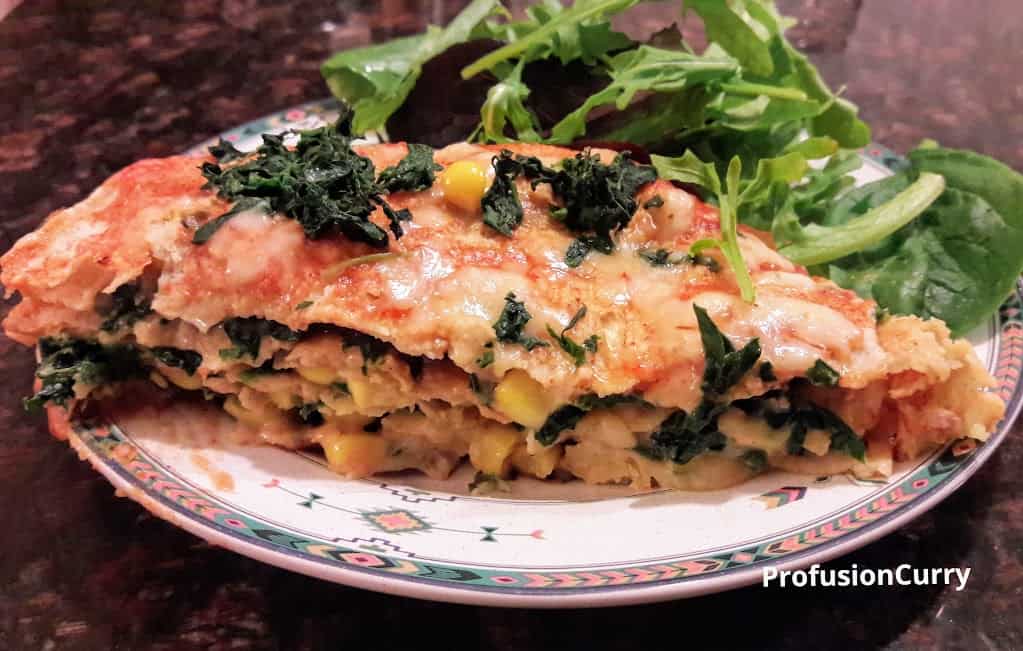 —————————————————————————————–
Layered Spinach-Corn Enchilada Casserole/Gluten Free /Vegetarian
Recipe
Serves 4
Ingredients:
2 cups of chopped spinach
1 cup corn ( frozen-defrosted or canned )
2 cups enchilada sauce ( see recipe above) or 1 can store brought
2 cups shredded cheese. Preferably Monterey Jack or Mexican blend cheese
12 corn tortillas
Directions:
Preheat oven to 325°F. Pour some enchilada sauce on a oven safe casserole dish. Dip a tortilla in the sauce so it coats the sauce on both sides. Spread about spoonful each of spinach , corn and cheese on it. This is the base. Add more layers of tortillas similarly. Every layer after base, add spoonful of enchilada sauce too. Once all the tortillas are layered, top it off with leftover ingredients. Place the dish in the middle rack of the oven. Bake for 15-20 mins until cheese looks bubbly on the top. Take the dish out of oven and let it rest for 5 mins before cutting. Serve warm.
—————————————————————————————–
■Let us know how you like this recipe by leaving a comment and rating it so other readers know it too. And while you're at it, take a picture and tag it #profusioncurry on Instagram! We love seeing what you come up with. Cheers, friends■