Italian Pasta Salad is a quick, easy & colorful cold summer salad with cucumbers, grape tomatoes, fresh herbs and Italian seasoning vinaigrette all tossed together for a great potluck dish!
We love hearty filling salads. Lentil Salad, Black Bean and Corn Salad, Mexican Street Corn Salad and Orzo Pasta Salad are all nourishing and filling besides this amazing Italian Pasta Salad.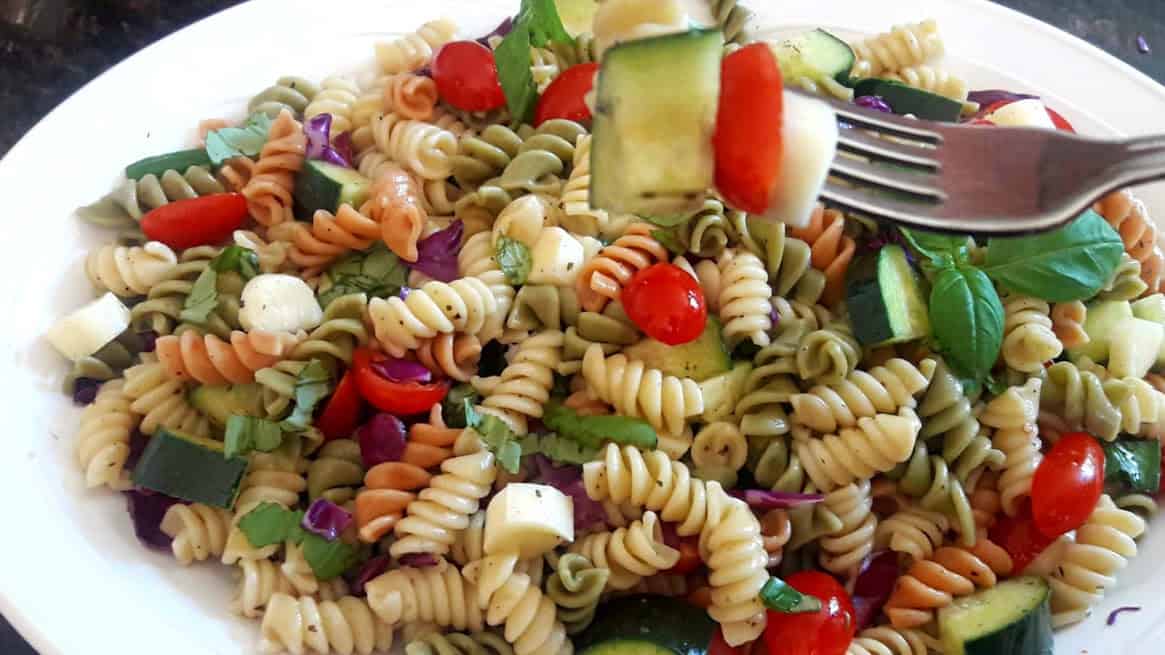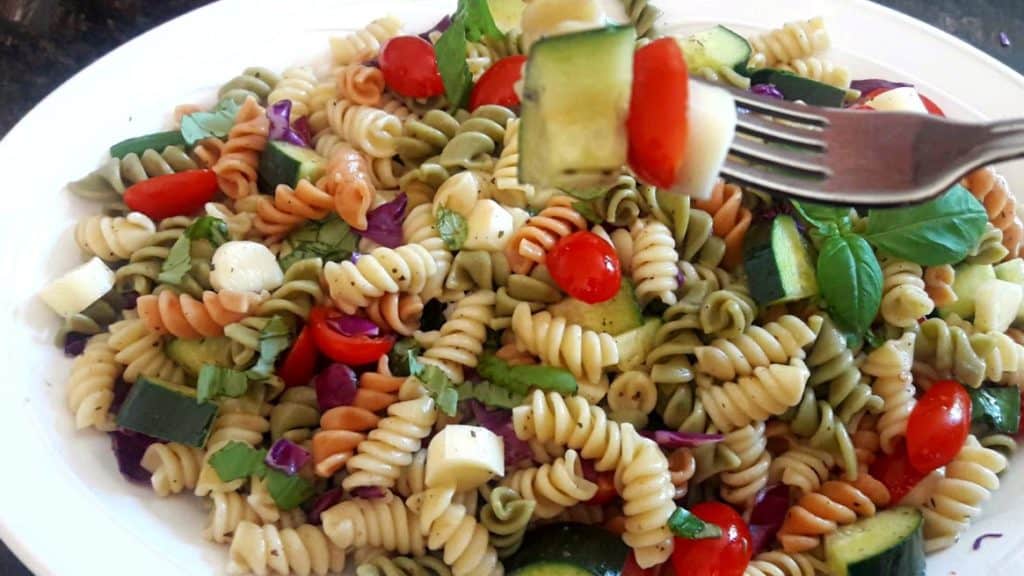 Easy Pasta Salad
Italian Caprese Pasta Salad is going to be your new favorite side dish for a summer gathering , an outdoor party / bbq, or a potluck. It's hearty enough to serve for dinner as well.
And guess what, it tastes AMAZING the following day. Make a big batch so you have leftovers to devour.
This rainbow veggies and pasta salad has all my favorite ingredients together in one happy place. Al dente spiral tri color pasta, crisp cucumbers, ripe cherry tomatoes and creamy mozzarella bites all coated in zesty Italian dressing.
It is beautiful, colorful, delicious and oh soo refreshing. If you are like me, on beautiful summer days, you don't want to spend too much time cooking indoors . You also want nourishing, wholesome meals that come together quickly. This salad is a perfect to make everyone happy.
This Classic Italian Pasta Salad is superbly flavorful, with the perfect mixture of sweet and savory and spicy ingredients. Everything blends together just perfectly. Fresh herbs elevate simple Italian vinaigrette to next level.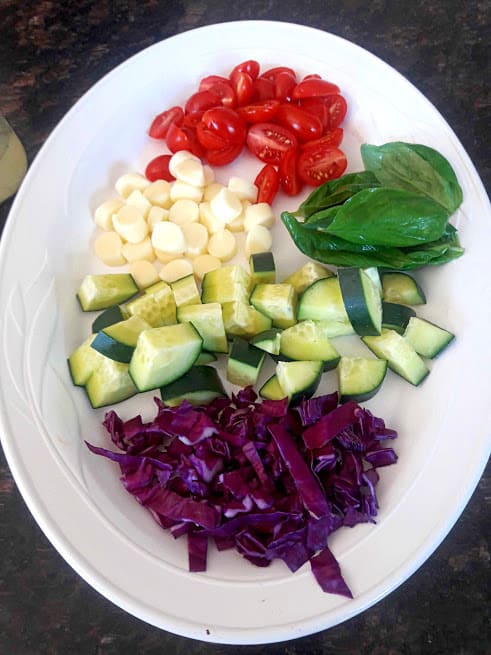 You can make things incredibly simple by taking advantage of store-bought Italian dressing. Or I have super simple recipe to make it at home.
How to make Italian Herb Vinaigrette
½ cup extra-virgin olive oil
¼ cup red-wine vinegar
2 teaspoons Italian seasoning blend
½ teaspoon Kosher salt
½ teaspoon freshly ground black pepper
1 teaspoon lemon juice
Whisk all ingredients together until well combined.
I can't wait to tell you that this Quick Italian Pasta Salad will steal the show for your next BBQ or potluck. One of our most popular recipe for summer gatherings, this beautiful salad is worthy of all accolades.
As an added bonus, this salad is super quick and easy to make.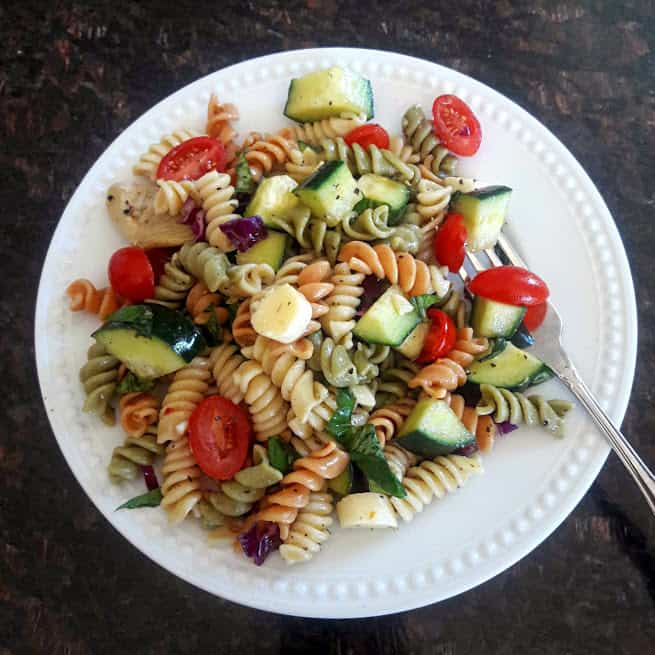 How to make Italian Pasta Salad
Simply cook up a batch of your favorite pasta. I used tri-color rotini for extra color and texture. You can use any short cut Italian Pasta. Gluten free pasta works well too.
After pasta is cooked, drain and rinse the pasta quickly in some cold water. It stop the cooking process and pasta becomes al Dante.
While pasta is cooking, chop all other veggies. Bite-sized pieces work better. Drain the pasta, run the cold water. Toss everything together. Generously pour the salad dressing / vinaigrette over. Toss toss toss – done and dusted !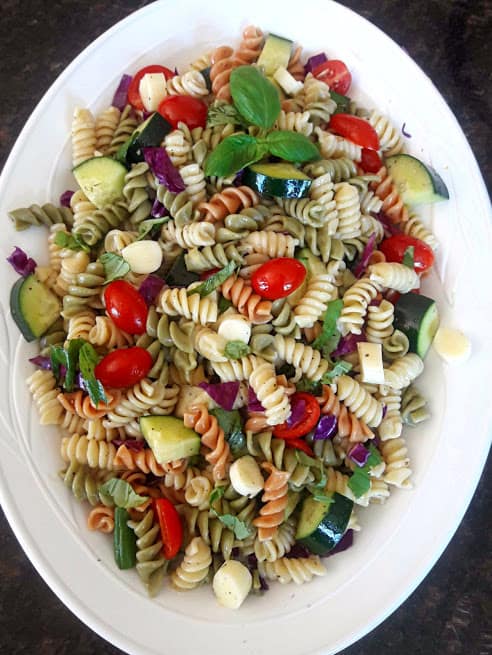 How to Make Pasta in InstantPot
Making pasta in InstantPot or electrical pressure cooker is super simple. Pour pasta in the main insert. Add a teaspoon of oil and salt. Pour just enough water to cover the pasta. DO NOT SUBMERGE.
Close the lid. Place the knob in Sealing position. Now the fun part to select the cooking time. Read the cooking time on the pasta package. You want to choose ½ that time minus 1 minute. So for example, if pasta box suggests you to boil pasta for 8 minutes , for InstantPot you will do ½ -1 so 3 minutes. ( 8-4-1=3).
Choose Manual 3 minutes high presure. After InstantPot does cooking and beeps, Wait for 3 minutes on keep warm timer and release the pressure. ( quick presure release by turning the knob from sealing to venting)
Carefully open the lid. Dump the pasta in a colander and run cold water over it for few minutes. Your Al Dante pasta is ready.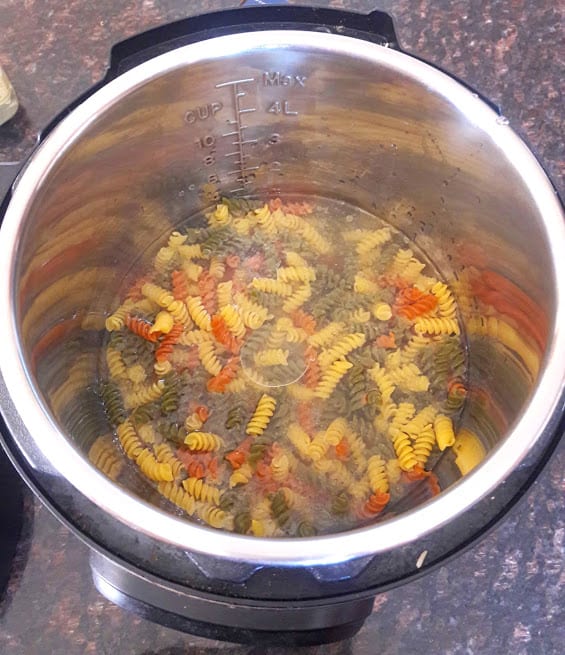 If you love InstantPot as much as we do, try some of our Reader's Favorites Healthy InstantPot Recipes from the Profusion Curry for easy weeknight dinners.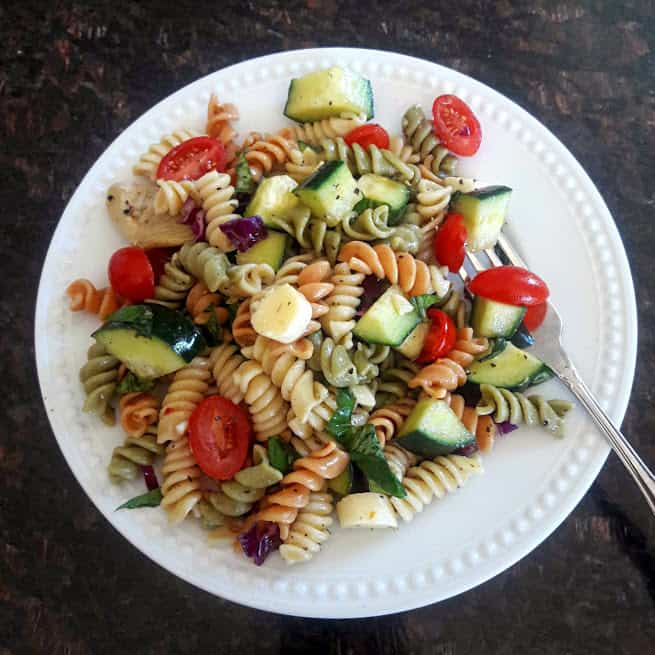 Easy Substitutions
We can call it clean your refrigerator salad too. It's incredibly customizable, so feel free to substitute in any of your favorite ingredients that you have on hand. Fresh, roasted, marinated or grilled veggies go very well in this.
Make it fancy with marinated olives, artichokes and sun dried tomatoes. Some firm fruit like apples, kiwis, cantaloupe or melon will be ok to add too.
If you have leftover antipasto ingredients, use them all up. The sky's the limit to make it to your likings.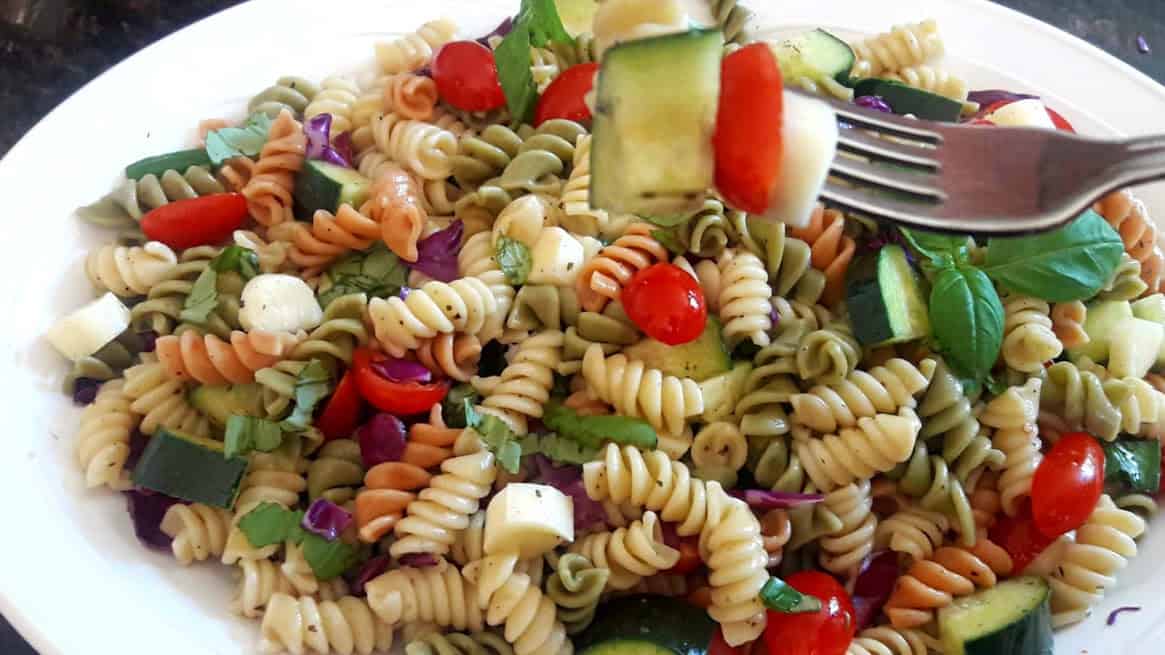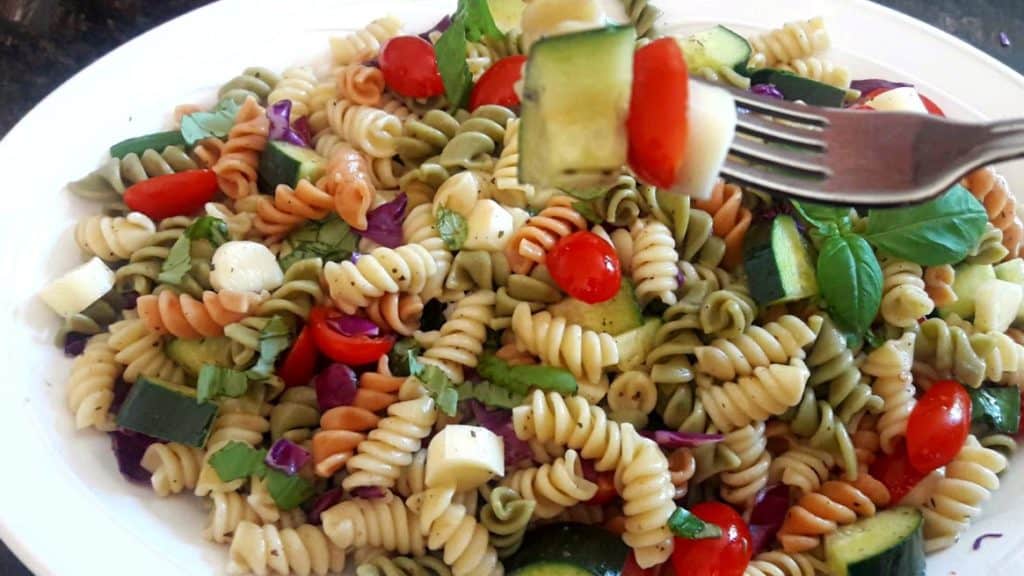 ♥ Follow us on PINTEREST and like our FACEBOOK page. We love creating delicious and easy family friendly recipes from around the world. DO JOIN US ♥
We would love to hear your feedback!! Use the PIN button in the recipe card or image below to pin this recipe !
★ If you make this Italian SUmmer Pasta Salad Recipe , do let us know how you like it by ★ star rating it and leaving a comment below.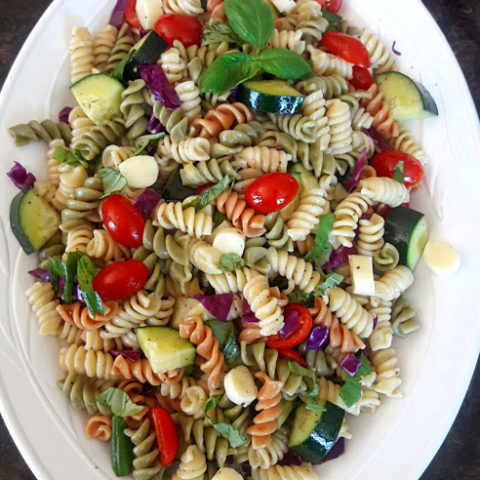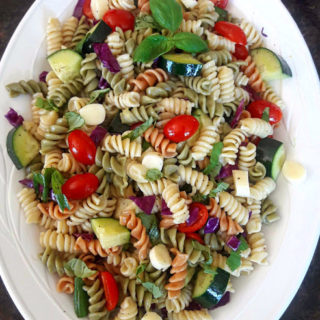 Italian Summer Pasta Salad
Italian Pasta Salad is a quick, easy & colorful cold summer salad with cucumbers, grape tomatoes, fresh herbs and Italian seasoning vinaigrette all tossed together for a great potluck dish!
Ingredients
12

oz

tri-colored rotini

½

teaspoon

salt

1

Tablespoon

Olive Oil
Toppings
1

large

cucumber diced

2

cups

grape tomatoes halved

1

cup

mozzarella cheese balls or any Italian cheese cubes

8-10

fresh basil leaves roughly chopped

½

cup

purple cabbage roughly chopped or 1 small red onion diced

1

cup

favorite Italian dressing
Instructions
Boil the pasta with the salt in the water according to the package until al dente.

While the pasta is happening, wash and dice all of the vegetables.

After the pasta is finished, rinse it under cold tap water. Drain well.

In a large bowl, combine the cooked pasta, and all chopped vegetables. Toss in cheese balls. Drizzle the Italian Herb Vinaigrette on top, then toss to combine.

Serve immediately. Garnish with fresh basil leaves and fresh cracked black pepper. Bon appetite!!
Using Instant Pot for cooking Pasta
If using the Instant Pot, cover the pasta with water, season with salt and then cook on Manual HIGH for 3 min and then wait for 3 min keep warm counter and then release the pressure by turning the knob to venting.
Notes
Note about using purple cabbage or red onion.
I personally prefer to use purple cabbage in no cook recipes over red onion. Red onion starts to emit pungent smell after some time. So if you are planning to keep the salad for later use, you may notice unpleasant taste if using red onion. Purple cabbage stays firm and fresh for longer duration without the odor. So for cold salads I think it's a better choice. But it's a personal preference so choose accrodingly.
To make Glutenfree Italian Summer Pasta Salad :
You can use gluten free pasta instead of regular pasta to make this recipe Gluten free .
To make Vegan Italian Summer Pasta Salad :
You can use vegan and dairy free cheese instead of regular cheese to make this recipe Vegan. You can simply skip the cheese as well.
To Make this Italian Summer Pasta Salad WFPB compliant and oil free
Use the whole grain wheat pasta instead of regular pasta . You can skip the oil in Italian Vinaigrette and use water or veggie broth instead.
Nutrition
Serving:
1
cup
Calories:
164
kcal
Carbohydrates:
20
g
Protein:
5
g
Fat:
7
g
Saturated Fat:
2
g
Polyunsaturated Fat:
5
g
Cholesterol:
5
mg
Sodium:
391
mg
Fiber:
2
g
Sugar:
4
g