Gajar Halwa is traditional Indian dessert made with carrots, milk and crushed cardamom. This delicious dessert often is created in winter months and the warm spices make it irresistible ! There's always something comforting about cooked carrots and soothing warm spices.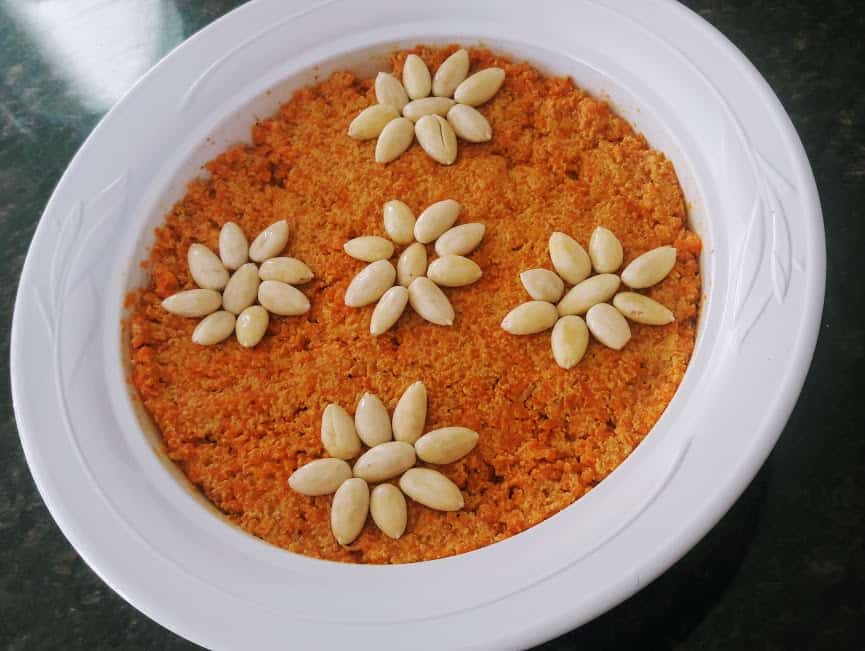 Cooking traditional food is very unique and satisfying experience I must say.. You have some cherishing memories associated with the food you grew up with. So it's retracing the root while making some comfort food ??
With my renewed focus on being gluten free/ and almost vegan , few recipes are tweaked ..that makes them healthier and guilt free. . So stay tuned…
Ingredients:
2 cup grated carrots
2 tbsp Ghee ( Clarified Butter) or coconut oil
2 cup Milk ( Substitute Almond Milk for Vegan option.. Trust me it tastes even better with it )
½ cup sugar
½ tsp Cardamom Powder
1/2 cup Almond meal or Almond powder
10-12 Soaked and peeled Almonds for garnish
Directions:
1. Peel Carrots and grate them coarsely in food processor.
2. Soak Almonds in water for couple hours. You can use hot warm water to get the skin off quickly too. Peel the skin.
3. Heat the pan with heavy bottom, add 2 tbsp. ghee. Add grated carrots and stir for 5-6 minutes. Make sure carrots change color and look roasted. Keep stirring frequently.
4. Add milk and sugar. Stir few times. Let it boil on low to medium heat, stirring frequently so as not to burn it at bottom. Stir in Almond meal. The mixture will start to become thick.
5. Add cardamom powder and keep stirring till all the liquid had evaporated and mixture is becoming dry.
Serve hot or at room temperature as a dessert.
■Let us know how you like this recipe by leaving a comment and rating it so other readers know it too. And while you're at it, take a picture and tag it #profusioncurry on Instagram! We love seeing what you come up with. Cheers, friends■