Vegetarian fajita tacos with onions, zucchini, mushrooms, pinto beans, jalapeños and cilantro in corn tortillas.
Sautéed zucchini, mushrooms with pinto beans accentuate these beautiful looking and scrumptious Tacos ! Add in some red onions, cilantro and couple of jalapeno pepper slices ! Let there be Mexican Fiesta every Tuesday or Thursday ! Some seriously robust flavors and colors going on here ! Classic Mexican recipe gives you all the pleasing taste without all the fuss. And its gluten free, light and satisfying.
Profusion of flavors , healthy and easy to put together. Fresh, light and did I say yummy! Tacos are our family favorite and build your own taco bar is on rotation on my weeknight menu. So easy , so colorful and so tasty !!
Check out my detailed recipe on how to make Pinto Beans in pressure cooker or InstantPot. It is so easy to make and at a fraction of the cost of store brought canned versions. Also you can always make a big batch and freeze them for few of the meals later. They serve as a great base for any combination of quesadillas, enchiladas and of course tacos. A great meat alternative, it is versatile recipe that can be adapted to any spices of your choice.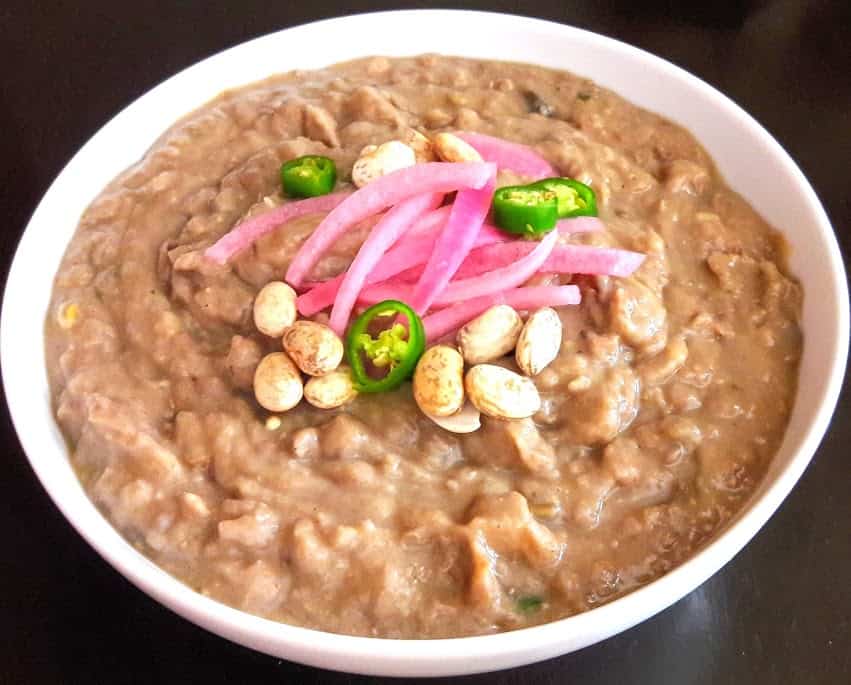 Once you have made the beans, it is easy to put these tacos together. Basic structure remains the same, choice of topping can be anything you have in hand or what your mood dictates. Much quicker to prepare and absolutely savory and delicious meal to enjoy. For making these gorgeous looking yummy tacos, you will need
Ingredients:
12 count round tortillas ( corn or flour )
1 cup of cooked pinto beans ( see the recipe above)
1 medium zucchini cut into slices
1 medium onion cut into slices
10-12 mushrooms, cut into quarters
1 tsp olive oil
2 garlic cloves minced
1 tsp taco seasoning ( I use chili lime seasoning and ground cumin mixture. No bad ingredients )
Salt if needed
Chopped red onion, cilantro, jalapeno peppers for topping. ( you can also use lettuce, tomatoes, avocado and lemon) ( melted shredded cheese also taste yummy if you are not vegan)
Directions:
While the pinto beans are cooking , chop up onions, zucchini and mushrooms. Put the pan on the medium heat, Add some oil. Once oil is heated, add the onions and garlic. Sauté with the sizzling sound, for few minutes till onions get tender. Add mushrooms and zucchini. Keep sautéing for some time. Mushrooms will release the water and turn darker. Add salt and pepper and seasoning. Turn off the heat. Sautéed Fajita Vegetables are ready.
To serve, warm the tortillas slightly on the pan. Layer each tortilla with spoonful of mashed beans. Add sautéed fajita vegetables . Top it off with pickled onions, chopped cilantro and jalapeno pepper slices. ( You can always add your favorite toppings like guacamole, salsa, or anything that your heart desires) Slightly fold the tortilla in the middle, hold it in hand and enjoy. No utensils needed !!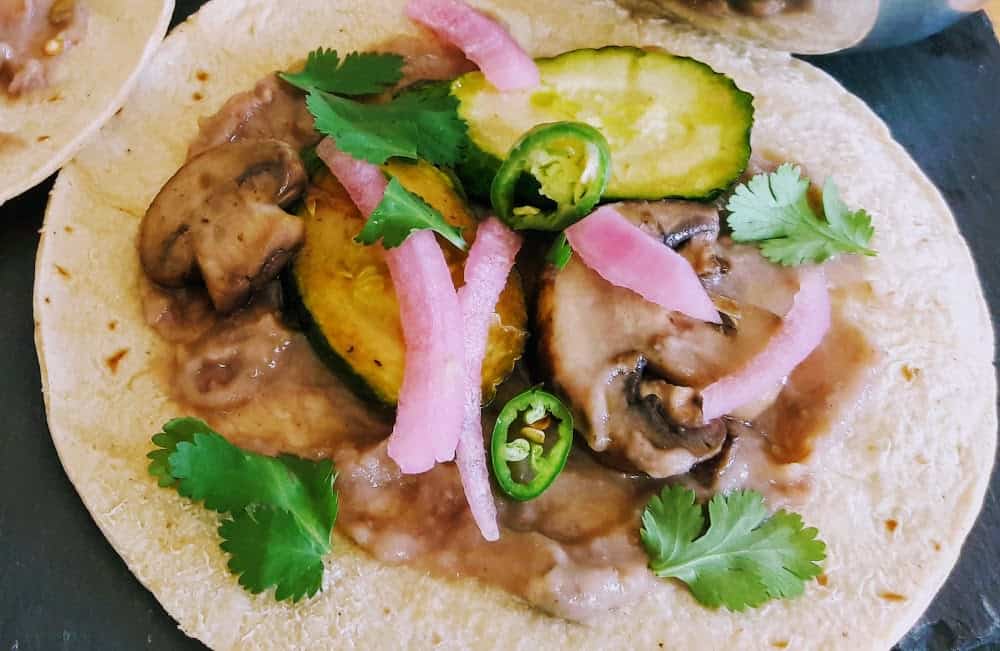 To make pickled pink onions, finely cut 1 red onion lengthwise. Mix in 1/2 cup of water and 1/2 cup of white vinegar. Add 1/2 teaspoon of salt. Dip the chopped onion. It will release the pink color in the water/vinegar mixture and red onion will turn pink in color in about 1/2 an hour. You can keep it longer for a day and refrigerate leftover pickled onions.
♥ We would love to hear your feedback . Do let us know how you like this post by leaving a comment and rating it so other readers know it too. And while you're at it, take a picture and tag it #profusioncurry on Instagram! We love seeing what you come up with. Cheers, friends !!