How can you resist mildly spiced stir fried potatoes ? Yummy goodness that is so easy to make and lip smacking good. This entrée vegetable is very versatile item on any Indian menu ! Very easy to make but very tasty vegetable curry. This preparation can enjoyed as an accompaniment with rice, roti or even as a filling inside masala dosa. It makes great filling for grilled cheese sandwich too. It is a very kid friendly and favorite recipe. My boys often request me to make it. It can be easily adjusted to suite your taste in case. So don't worry if you don't have any of the listed ingredients. It still will be delicious yummy entrée you will keep making again and again.
Ingredients:
2 cups boiled, and roughly chopped potatoes ( about 3-4 medium size potatoes)
1 tbsp cooking oil
1 tsp mustard seeds
1 tsp cumin seeds
pinch of asafetida.
10 curry leaves
2 garlic cloves chopped
1 tsp turmeric powder
1-2 finely chopped Green chilies
1 inch ginger root, cut into small cubes
2 tsp lemon juice
2 tbsp finely chopped coriander to garnish
1 tsp sugar
salt to taste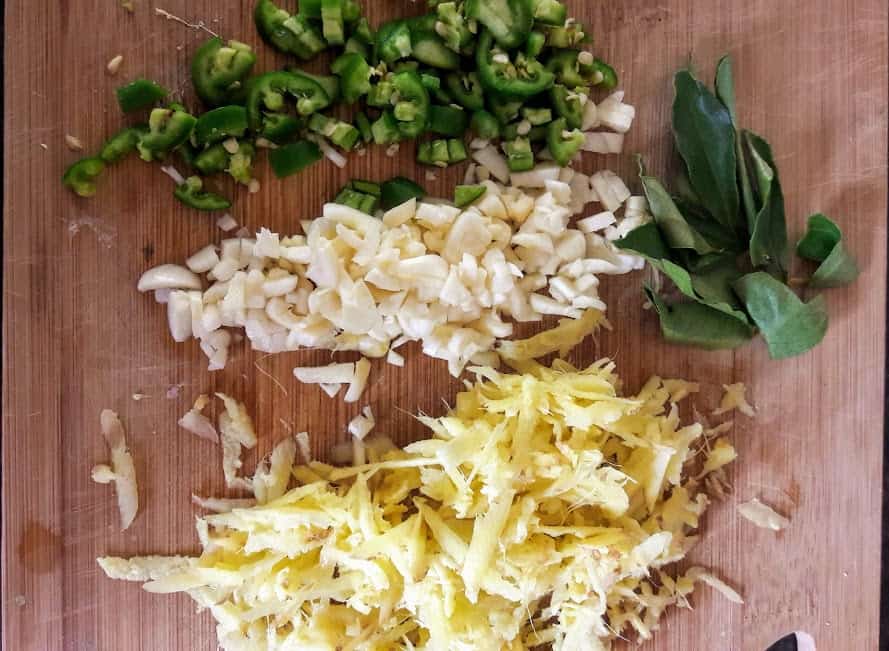 Directions : Instant Pot
1. Wash the potatoes. Put 1 cup of water in InstantPot. Put the potatoes in steamer basket.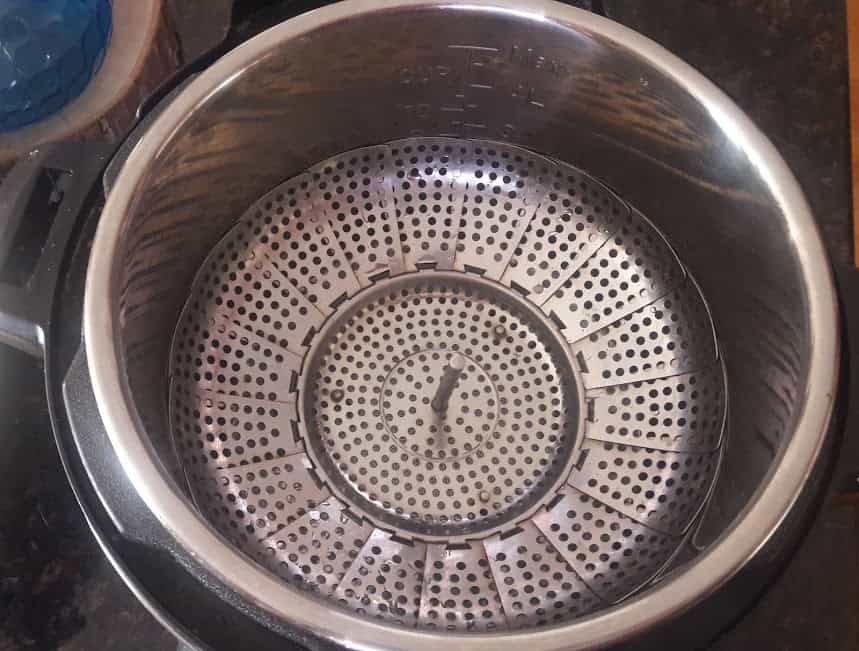 Close the lid, put the valve in sealing position. Select Manual 4 minutes. After its done, let NPR natural pressure release. Carefully remove the potatoes from the steamer. Peel the skin ( I often use organically grown potatoes so I keep the skin on ) . Roughly cut the potatoes in cubes.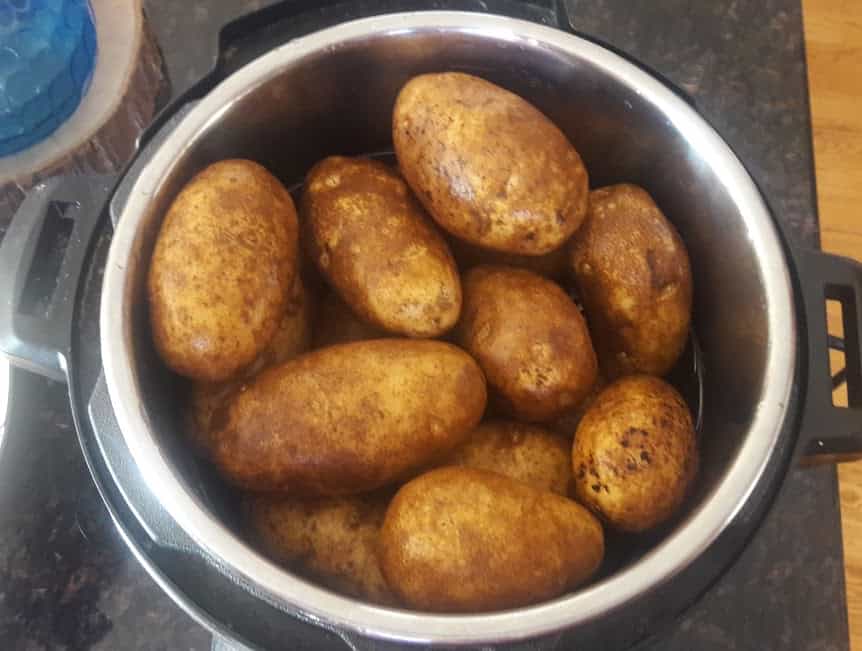 2. Dry the main pan. Press sauté on low . Add the oil in a pan, add the mustard seeds , once they are warm, add cumin seeds, curry leaves and asafetida. Add finely chopped green chilies and ginger. Sauté for a minute.
3. Add the turmeric powder and boiled potatoes, mix well while mashing it lightly with a back of the spoon. Add the lemon juice, sugar and salt, mix well and cover the IP with glass lid and let it cook for 2-3 minute, while stirring occasionally. Be gentle in stirring it if you want potato pieces to stay in tact. If you prefer it mushy , you can use back of the spoon and mash it further.
4. Garnish it with chopped cilantro and serve hot !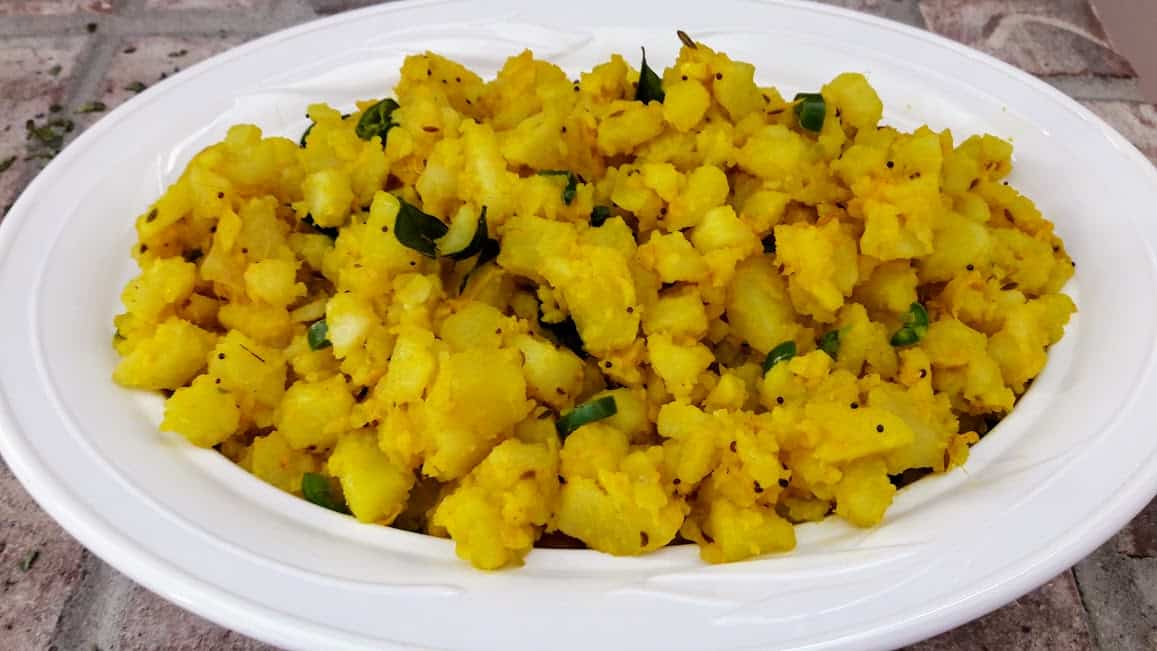 Notes :
Boiling potatoes first helps save considerable amount of time in peeling and cutting them. Boiled potatoes are easy to peel and cut so it is less taxing on the hands too.
** This is very basic yet extremely tempting version of making potatoes. You can add onions and peas in step 2 above to make it Potato-Peas Curry ( Aloo-Matar ) or add onions, peas, tomatoes and cauliflower in step 2 above to make it Potato-Peas -Cauliflower curry . (AlooGobhi ) Increase the sauté time to few more minutes to make sure these added veggies are tender.
**Add about 2 table spoons of soaked and rinsed urad daal or chickpeas to the step above and increase the sauté time to few more minutes til the lentils are cooked. This will give a nice crunch to the otherwise soft potatoes. Adding the beans gives some extra protein in the meal too.
[lt_recipe name="Dry Potato Bhaji-InstantPot-Batata Bhaji-Indian spiced Potato Curry-Gluten free-Vegan" summary="Mildly spiced stir fried potatoes ? Yummy goodness that is so easy to make and kids approved. Very versatile taste, it sure is crowd pleaser." servings="4″ print="yes" ingredients="2 cups boiled, and roughly chopped potatoes ( about 3-4 medium size potatoes);1 tbsp cooking oil;1 tsp mustard seeds;1 tsp cumin seeds;pinch of asafetida.;10 curry leaves;1 tsp turmeric powder;1-2 finely chopped Green chilies;1 inch ginger root, cut into small cubes;2 tsp lemon juice;2 tbsp finely chopped coriander to garnish;1 tsp sugar;salt to taste" ]Instant Pot ;;1. Wash the potatoes. Put 1 cup of water in InstantPot. Put the potatoes in steamer basket. Close the lid, put the valve in sealing position. Select Manual 4 minutes. After its done, let NPR natural pressure release. Carefully remove the potatoes from the steamer. Peel the skin ( I often use organically grown potatotes so I keep the skin on ) . Roughly cut the potatoes in cubes. ;2. Dry the main pan. Press saute on low . Add the oil in a pan, add the mustard seeds , once they are warm, add cumin seeds, curry leaves and asafetida. Add finely chopped green chilies and ginger. Sauté for a minute.;;3. Add the turmeric powder and boiled potatoes, mix well while mashing it lightly with a back of the spoon.;;3. Add the lemon juice, sugar and salt, mix well and cover the IP with glass lid and let it cook for 2-3 minute, while stirring occasionally. Be gentle in stirring it if you want potato pieces to stay in tact. If you prefer it mushy , you can use back of the spoon and mash it further.;;4. Garnish it with chopped cilantro and serve hot ![/lt_recipe]