Thali is a complete colorful vegetarian meal. Thali means platterful of food. We can also interpret it as a solid square balanced meal. Thali style eating is very popular in India. Several dishes are planned accordingly to make a complete meal.
One of the best feature of using InstantPot is you can create multiple dishes at once. Stacking and creating simple yet delicious meal is so easy to prepare. Once you get hang of Pot in Pot (PIP) cooking, you can use InstantPot even more creatively to create multiple dishes at once.
For this platter, I cooked Dry Cauliflower curry first in the main pot. All in sauté mode with glass lid and not using the pressure cooking function. After that, used the same tadka ( tempered oil with mustered seeds and turmeric) for Amti ( curried lentils) . I did Pot in Pot with basmati rice, tempered moong daal and beet roots on top. We used Manual 10 mins high setting. Let the pressure release naturally NPR.
Thus entire nourishing meal created in InstantPot without much of preparation and hands on efforts or active cooking. Needless to say it's satisfying and healthy too ! You can also create this meal on regular stovetop with instructions below.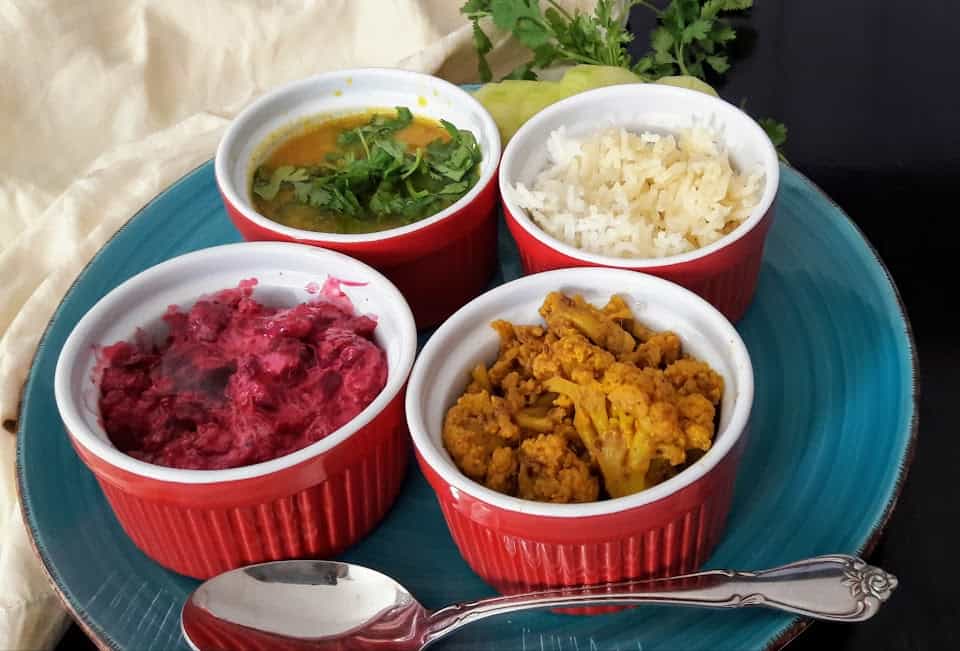 Clockwise from top left in the featured picture
▪Tempered Turmeric Lentil ( Amti ) –
I tempered mustard and cumin seeds in 1 tbsp of heated olive oil. Once, they crackle, added 4 cloves of garlic and let it cook til slightly brown and could sense the aroma. Added 1 cup water and 1 cup of cooked moong dal , 1 tsp of turmeric powder, 1/2 tsp each garam masala and red chili powder and salt. Let it come to boil, reduce heat and let it simmer for some time. Chopped cilantro for extra flavor and garnish on top.
♦ Freshly steamed Basmati rice. – Prepared using 1 cup Basmati Rice and 1.25 cups water.
▪Cauliflower Curry-
I tempered mustard and cumin seeds in 1 tbsp of heated olive oil. Once, they crackle, added 1 tablespoon of ginger garlic paste and let it cook for couple minutes til you sense the aroma. Add 2 cups of roughly chopped cauliflower florets, 1 tsp each turmeric powder, garam masala and red chili powder and salt to taste. Stir well so cauliflower florets get coated well with the seasoning. Add 1/2 cup of water , cover and let it cook for 10 mins on medium flame stirring every 3-4 mins in between. Cauliflower should be tender and not too mushy when done. Shut the heat off and stir in 1 tablespoon of lemon juice for extra tangy taste !
▪Beetroot Yogurt Salad-
Mash together 1 cup of cooked beet root with 1/2 cup of yogurt. If you are vegan, use almond yogurt. Add in 1/2 teaspoon of roasted cumin powder and salt to taste. You can also prepare this salad by skipping yogurt and adding 1 tablespoon of lemon juice instead.
♦Thinly sliced cucumber for extra crunch and refreshing taste.
I am noticing that serving the meal in thali style helps with portion control too. Especially with rice or any other carbs. It makes you mindful of serving size. Do you agree ?
After all, it's quiet easy to over-indulge when food is so good looking and healthy . But let's stay mindful and enjoy every bite of it. Quality over quantity, shall we ? Small colorful portions help you feel full quicker without over eating. Do give it a try.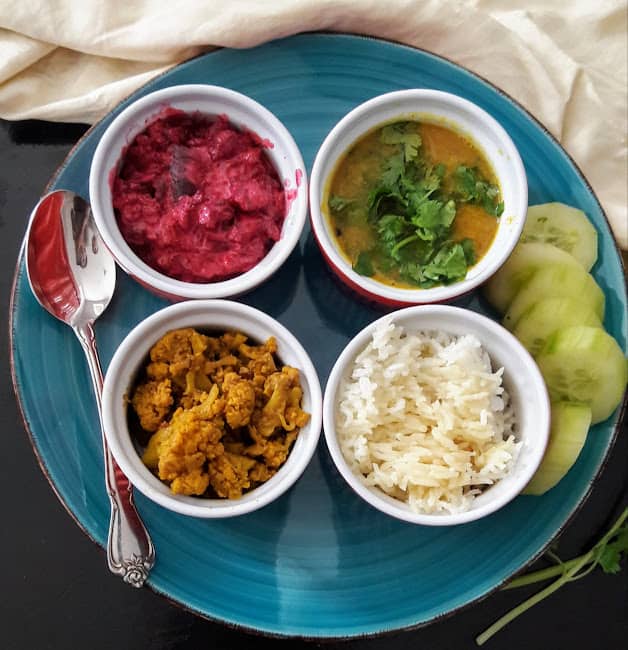 ■We would to hear your feedback !! Let us know how you like this post by leaving a comment and rating it so other readers know it too. And while you're at it, take a picture and tag it #profusioncurry on Instagram! We love seeing what you come up with. Cheers, friends■
Would you like to save this recipe for later use? Pin it here. You can check our Pinterest Board for more recipe and healthy living inspirations.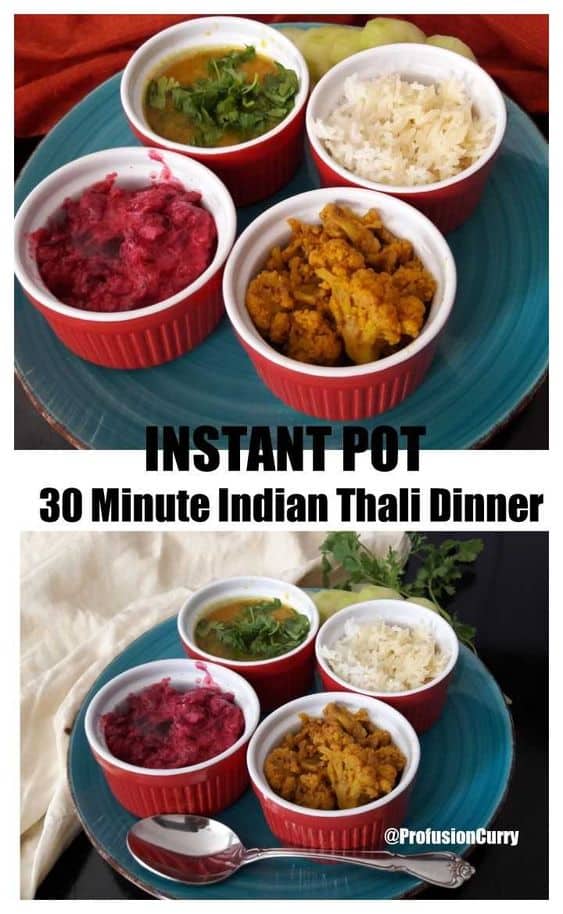 If you want to live a more mindful life, start with the way you eat. It's something we do multiple times a day but in today's society we often rush through our food and choose the quickest (and unfortunately unhealthiest) options. We've lost our connection to food and to the earth that it grows.
If you have a very busy schedule, make it a point of at least making one meal a special sit-down meal, no electronics or distractions. Food is nourishment -it is vital for our healthy being of mind, body and soul. Let's give it a respect it truly deserves.
Do you like Indian food? What is your favorite food memory? We would love to hear all about it. Do write it in the comment below. We love to hear from you ! Cheers