A very popular dish from Maharashtra India, Zunka is dry version of savory chickpea flour crumble. Very high in protein content, Pithala and Zunka are staple in traditional Maharashtrian cuisine. Very simple and easy to make, the taste is however simply irresistible. It is typically served as a side dish along with rice, roti or sorghum flour flatbread.
While Pithla is slightly mushy, less dry version whereas, zunka is dry crumble . The recipe for both is more or less similar except the water used in making it. Soul satisfying wholesome meal never looked so pretty and simple ! For a change, try serving it as a snack . It's fun and yummy finger friendly treat. Vegetarian protein without added fillers. You will be happy you did !!
Ingredients:
1 cup chickpea flour
2 tbsp. cooking oil
1/2 tsp mustard seeds
1/2 tsp cumin seeds
8-10 curry leaves
1/4 tsp asafetida
2 chopped green chilies or 1 tsp red chili powder
1/2 tsp turmeric powder
1/2 cup chopped cilantro
salt to taste
Directions:
Heat the oil in a heavy bottom pan. I prefer to use Lodge Cast Iron pan. Add the mustard seeds, cumin seeds, asafetida and sauté on a medium flame for 1 minute. Add the curry leaves and green chilies and sauté on a medium flame for a few seconds. Add chopped cilantro and sauté for few minutes stirring often.

In the meantime, combine chickpea flour, turmeric powder, salt and 1 cup water . Mix well and make a smooth paste avoiding lumps.

Add the chickpeas flour mixture to the pan. Cover with a lid and cook on a slow flame for 3 to 4 minutes, while stirring occasionally. Mixture will start to thicken. Remove lid and stir continuously while the mixture gets dry and starts to look crumbly.

Garnish it with cilantro leaves and serve hot. Traditionally it is served with raw onions, green chilies and lime/lemon wedges for that authentic earthy feel.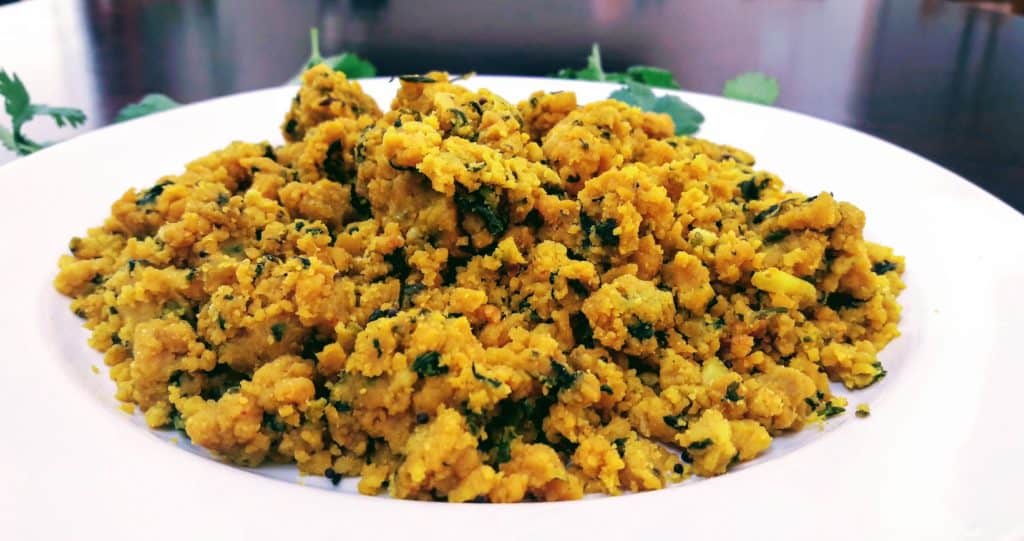 ■Let us know how you like this recipe by leaving a comment and rating it so other readers know it too. And while you're at it, take a picture and tag it #profusioncurry on Instagram! We love seeing what you come up with. Cheers, friends■