The idea to make these cookies came to my mind by accident. My sister is very fond of plain butter and cream cookies. We call them "Nankatai " in India and they are nastolgic childhood treats for us. Over the years as everyone grew older and got health conscious about ingredients and filler in these cookies, we stopped eating them altogether.
I had brought whipping cream during Thanksgiving and had used only little. So there was a question of what to do with leftover cream. And the idea to make these cookies came to my mind. I tried it and they worked perfectly. Tasted yummy and indulgent!
So I make it here and there when a special occasion calls for sweet guilty pleasures . Hope you try it and like it too ! Because a little cookie didn't hurt anybody ?
Ingredients:
1/3 cup – Whole wheat flour
1/3 cup – Heavy cream
1/3 cup – powdered sugar with some Cardamom
Method:
1. Mix the cream and the cardamom sugar well, till nicely combined.
2. Then add flour and mix well. Do not overmix.
3. Cover the mixture and keep in the fridge for 15 to 20 minutes.
4. In the meanwhile, preheat the oven to 360 degrees for 10 minutes and line a baking tray with parchment paper.
5. Pour the above mixture in a piping bag fitted with a star nozzle or even without nozzle.
6. Pipe out the cookies on the lined baking tray. The above quantities will yield 10 normal sized cookies. You can proportionally change the quantities depending on the number of cookies
you require.
7. Bake them for 12 to 15 minutes or till you get the desired color. As every oven is different, check your cookies at 10 mins.
8. Take the tray out and then after a minute, transfer the cookies on wire rack and cool them completely.
9. Once cooled completely, they will be nice and crunchy. Now store them in an airtight container and enjoy.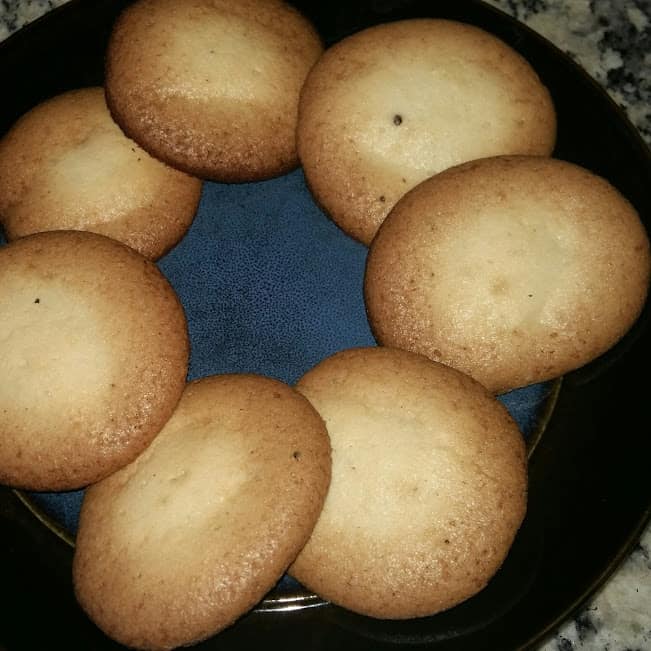 ■Let us know how you like this recipe by leaving a comment and rating it so other readers know it too. And while you're at it, take a picture and tag it #profusioncurry on Instagram! We love seeing what you come up with. Cheers, friends■